Diving into the double threat
MVHS students explain how they take two performing arts electives
Having taken Band for all three years of middle school, sophomore Katherine Li found the decision to take Band in freshman year of high school to be "a default on [her] top six." However, given the choice for a seventh period, Li also took Drama because she wanted to try something new. 
Similarly, junior Annika Polavarapu has taken Orchestra for her three years of high school thus far because she enjoyed it in middle school. In junior year, she chose a second performing arts elective, Choir, because she wanted to have more classes she enjoyed in her schedule and be a TA for the class as a pianist accompanying the ensemble. 
Although her main role in the class is being an accompanist, Polavarapu also occasionally sings in the choir, participating in projects such as Singing Valentines, when the Monta Vista Choirs split up into smaller groups of people to go into classrooms to serenade students for Valentine's Day. The effort and rehearsals that go into projects like these cause Polavarapu to feel more bonded with Choir, even though this is her first year participating.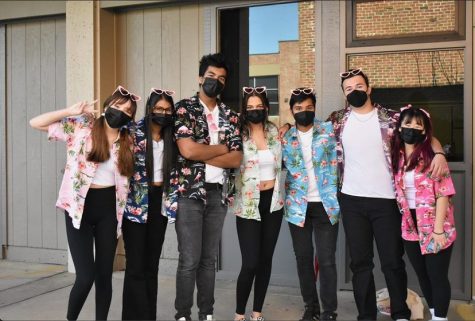 "In Choir, when you rehearse, everyone's standing in a big circle, so you are looking at everyone," Polavarapu said. "It feels more like a stronger group, more together. But in Orchestra, we're all facing in one direction, so you see the back of people's heads, and so the rehearsals are very different." 
On the other hand, senior Nathan Wong began his performing arts journey with String Orchestra, but made the decision to take Wind Ensemble after being heavily involved in band ensembles outside of class. In addition to playing the French Horn in Wind Ensemble, Wong has also played the mellophone in Marching Band, and currently plays the trumpet in Jazz Band and the drum set in Winter Percussion, after-school band groups that compete and perform in events such as competitions and rallies. Because of his history with these extracurricular ensembles, Wong thinks of himself "more as one of the band kids," despite not having joined a Band class until second semester of this year.  
"If you think of a stereotypical orchestra kid versus a stereotypical band kid, I would say I'm closer to the 'band kid,'" Wong said. "There's a bunch of people who are always in the band and orchestra room during breaks, like lunch, [but] it's mostly been band kids. There's [also] more ensembles to join as a band kid."
The many musical groups that Wong has joined meant a lot of rehearsal time. However, he notes that because those who organized these ensembles are aware of members who are part of multiple groups, most rehearsals are scheduled on different days and don't conflict with each other. In cases where there are scheduling conflicts, Wong commits to one group and sticks with it. For example, as a violinist of String Orchestra's Intermezzo, an ensemble of the higher level within Monta Vista's first-level orchestra, and a French Horn player in Wind Ensemble, Wong has had to decide which instrument to play in pieces where both the ensembles he is in are involved. In these cases, Wong usually plays the French Horn to compensate for the lack of overall French horn players in these ensembles.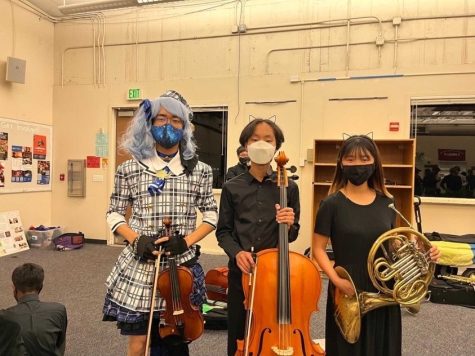 In January, Li was faced with a similar dilemma with a conflict between the two performing arts electives she was taking: she needed to choose between rehearsals for Philharmonic Orchestra and rehearsals for SNL in Drama, since the schedules overlapped. She ended up working out a compromise with her Band teacher and Drama director and making a couple rehearsals for both. Although this conflict ended up working out for her, Li recounts a previous situation in first semester where it didn't end so well, when rehearsals for Marching Band interfered with commitments she had for Drama as a technician for the Fall Play.
"[Marching band] has weekly rehearsals that are generally in the evenings, then some [during the] weekend, and then there's the Saturday practice which is like the full day and in the fall semesters that did really conflict with the [Fall] Play," Li said. "Especially because of the evening rehearsals during tech week, I had to skip some of the marching rehearsals so I could make those, and it was a lot of hassle because I didn't exactly communicate my conflicts to the people running the programs." 
Despite the amount of work that she puts in to sustain being a part of both electives, Li has found her initial decision to take two performing arts classes to be exceptionally rewarding. 
"If other people would want to do Drama and Band, it's so fun to be part of each community," Li said. "I don't regret taking both because it's been a really good experience to be in the performing arts, and if someone really likes performing arts, that's fun. I think what's key is knowing my conflicts and knowing how to prioritize what I want to do within each ensemble, so that I could be successful on both and make each successful."