Bidding farewell to Bove
Superintendent Bove reflects on her career at FUHSD
Superintendent Polly Bove announced her plans for retirement before the end of the school year on Jan. 7, 2022. After 33 years of working at FUHSD and 16 years serving as superintendent, Bove believes that the school board has excelled in outlining clear goals and will choose an appropriate replacement for her.  
"If I waited much longer, we'd have a brand new board, and we'd have to rethink things and get ready to do this tough job of figuring out who they want to run the district," Bove said. "I've been superintendent for a really long time, and I think it's always good to give organizations a new opportunity to grow and change." 
Although Bove started working for FUHSD in 1989, her journey in education started when she moved to California from Illinois looking to work for IBM, a technology company. However, Bove was unable to pursue working with computers. Having gotten her teaching credentials at the University of Illinois and remembering her previous enjoyment as a student teacher, Bove found a job teaching math and computer science at a local high school, thinking she would return to computers later in her life.
"I loved [teaching these subjects]," Bove said. "It was addictive to me. I just thought being with kids was the most wonderful thing on earth, and watching them learn and thinking of ways to help them work."  
Bove went on to explore other jobs in education, including being a school counselor, summer school teacher and a Human Resources director at the district office. She attributes her position as the superintendent to being "in the right place at the right time." 
"In some ways, it was a fluke," Bove said. "It just happened that the superintendent that was here had a falling out with the board and they needed somebody suddenly. And I said, 'Well, OK, I'll give it a shot for a little while,' because there was nobody else to do it … and 16 years later, I'm [still] here."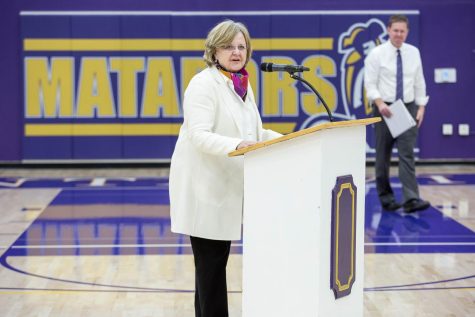 One specific quality of the FUHSD board that Bove felt touched by in her transition from working at a high school in San Ramon to being an Assistant Principal at Homestead High School, her first job at FUHSD, was its "commit[ment] to being better." When she went on to become superintendent, Bove operated by this principle in her efforts to unify the community and provide a suitable space to students and staff.  
"The kind of commitment that surrounds this place and has continued to be part of the culture for years is just unparalleled in my mind," Bove said. "There were many times when I was building programs, when I was working for educational options or special ed, and had to think about how I could work with staff to create a program that would meet the needs of students where high school wasn't a perfect place for them."  
Associate Superintendent Trudy Gross shares that she has collaborated with Bove on programs, including one that supports kids with autism that she was hired to help develop. Gross sees programs like this one and others such as Middle College, which Bove brought to the FUHSD district as Director of Educational Services, as "the one thing that [she will] always remember about [Bove]." 
Along with her programs, Associate Superintendent Tom Avvakumovits believes that another aspect of Bove's legacy that will remain after she leaves is the culture of collaboration. He recalls an incident when the school district was going through a financially challenging time, and Bove, the HR director at the time, chose to be honest about the help that was needed by openly approaching Avvakumovits and his team.
"That was kind of like, 'What an approach,' because traditionally, union and management can be on opposite sides," Avvakumovits said. "That stayed with me, that approach, and has [also] been in this district for 20 years." 
For the future, Bove hopes to see the FUHSD community continue their work in minimizing gaps in academic achievement and improving equity, so that "all students feel safe and comfortable and valued." She looks forward to seeing the completion of projects such as campus construction and is excited to see what changes the community will implement, with her role being filled with new shoes. 
"I really, really hope other people get the opportunity to do the thing they love, because then it never feels like work," Bove said. "It doesn't mean it's not hard —  sometimes challenging or upsetting or frustrating — but if you love it, you can stick with it. And I've had that incredible opportunity to do that here. So for me, it's really been a gift."