MV Andaaz members unpack the past year
Captains and members share their memories and hardships
Originally, junior Ethan Tarng decided not to join MV Andaaz. He had been encouraged by his friends in choir, in October of 2021, but his schedule was full with water polo. However, after the water polo season ended and Tarng had more free time, he decided to join the team in November past the audition deadline, since the team had a lack of male dancers and he had prior experience in hip-hop. 
Tarng had not fully committed to joining the team until he attended his first practice, where he immersed himself in an environment and dance style he'd never experienced before. After his practice, which Tarng believes "went well," the team celebrated at BJ's Restaurant and Brewhouse — Tarng's favorite memory with the team. 
"The environment was just really fun," Tarng said. "I felt like I already fit in. Even though there were other members that I had never met, they were just so welcoming. It was just really nice to be welcomed."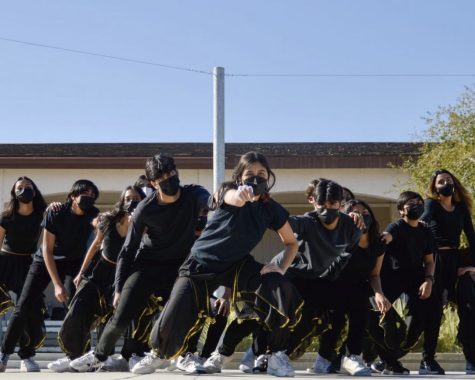 Having no experience with Indian dance, Tarng feels that being part of Andaaz has allowed him to learn a lot more about Indian culture through the dance style and song choices. Senior and co-captain Aryaa Pathak explains that the captains try to create song mixes that fuse both American and Indian songs together for a Bollywood routine. Similar to Tarng, Pathak believes that having Indian dance clubs on campus is important to help spread knowledge about the culture, even if the teams are non-competitive and don't offer P.E. credit to students.
Pathak notes that the team saw a decrease this year in the number of auditions, which she attributes to the remote environment last year and lack of in-person shows,  estimating that the numbers will continue to decrease next year. Due to the uncertainty of shows and rallies this year, Pathak and the other captains were hesitant to devote money to costumes and stage makeup until future plans were more certain. 
"One challenge is just getting back into the groove of performing in-person," Pathak said. "One thing that's really hard … is facial [expressions]. We have this saying, 'Energy, energy, energy, energy, facials, facials, energy,' and we chant that before any performance because it's something we all have to remember. At some point, it's not just remembering what move is next, but just having fun on stage."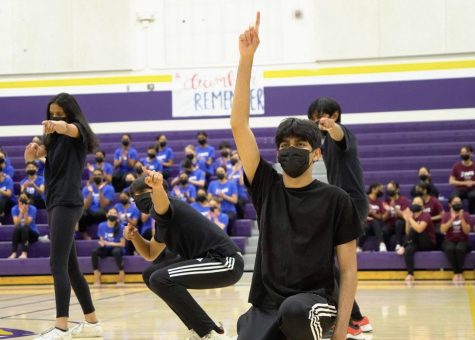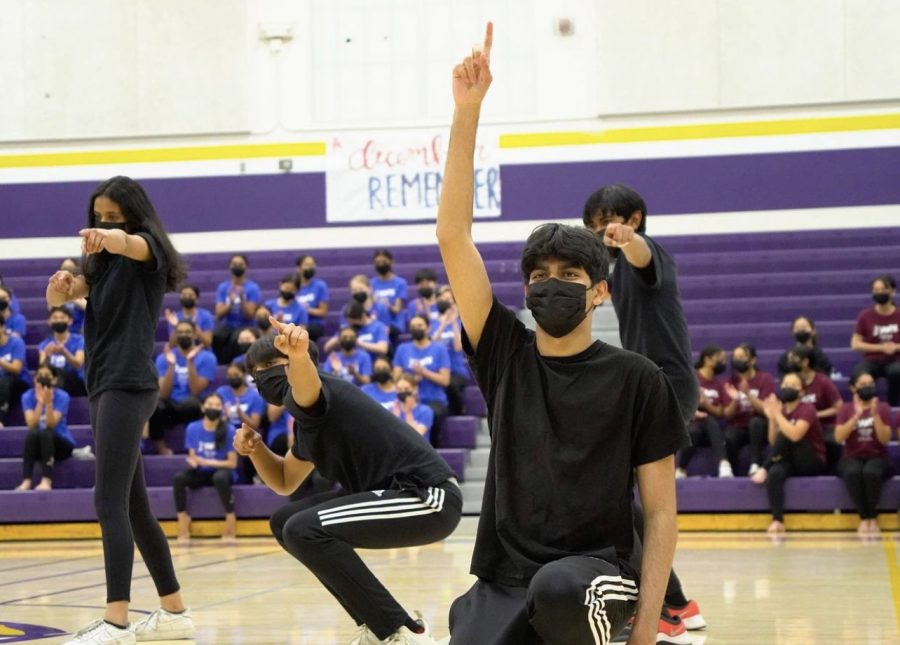 In order to alleviate the gender disparity, the captains continued to recruit male dancers like Tarng after auditions and networked with their friends. Senior and co-captain Rudra Phalnikar shares that, while Andaaz began the season with only two males, they gained six more male dancers throughout the year, creating an even ratio of boys to girls on the team. Phalnikar feels proud to have assembled a team of 16 dancers when he had originally only expected to lead a team of 10 this year.
"I think anyone can do dance, and I actually want more guys to do it — it has nothing to do with femininity," Phalnikar said. "I never saw myself actually doing dance when I was younger, but I think it's just another way to express yourself. Once you get into it, it's very fun."
Pathak, Phalnikar and Tarng all cherish the welcoming and fun atmosphere that the Andaaz team creates, reflecting on memories like sneaking backstage to cheer on other MVHS dance teams or laughing as an Andaaz member tried dancing to Bhangra's choreography. Having been on the team since ninth grade, Phalnikar mentions that Andaaz has developed traditions that help them improve their performance during practices. 
"We have this thing in Andaaz called Circle Time where we just get the whole team together [after practice]," Phalnikar said. "We do a cheer at the end to hype ourselves up and the captains all give a speech to the teammates, talking about what we did well that practice and what we can do better. We do it every single practice and it's probably a highlight of being on the team."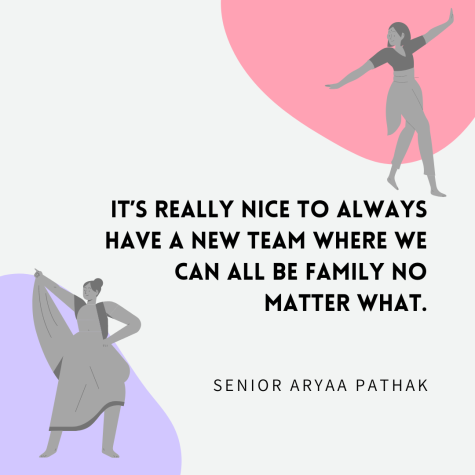 Reflecting on the past three years, Pathak feels proud of her Andaaz career, both as a dancer and a leader. As she prepares to graduate this year, Pathak reflects that she will miss not only the current Andaaz team, but also the memories she's created with previous Andaaz members. She advises the upcoming members to balance out the serious and fun moments, as she believes that it's important to focus on the tasks at hand while also maintaining an enjoyable group dynamic.
"I'm just going to miss everything," Pathak said. "I've made really good friends mostly through dance … the team atmosphere is the best part. The dancing and everything is obviously really fun, but it's really nice to always have a new team where we can all be family no matter what."