Kanak by Manvi
The first shipment of materials from her vendor yielded a slightly unexpected result for senior and small business owner Manvi Kottakota: a strong desire to not sell anything. Hours of researching, tinkering with designs, communicating with vendors and making jewelry for her business Kanak had manifested in her creating a product she liked so much, she wanted to keep it for herself.
Kottakota's jewelry-making journey began with a trip to a craft store sophomore year and blossomed from a hobby to a passion, and finally into a business during quarantine. Kottakota's entrepreneurial journey, however, actually started years before. Creating a business had been a dream of hers since childhood, and she experimented with starting a clothing line with a friend in her freshman year. Though that particular idea never came to fruition, Kottakota's passion for business began with this first exposure to researching a supply chain and trying to build something new.
Her proclivity for entrepreneurship would lead Kottakota to pursue several other small business ventures and join the Future Business Leaders of America. Her efforts culminated in her role as Vice President of the club, to which Kottakota accredits much of her business acumen.
"I've competed through FBLA and a lot of business competitions that really focused on entrepreneurship, and it really spurred this interest in me — that entrepreneurship was something I wanted to pursue myself," Kottakota said. "This interest only grew, especially [with] quarantine as a time to explore interests aside from just school. I was able to put a lot more time into figuring out what I wanted to do in that entrepreneurial scope, and then being exposed to jewelry and making that as well — I combined those two things."
Among all her entrepreneurial expeditions, Kottakota explains that jewelry was the business that stuck because of its versatility and her own passion for her product. From a business lens, she emphasizes the importance of a product appealing to a large audience, and she explains that she prioritized this versatility with each piece of jewelry she designed. She also believes that businesses should be formed around products and ideas that the creator is passionate about.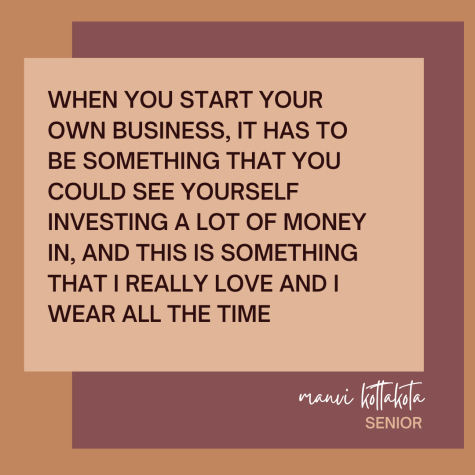 "Accessorizing and jewelry was something that I not just enjoyed making sometimes, but also enjoyed wearing and buying for myself," Kottakota said. "When you start your own business, it has to be something that you could see yourself investing a lot of money in, and this is something that I really love and I wear all the time." 
Senior Shreya Mantripragada first learned of Kottakota's aspirations to start a jewelry business in junior year, and was immediately inspired. Mantripragada has invested in multiple Kanak pieces — not just because she wants to support Kottakota's entrepreneurial efforts, but also because she appreciates the quality of Kanak products. Mantripragada acknowledges that a part of supporting small businesses rather than indulging in fast fashion is "higher prices," but she believes that the tradeoff for quality and supporting a brand she believes in is well worth the cost. 
As she was constructing her brand, Kottakota kept South Asian representation at the forefront. The name of her business, Kanak, is a word of Sanskrit origin meaning "gold" or "seed." After considering both Western and Indian names, Kottakota landed on Kanak because "symbolically, it was like a seed, or a foundation to this new idea [she] had." 
While fostering brand deals and creating her website, Kottakota once again prioritized South Asian representation. Her first brand collaboration was with Sindhu George, a South Asian TikTok influencer with [roughly] 8,000 followers on TikTok. For the collaboration, Kottakota sent George several pieces of jewelry for free which George reviewed on her account. Following the collaboration, Kottakota explains that her followers and brand awareness increased tremendously. Kottakota was also purposeful in choosing South Asian models for her jewelry on her website and Instagram — something she doesn't see often. Senior Parmi Shah, who has modeled multiple pieces of jewelry for Kottakota, emphasized the importance of representation in brands. 
View this post on Instagram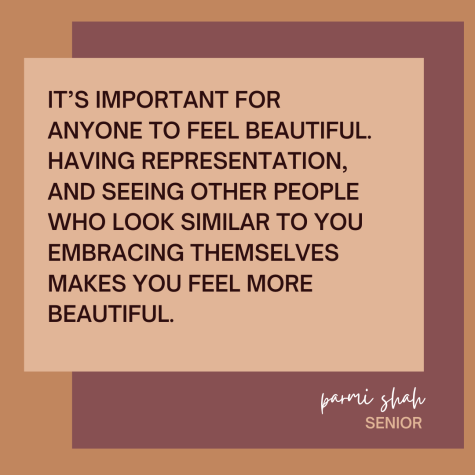 "I think South Asian representation is important just so Indian people can feel seen since they are often neglected or overlooked whether in fashion or cosmetics," Shah said. "It's important for anyone to feel beautiful. Having representation, and seeing other people who look similar to you embracing themselves makes you feel more beautiful." 
Similarly, Mantripragada believes that Kottakota's emphasis on brown girls in her business is indicative of a broader effort to succeed in the predominantly white fashion industry. Mantripragada feels empowered by a "brown woman" owning a business and creating jewelry that specifically suits brown skin. 
"Manvi's journey taught me that it's important to follow your passions and to not succumb to what society kind of expects you to do," Mantripragada said. "Manvi's business is trying to make a brand for Asian American women in general, and I think it's important to bring more awareness to our voices and make sure that we're also included in this predominantly white industry."
Kottakota explains that finding the materials to create the type of high quality jewelry Mantripragada and other customers fell in love with was no easy feat — she spent several hours conducting research before finally settling on a vendor. After several conversations with different sellers, she encountered a custom jewelry maker located in Istanbul, Turkey. To create a piece, Kottakota takes inspiration from the vendor's catalog for parts and gives the vendor input from her own ideas to receive an initial shipment. She tests each part to ensure that it meets her business standards and collaborates with the vendor to make changes until she's satisfied with the individual parts. Once she actually decides on an item, Kottakota asks for an actual document item to be shipped to her. She then assembles each piece of jewelry by hand and packages each order.  
The entire process of creating Kanak —  from researching supply chains, to finding her niche to marketing her product — has served as a tremendously valuable experience, Kottakota believes. She feels grateful that she took the plunge and pursued her passion, and would encourage others to do the same. 
"If there's anything that you're interested in, it's so worth trying it out and so worth pursuing it," Kottakota said. "It's been so wonderful to genuinely see so many people at Monta Vista who randomly come up to me and say, 'Hey look, I'm wearing your ring' or 'I'm wearing your necklace.' It feels like the work that you put into something and the time you invest pays off. And it's such a good feeling to see that you're not only able to make something that you love, but something that other people can enjoy and love as well."