Girls Wrestling secures fifth place in its first tournament in school history
Introducing MVHS's first Girls Wrestling team and its three medalists
In its first tournament in school history, Girls Wrestling took fifth place out of 17 teams at the La Manzanita Ladies Classic in Watsonville on Jan. 6. As MVHS's first girls wrestling team, the nine members returned with three medalists: senior Alysa Phattanphibul and sophomore Anika Manjesh took second place in their respective weight classes and senior Hannah Baker took fourth place in hers. 
According to team captain Baker, the girls were "a little nervous or tense" due to a lack of experience and being one of the smaller teams at the tournament. She describes how intimidating it can be as a new competitor to see all the other schools warming up. Nevertheless, she tried to provide encouragement for her team members. In the end, Baker shares her excitement about the results.
"It was super cool being there because it's super empowering — that's the only word I can use to describe it," Baker said. "It's really cool to see [that] all of [the competitors are] super passionate about it and super into wrestling, which is, I guess, an unconventional sport for girls to be in."
In coach Andrew Pappas' four years of coaching at MVHS, he has only had one to two girls on the team every season, and the minimum number of students needed to form a girls team is set at seven. He notes that girls wrestling is on the rise in the U.S. because people "don't see it as just being a masculine thing, or just being a boys sport."
After observing the team's performance during the tournament, Pappas shares that the team's future looks promising, especially considering that many of the girls had never wrestled in a match prior to the tournament. Similarly, as one of the girls on the team with more experience, Baker hopes to take home medals and set a good example for her teammates, so they can "hopefully be even better than [she is.]"
View this post on Instagram
Manjesh started wrestling this year yet was still able to secure one of the three positions on the board. She shares that she had wanted to wrestle since seventh grade but assumed she "wouldn't be right for the sport." However, when Pappas asked her to come out to one of the practices, she was attracted by the team's strong support system and was convinced to join. 
Manjesh explains that her friends and family were initially apprehensive when she first joined the team out of concern for her safety, but warmed up to her decision. She shares that wrestling has taught her to persevere 一 to "get through the match" and "go with the mindset that you can win."
Phattanphibul began wrestling her junior year — being one of only four girls at the time — because she wanted to learn how to defend herself and build her "confidence and strength in a safe environment." To Phattanphibul, the most alluring part of wrestling is recognizing her teammates' hard-working spirit and ability to push themself every day. Although Phattanphibul recognizes that the team is male-dominated, she states that everyone "blends and socializes really well" and that she does not "feel intimidated" by the difference between the number of boys and girls on the team.
"I don't think it should be an obstacle if you're gonna be one of the only girls on the team," Phattanphibul said. "Obviously, you have to be comfortable in the environment you're in. But as long as you have a safe group of people, like the team that we have right now, everybody just supports everybody."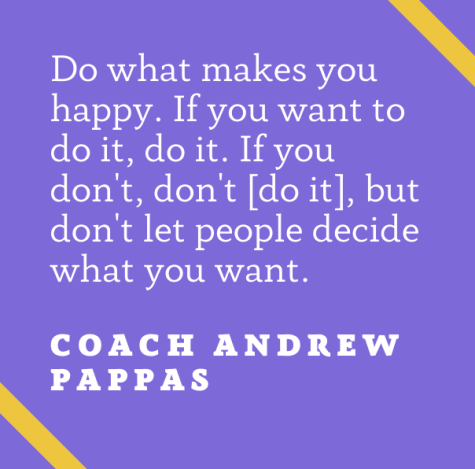 Unlike Phattanphibul, Baker shares that she was initially intimidated when she first joined the team as one of three girls at the time, and she mentions that she was the only girl present at the first practice she attended. However, she states that the helpful nature of her teammates allowed her to "understand how to put [the wrestling moves] into action" and allowed her to "feel more comfortable in the entire process."
Pappas echoes Baker's sentiment, saying that he noticed the disparity between the number of boys versus girls on the team had a noticeable effect on the girls at first. However, he says that due to the team members "getting comfortable with everybody there," the disparity no longer has an effect on anyone on the team. He encourages any girls who are interested in wrestling to not let anyone stop them from trying the sport.
"I think nobody really sees each other as like, boy, girl — we're a whole team," Pappas said. "For our team, we're very welcoming. There's all these girls that wanted to [wrestle] and I just was like, 'Just give it a try. Don't worry about what anybody says. We don't worry about what the world says about how things are 'supposed to be.' Do what you want. Do what makes you happy. If you want to do it, do it. If you don't, don't [do it], but don't let people decide what you want.'"