Receiving gifts
Explaining the impacts of presents in the lives of students and staff
Originally starting the tradition to provide her students a way to de-stress, science teacher Julie Choi noticed the long-lasting impacts of gifting each of her students a bubble wand at the start of the school year. During a professional development at MVHS, she learned that blowing into the wand has a meditative effect, so she has continued the tradition. She recalls moments when alumni would visit her and bring their empty bubble wands, expressing their gratitude for the gesture. 
"It's always surprising because I don't think I'm expecting that type of an impact when I'm giving that kind of a gift," Choi said. "But sometimes, I realize a little goes a long way."
Choi has started other traditions in her classroom, such as distributing candy and cards of encouragement before exams, a routine she created while working as a student teacher for FUHSD new teacher mentor Pooya Hajjarian. Understanding that many students come to school without eating breakfast, she prioritizes the need "to get their brains running" by giving them a quick treat.
Sophomore Catherine Chen regularly gives her friends food during lunch, making the effort to bring additional items specifically for them. Since she expresses love by giving gifts, Chen shares that the act of giving lets "you appreciate someone for being there."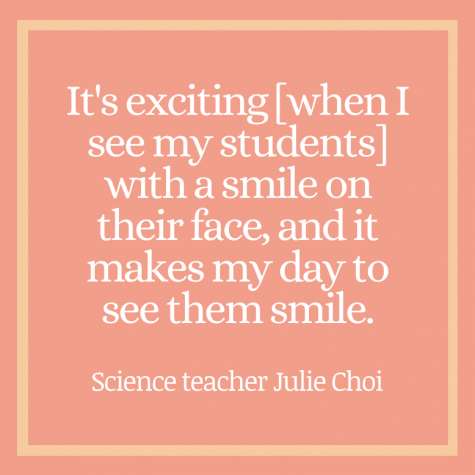 "When you give a gift to someone and they're happy about it, [it's satisfying] that you're making someone else happy," Chen said. "It's just really heartwarming to receive a gift and make other people's day in general by giving a gift that they want." 
In addition to expressing her appreciation through gifts, Chen believes receiving gifts is one of the more feasible love languages since it is a common form of expressing appreciation for others. 
Senior Lia Vorthmann integrates giving gifts into volleyball — as Varsity Girls Volleyball captain, Vorthmann coordinates Secret Sisters, a gift swap tradition the team participates in each season. Since the recipient of each player's gift is randomized, Vorthmann emphasizes the importance of this exchange, as it allows the teammates to become more familiar with each other and their interests outside of the sport. Vorthmann shares that Secret Sister is a fun tradition since "it feels good to give people gifts." 
Similarly, Choi admires the gesture of receiving presents and enjoys observing the positive impacts in someone's life that result from gift giving. 
"It's exciting [when I see my students] with a smile on their face, and it makes my day to see them smile," Choi said. "I don't think that the price of the gift is really that important. I think the gifts really mean, 'I'm thinking about you today,' and that thought process is what I value when I give gifts and when I receive them."