Via-Cupertino rideshare returns as pandemic restrictions loosen
The community shuttle resumes its services as COVID-19 cases drop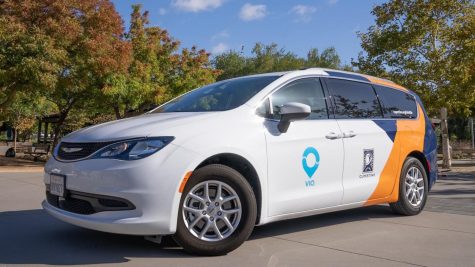 The City of Cupertino announced on Oct. 22 that Via-Cupertino, a city-funded community shuttle that extends from Via Transportations, is resuming its services as the demand for local transportation increases. The shuttle operates from 7 a.m. to 7 p.m. on Mondays through Fridays and from 9 a.m. to 5 p.m. on Saturdays.
The shuttle's services were paused during the early stages of COVID-19 due to low ridership and a lack of safety precautions. But as vaccines continue to roll out and pandemic restrictions begin to loosen, city officials decided to resume its rideshare service.
"Many individuals that rely on Via for transportation have asked the city to bring Via back along with common sense safety measures," City Senior Transit and Transportation Planner Chris Corrao said in an email on Oct. 26. 
To ensure the safety of its riders and drivers, a mask or face covering is required for everyone in the vehicle for the duration of the ride, plastic partitions are installed in the vehicles and vans are regularly wiped with EPA-approved supplies.
Via-Cupertino "has the goal of [reducing] traffic congestion," according to Corrao. The shuttle offers rides to any location within the city, including a few destinations outside city lines such as the Sunnyvale Caltrain and Rancho San Antonio County Park. 
Via-Cupertino has a total of nine vans identified by their Via logo and City of Cupertino graphic. Most have bike racks and two are wheelchair accessible. 
Fares vary depending on ride frequency rather than distance. One-way fares are $4, weekly passes are $24 and monthly passes are $75. The service also offers discounted fees available to seniors, students, low income individuals and people with disabilities — $2 for one-way rides, $14 for weekly passes and $42 for monthly passes. 
To request a ride, users need to download the "Via" app, which is available on both the App Store and Google Play. Children between ages 13-17 need parental consent to ride, which is automatically granted once the terms and conditions are accepted. Children under the age of 13 can ride as long as a parent or guardian is present; a car seat, which is not provided, may also be required. 
"In the words of one of our riders, 'Having Via back makes it feel like we're getting back to normal, and that makes me happy,'" Corrao said.