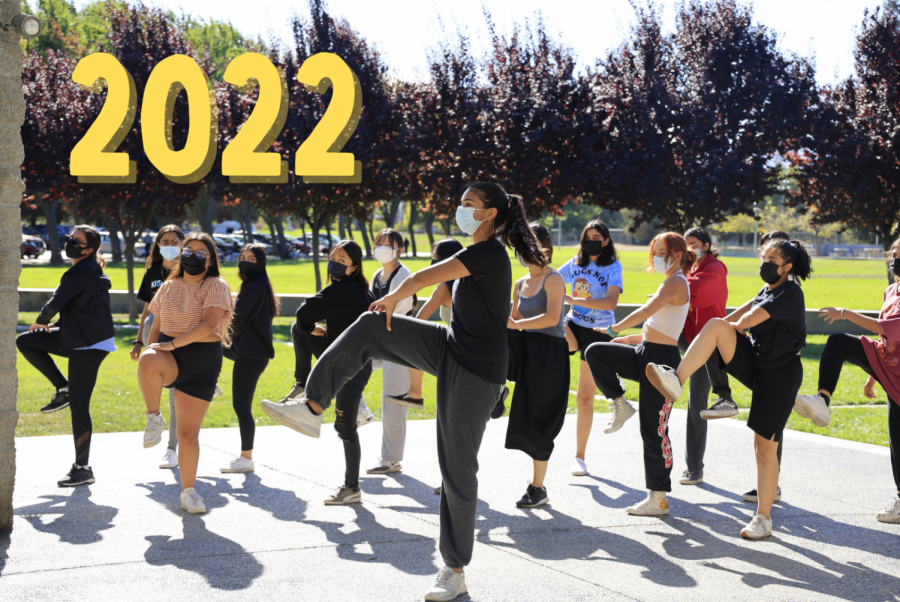 The Class of 2022: One last performance
Members of the senior class prepare for their final Homecoming skit
During the previous annual Homecoming performances, senior and dance head Ariyal Jain always wanted to choreograph a dance battle scene between the girls and boys in the Co-ed dance. However, Jain explains that there was never enough time to coordinate the "battle" aspect, so the choreographers resorted to a traditional partner dance. This year, for their final Homecoming skit, she began working on the idea earlier to ensure that their dances could incorporate this unique scene. 
The Class of 2022 began preparations for their performance in July, which Jain believes helped the dancers perfect their choreography. Senior and Class of 2022 President Cindy Zou explained that this head start allowed students to prioritize Homecoming preparations over the summer without worrying about extracurriculars or school work.
"We got to focus on Homecoming solely for a couple of months and that definitely got us ahead," Zou said. "In comparison to previous years, we are much more well-prepared and we are able to plan things ahead of time. That's made a lot of things easier on us right now." 
Currently, Zou shares that the backdrops for the skit and choreography for all three dances — Co-ed, girls and boys dance — are nearly complete, but still require some extra practice. There are 60 seniors performing in the Co-ed dance, which Jain believes will require more time and practice to improve cohesion. 
"There's no problem [with] getting so many people to participate, but sometimes there's so many people that you just can't hear yourself," Jain said. "The amount of choreography we can teach in a lunch session is [limited]. But, in general, I think our class genuinely tries, which is something that I've heard other classes don't do, and that makes things easier."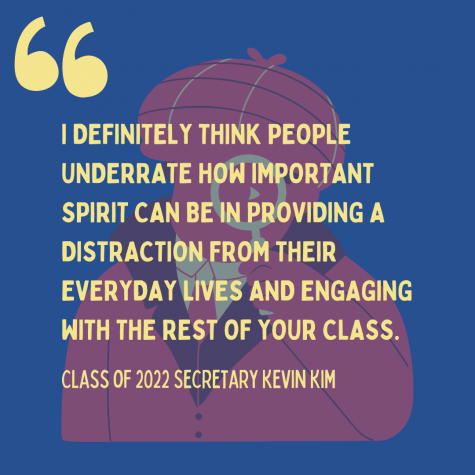 Senior and Class of 2022 Secretary Kevin Kim attributes the large number of participants to the "hype" over creating the perfect final Homecoming skit. Like Jain, Kim found managing over 100 students to be demanding, but found solutions by creating group meetings and calendars to ease difficulties with communication. 
"It's just the usual challenges of [dealing] with a lot of people," Kim said. "There were some minor conflicts between the script and dance heads, so just being able to manage people's personalities and making sure that they get on the same page has been important. It's just being able to come up with a product that everyone's happy with, even though you may not get what everybody wants exactly."  
Along with leading a large number of students, Kim names the budget as another concern for the class officers 一 most of the money for paint, costumes and props comes from the previous years' funds. By hosting a boba fundraiser afterschool on Sept. 10, the class officers were able to raise $150 for their class budget. 
To promote these events, the officers rely on their Instagram to send Homecoming schedules and updates. According to Zou, they aimed to create a more casual Instagram presence this year by posting more Homecoming memes and jokes in order to alleviate the pressure of winning their final skit and to instead embrace the class's spirit and morale. As Homecoming week approaches, Zou, Jain and Kim are all excited to watch the Class of 2022's hard work pay off and to celebrate their performances for the last time together. 
"MVHS suffers from a lot of academic focus — people always think their next test is more important than a Homecoming rally," Kim said. "But I definitely think people underrate how important spirit can be in providing a distraction from their everyday lives and engaging with the rest of your class. And if I can provide that small memory, that small highlight in their day or week, that's good enough for me."