Picking up a racket
Three tennis players explain how they first began the sport
With sweat dripping down her face, freshman Varsha Iyengar sprints back and forth on the tennis court, practicing her footwork, hits and serves. As a child, she and her dad would watch professional players on TV sprint tirelessly from one side of the court to the other, but she hadn't realized just how hard it would be.
Nine years later, Iyengar is now on the Varsity Girls Tennis team. She looks back at the time when tennis was foreign to her — in first grade, Iyengar first picked up a racket. She is thankful for her parents since they pushed her to play at an early age, already giving her years of experience now at age 14. 
"You learn a lot of things and it gets into your hardware at an early age," Iyengar said. "When you start tennis earlier, it's more drilled into you. It's just natural."
Junior Varsity Girls Tennis player and sophomore Audrey Li also recognizes the importance of starting at a young age — she says that if she had started earlier than when she did in sixth grade, she would've been able to participate in more competitive events, such as tournaments. 
Li picked up the sport when her parents asked her which sport she wanted to play, and she chose tennis because she had just "passed by tennis courts" and thought "it [would be] really fun to be playing tennis."
Sophomore Prerana Dilip, a member of the Junior Varsity Girls Tennis team, chose tennis in ninth grade after sustaining an injury in sixth grade from a forward roll gone wrong during gymnastics. It left her unable to normally use the arm she now uses to hold her racket throughout the entirety of middle school. Gaining back the ability to use her hand prompted her to play tennis. Dilip also sprained her wrist during her freshman year, which prevented her from trying out for the team last year. Now, she says she feels "strong" while playing with no physical restrictions and finds that "being able to [play tennis] is empowering." 
Although Dilip finds herself constantly comparing her skills to others who have more experience, she is glad that she decided to pick up a racket. Dilip hopes to continue tennis so that she will be able to perfect her technique and appreciates her team members for being her support system.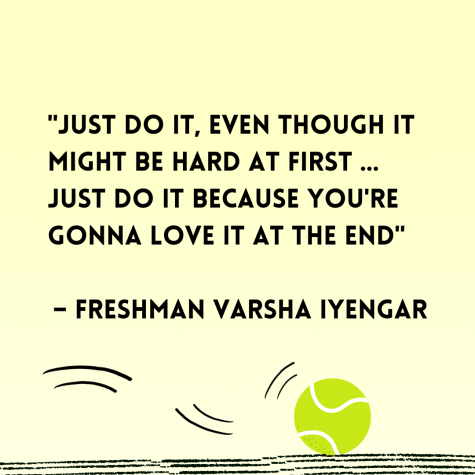 Like Dilip, Li also felt her confidence drop as she watched the other players on the court perform better than her. With a desire to reach the level that her teammates are on, Li asked her coach what she could do to improve. Her coach suggested she go on runs to increase her stamina and practice her hits so she can make stronger hits. She also tries to implement the feedback her teammates provide and has felt her confidence levels rise because of this.
Iyengar also believes that instead of being upset that others are performing better, players should view it as a learning opportunity, which will help boost their confidence levels. With this growth mindset, she also encourages others to join tennis.
"Just do it," Iyengar said. "Even though it might be hard at first, and even though you might have to exercise a lot and move a lot, just do it because you're gonna love it at the end."