FUHSD implements new 1:1 device program
Exploring the decision behind the new policy for the 2021-22 school year
Students are expected to bring their own laptops or a checked-out Chromebook to school each day starting this school year to support a more technology-based curriculum, according to FUHSD's 1:1 device policy. If students do not have their own laptop that fits the requirements outlined by the district, FUHSD is providing students with Chromebooks that they can take home and use throughout the year.
Due to technological struggles brought to light during distance learning, the district noted that many students did not have access to technology at home. Superintendent Polly Bove said in an interview panel that the past year has given FUHSD an opportunity to outline a program after considering it for over 10 years.
"This has been something that's been developed over [a] long period of time," Bove said. "I'd think [that] most of our teachers do use devices at some point or another in their curriculum. They've learned how to manage the focus and the distractions that all of these devices can bring. [If] we need more professional development for staff on that, we're all committed to giving it."
Principal Ben Clausnitzer believes that the possibility of students being distracted is mitigated by the level of engagement that he believes the 1:1 program will bring, as he feels that students will be more involved if they can utilize technology in curriculum.
Lynbrook's journalism adviser and literature teacher Josh Miller is in support of the 1:1 plan, but has some reservations. Personally, he finds big decisions from district administration to be a bit unclear — specifically, he does not always understand the focus or directive behind the plans.
"The biggest fear for teachers, and the biggest con, is going to be the expectation that devices are [a] part of everything," Miller said. " As an English teacher, I've been looking forward to going back to [learning on] paper, to annotating a poem on paper, to actually making sure our students have physical copies of the book, instead of PDFs … I like to be in control of my classroom environment."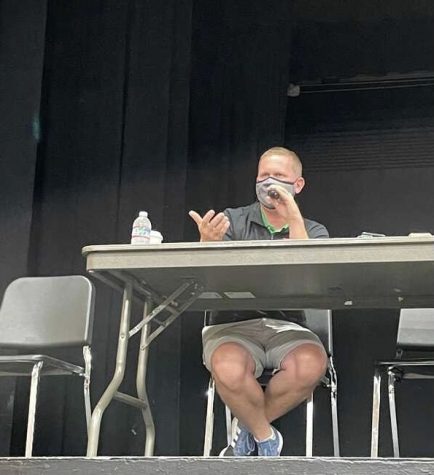 Miller says the leap to digital resources may be new and a bit overwhelming, but it's the natural course of action after the year online. He points out that due to the pandemic, the general public has become reliant on technology and that teachers and students have adapted new methods to continue learning. Cupertino HS junior Theresa Nguyen agrees with Miller and says that, in the midst of COVID, having individual devices can offer a much safer route to learning.
"It's really convenient, since that way the school doesn't have to focus on sanitizing their own devices, and can let students use their own [devices]," Nguyen said. "It's an efficient and convenient way to make sure students can learn at their own pace. Since we're transitioning back from online learning to in-person learning, they didn't want it to be such a big transition right out of the blue."
Fremont HS senior Quinten Seghers also sees the benefits of a 1:1 device program and received a school Chromebook after his personal computer broke down during the 2020-21 school year. He indicated interest in signing up for the program this year as well.
"[It's] a great way to democratize internet and computer access, and really equalizes and spreads out opportunities for all students in terms of technology," Seghers said.
Despite some challenges, Miller believes that technology could add a new perspective to learning and can continue to allow students to grow. He thinks that teachers have been able to manage and customize their curriculum with technology.
"I think we still have a lot of freedom in our classroom and we still get to decide how we want [the classroom to work]," Miller said. "I think we still as teachers can have that choice to be like, 'OK everybody shut your devices, we're annotating on a piece of paper now' and our students will do that. Students will respect that."