Live coverage of COVID-19 responses and protocols
Updates on cases and policies regarding COVID-19 and safety
Aug. 31, 2021
COVID-19 testing is now available at all five FUHSD sites in order to streamline the process of contact tracing, according to assistant principal and MVHS COVID-19 designee Janice Chen. The tests will be required for all individuals who came into close contact with a COVID-19 positive person, but will be open to anyone who may want to ensure "peace of mind" for themselves or their families, Chen said. 
The test site location operates from 7:30 a.m. to 4 p.m. and will rotate through all five campuses. It will be hosted in the MVHS gym on Wednesdays, but students can get tested at any site. The tests are conducted by Inspire Diagnostics, and consist of rapid antigen testing followed by a PCR test for positive results. 
As of now, MVHS has had only one COVID-19 positive case, which Chen attributes to the high level of mask-wearing she observes on campus. However, she anticipates a greater number of cases in the coming months, and believes that the testing, along with other existing measures such as QR code scan-ins for tutorial to help with contact tracing, will allow the school to be better prepared.
Aug. 24, 2021
Families will have the option to share the vaccination status of their children, a request levied by FUHSD in order to streamline the process of contact tracing COVID-19 positive cases, according to an email from FUHSD Coordinator of Communications Rachel Zlotziver. 
The form will ask parents to specify the dates and brand of vaccination their child(ren) received, as well as a copy of the card. The vaccination status of a child will influence which steps they are required to take after being identified as a close contact with a COVID-19 positive person, including testing and quarantine.
Aug. 24, 2021
Masks will be required for all outdoor activities on campus except when eating and drinking, Principal Ben Clausnitzer announced via email. This includes all physical education classes, but excludes physical activity that is "strenuous" or in the pool. 
This policy was enacted in response to positive COVID-19 cases in FUHSD schools as well as rising cases in the county and concerns about the Delta variant, according to an email from Fremont Union High School District. 
"As always, I want to make sure you have the information you need in these moments," Clausnitzer wrote in his email. 
Aug. 20, 2021
An individual tested positive for COVID-19 and was informed of all necessary isolation protocols, Principal Ben Clausnitzer announced via email. All individuals who came in contact with that individual were informed and "given instructions on next steps," according to the email.
About the Writer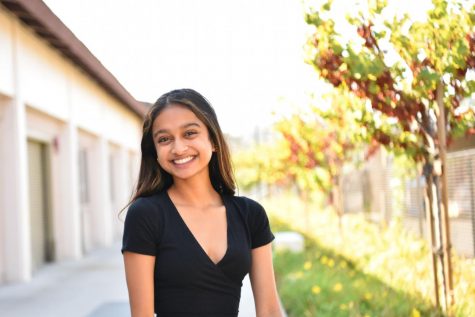 Anushka De, Co-Editor-in-Chief
Anushka De is a senior and a co-editor-in-chief of El Estoque. She loves listening to music, drinking too much coffee and spending time with her friends. She was previously a Features and News Editor and has since learned to parallel park, which she considers to be one of her greatest achievements of all time.