Back on track
Exploring the changes implemented at MVHS in preparation for a new school year
August 4, 2021
Bell schedule
After a year of remote and hybrid learning under a modified block schedule, MVHS principal Ben Clausnitzer announced the 2021-22 FUHSD bell schedule in an email to students, parents and staff on June 11, 2021. This new schedule includes four block days and a full seven-period day on Wednesday.
Reflecting on the previous bell schedule during online learning, MVHS senior Ariane Chen said she grew easily fatigued after six hours of classes on Zoom. However, she prefers the block periods over 45-minute periods, which she thinks would have made it harder to get work done because of the smaller amount of time in class.
For Cupertino High School senior Nachiket Kerai, the new district-wide schedule is not drastically different — he has had a double block schedule even prior to the pandemic, although the non-block day was previously held on a Monday rather than a Wednesday. 
"I prefer the that we used to have where we had all classes [on Monday], because then Monday wasn't so dreadful for us, because you spend less time in each class," Kerai said. "If it's on Wednesday, then we dread Monday — I'm scared for Monday. It's gonna be a long day, because the block days tend to be really boring."
MVHS freshman Ananya Chaudhary notes the various benefits that she anticipates will come from a block day. In comparison to the 45-minute class schedule that she followed in middle school, this school year will be the first time she has a block schedule, and the longer periods give her additional time to do homework since the same classes meet every other day, rather than every day.
"I honestly like [the block days] more than having [every class] every day, because I feel like that's less stressful," Chaudhary said. "I feel like it makes more sense, because high school is supposed to be more stressful than middle school and elementary school, and it's supposed to be more homework. Having two days is a whole lot better than only having one."
Changes to campus
Construction at MVHS has resulted in new features around campus, ranging from modernization of the C and D building courtyard to the addition of new plaster in the pool. The map shows the new renovations and where they are located around MVHS.
Safety procedures
As the 2021-2022 school year starts, all FUHSD schools will be transitioning to in-person instruction. However, with COVID-19 and its delta variant cases rising, FUHSD will be implementing a new set of guidelines to keep students safe. 
According to FUHSD Superintendent Polly Bove, the new safety guidelines are going to be based on protocols that are outlined by the Center for Disease Control (CDC) as well as Santa Clara County guidelines. The new guide includes information on masks, social distancing during brunch and lunch and airflow for heating and air conditioning in classrooms. 
In an email to students and parents, Clausnitzer stated that masks will be optional outdoors, but required indoors for all students (unless specially exempt), regardless of vaccination status. However, if a student refuses to wear a mask, Clausnitzer does not expect to "send someone home right away" — rather, he says the administration will give the student one warning, have an office staff member escort the student to the main office and possibly call their parents to have a "conversation about safety." 
Another topic of discussion for the school board is a vaccine mandate for students in FUHSD after the University of California issued a policy that requires students and faculty to be vaccinated against COVID-19. For FUHSD, the district does not have the power to require them without California legislation and FDA approval despite the authorization of the COVID-19 vaccines for emergency use, according to Bove. 
Day Custodian Isidro Goncalves has been working on sanitation since students first returned to campus in spring 2021 for hybrid learning. He says that, while the day custodians sanitize restrooms and public locations on campus during the day, most classrooms are cleaned at night. Goncalves believes that most sanitation protocols from hybrid learning will continue into the 2021-22 school year.
"The [hand] sanitizers are there to stay — you can use that each time you enter a classroom," Goncalves said. "We recently got new equipment that we can use to clean floors and ceilings. We definitely have better stuff than before [COVID-19], and we use it every day."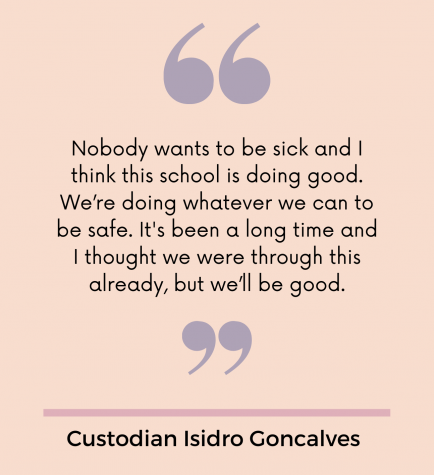 Despite the number of safety procedures for this coming school year, many are eager for the return to normal. Science teacher Julie Choi describes being enthusiastic about seeing students in her classroom again and ready to adhere to any required guidelines.
"I think students definitely learn better when they're in person, and I think there is an aspect of social learning that we are missing out on when students are in virtual [learning]," Choi said. "I'm thinking that if the school decided to open, they probably have thought about [the] pros and cons, so I'm hoping that they will take the measures necessary [to ensure safety], and I will do what I can to keep my kids safe in the classroom."
Goncalves is also looking forward to the start of in-person learning and says he is proud of the work he and his colleagues have done with sanitation. 
"I think we are doing better than before because we have improved and we have the right materials now," Goncalves said. "Hopefully we will all be safe. Nobody wants to be sick and I think this school is doing good. We're doing whatever we can to be safe. It's been a long time and I thought we were through this already, but we'll be good."