Bay Area faces boba shortage
Explaining how the tapioca pearl shortage has impacted local businesses
Due to a lack of dock workers and congestion of container ships anchored off the ports of Los Angeles, Long Beach and Oakland, it has been difficult for ships to unload their goods, causing many business owners, including those from the boba industry, to fear that their products may arrive later than expected.
With some Bay Area and nationwide boba suppliers struggling to distribute the tapioca balls, some stores have been forced to limit the amount of boba scoops per customer, while others are expected to run out in the coming weeks. Junior Collin Ong shares that he first heard about the shortage through Boba Guy's Instagram account, which amassed a great deal of social media attention among the boba-drinking community.
On April 8, David Fan from Fanale Drinks, a boba supplier based in the Bay Area for thousands of stores across the country, shared, in a video posted to Boba Guy's Instagram, that "America is having trouble importing anything from overseas, especially from Asia." The Bay Area supplier is an exclusive distributor for U.S. Boba, which Boba Guys and many other companies are dependent on for their supply of tapioca pearls — which comes from Taiwan. In the same video, Andrew Chau from Boba Guys predicted that it would take four to five months for the container ships to get unloaded and distributed to the suppliers.
View this post on Instagram
According to Kip Louttit, executive director of the Marine Exchange of Southern California, the container ship stoppage can be largely attributed to an insufficient number of workers at the ports due to COVID-19 restrictions. He explains that "when you have more cargo, you have a less efficient cargo moving system," which only worsens as more ships begin to pile up. 
With the news of the boba shortage spreading quickly, many students shared the information with their friends and family, wanting to know whether the shortage would affect their favorite stores. Ong, who gets boba at least once or twice a week, immediately went to get boba tea after hearing of the news because he feared that his favorite boba store, Gong Cha, was one of the businesses affected by the shortage.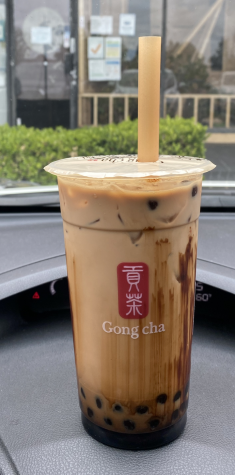 "[Getting boba tea] is a part of my routine and it's definitely something I would miss if they ran out," Ong said. "Boba is something that gives me a lot of joy, and I enjoy those places and talking to the employees, so it'd be really sad if they didn't have any more boba. And I would also assume that their customer base would suddenly drop, [which] would put them at risk of shutting down."
However, Sunnyvale Gong Cha Manager Michael Kuo shares that his store has not been impacted, as he believes their warehouse stores a plentiful supply of stored boba. Though he is unaware of what their supply may look like in a few months, he shares that there shouldn't be any problems for his store in the foreseeable future. 
"Since boba is one of the key ingredients for boba tea, the overall shortage is very concerning," Kuo said. "The fact that it's not a supply shortage from Asia where most of the boba comes from, but at the docks, it's a little frustrating. [The boba is] here, but the boba stores area-wide can't seem to get access to it."
Initially, when the news of a possible boba shortage was spreading, Kuo recalls about every third or fourth customer asking about their tapioca pearl supply. Junior Alysa Phattanaphibul, who has worked at TeaTop for about two years, shares a similar experience. 
Phattanaphibul's manager informed her that the store would not be affected until the end of May, if the shortage persists. However, she fears that if their boba supply runs low, many customers would come less frequently since she believes many customers come for the boba pearls specifically; yet customers can still purchase the drink with other toppings or none at all. Currently, Phattanaphibul drinks about five boba teas per week, as she gets one free drink per shift, yet she shares that she "definitely wouldn't go as often" if the shortage of tapioca pearls affects her store. However, she stated she would also consider trying other toppings, such as coconut and grass jelly.
Ong says that if his favorite places ran out of tapioca pearls, he would instead attempt to make the topping at home. Despite not being directly affected by the shortage, Ong acknowledges that this news has given him a newfound appreciation for the drink.
"We live in a place where we can have pretty much everything and anything shipped to us from any side of the world, and so hearing about [the boba shortage] and it actually impacting us, it makes us more grateful for this thing we may have taken for granted," Ong said. "I think boba adds another taste and texture to the drink that you can't get in any other drinks. It's an essential [part] of the drink and without it, it's not really even the same."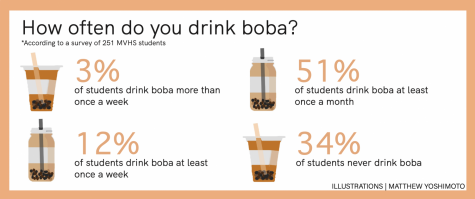 About the Writer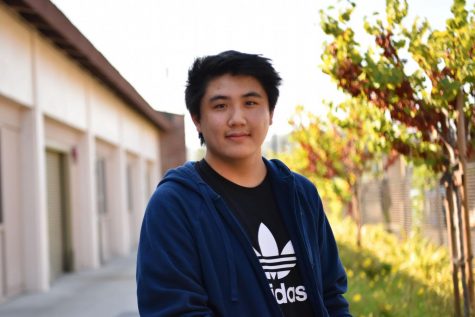 Matthew Yoshimoto, Managing Editor
Matthew is currently a senior and managing editor for El Estoque. In his free time, he enjoys going on hikes at Rancho San Antonio, spending time with his family and friends, watching The Office and listening to music.