Season shutdown
How the MVHS football and boys soccer teams reacted to their teammates' positive COVID results
After learning that one of their teammates tested positive for COVID-19, the Varsity Boys Soccer group chat blew up with messages of shock, confusion and panic according to senior and center defensive midfielder Tanmay Sharma.
"It really just took me by surprise, but then again COVID can happen to almost anyone," Sharma said. "I don't blame my teammates at all for contracting COVID — it's not their fault. It's just unfortunate."
The football team was similarly afflicted by COVID-19 after its third game of the season against Lynbrook High School. According to senior Henry Hodgkins, an offensive tackle and middle linebacker, approximately four people tested positive, and after discussion between coaches and district officials, the decision was made to cancel the remaining two games of the season. Hodgkins' initial reaction was one of shock and disappointment, but he accepts contracting COVID-19 as an occupational hazard in a sport as physical and contact intensive as football.
"
I don't blame my teammates at all for contracting COVID — it's not their fault. It's just unfortunate."
— Senior Tanmay Sharma
Sharma shares Hodgkins' mindset that spreading COVID-19 on the sports field was somewhat inevitable. However, taking into account the team's strong track record in the season so far, he also sympathizes with his teammates' momentary feelings of frustration when they first learned of the outbreak.
"At that point, the [latest] game we won put us in first place [in the league], and we were on track to win [but then] all that happened and we were just put into a 10 day quarantine," Sharma said. "We knew that it would be a massive obstacle for us … Obviously, a few people were annoyed. At first, I think some people were mad at the people who contracted COVID [and] blamed it on them. [But] I feel like those thoughts kind of flew away."
In fact, Sharma views the team's experience with COVID-19 as a test of its strong camaraderie; he says the team has been like a family throughout this season in particular. The team received some backlash on social media, but Sharma remains firm in believing that he and his team followed health guidelines as best they could.
"[In] pictures [and] the recap of our games, you would see that some of the players would not be wearing masks or have their masks pulled down," Sharma said. "If someone didn't know the rules, that the league allows players to tuck their masks because it would be unhealthy to wear the mask while you're running throughout the entire game, [it's] understandable to lash out and call them out for not wearing a mask … But we know the rules — we've been following [them]."
Additionally, Sharma and Hodgkins say that from whom or where the initial COVID case originated remains unknown, both because those who tested positive wanted to maintain their privacy and because there are so many potential points of origin, a sentiment that Athletic Director Nick Bonacorsi echoes.
"I can't know [with] certainty — I don't know if it came from the sport [or] if it came from something that they were doing outside of the sport," Bonacorsi said. "It's impossible, really, to know the point of origin with something like this because of how easily [COVID-19] can be spread."
After Bonacorsi learned about the positive results, he took the situation "very seriously" and immediately turned to the district and county protocols. The first step is a mandatory 10 day quarantine for all the athletes on the team while administrators track down everyone else who they may have been in contact with. After six days of quarantine, athletes who do not develop symptoms or feel sick are asked to take a PCR test to confirm whether or not they have the virus. Should an athlete test positive, they must follow the California Interscholastic Federation return-to-play protocol, an eight day program that requires athletes to go through different tests before they can return to the field. This protocol was created to monitor the cardiovascular and other unknown long-term health effects that athletes may experience. 
While Hodgkins and Sharma were thankful to see their teammates make full recoveries, the 10 days of quarantine dragged by slowly for the athletes, many of whom missed playing alongside their teammates.
"We all really love [soccer] and we all really love being with each other," Sharma said. "A lot of us have been playing the sport our entire lives and we're really dedicated players — some of our lives literally rotate around soccer. The situation really took a big hit and it was a little hard [on] our mental health, but I'll say we fought through it pretty well."
Despite the fact that the team was anxious to come back after their quarantine, Sharma credits the team for "bouncing back quickly," considering that the players' first game back was against "the hardest team in the league." Although they lost against Wilcox HS 3-1, Sharma notes that even after missing two games, the Matadors had the second best win percentage in the league. 
Hodgkins shares that optimism about the football team's short season and encourages athletes in future seasons to ignore the "elephant in the room" that is COVID-19, especially during games.
"
You just have to go out there and just play — you can't really be worrying about external factors."
— Senior Henry Hodgkins
"At the end of the day, you just have to go out there and just play — you can't really be worrying about external factors," Hodgkins said. "I'm sure I was a little worried and I'm sure a lot of other teammates were a little worried about COVID, but when you step on the field or on the court, you just have to put all that aside and just play the game."
Hodgkins remains grateful that the football team had a season this year, even if they could only play three out of five games. He believes that the situation was handled as professionally as possible and looks back on the season as "a positive memory." Bonacorsi also views the situation as a learning experience for the seasons to come.
"I think the one thing we need to always remember is to never relax in this kind of situation," Bonacorsi said. "While [California] is headed in the right direction, that doesn't mean it's time to loosen up from an athletics perspective. We need to play it safe and have constant reminders about physical distancing and mask wearing. There is an end in sight, but we're not at it yet, so keep playing it safe."
About the Contributors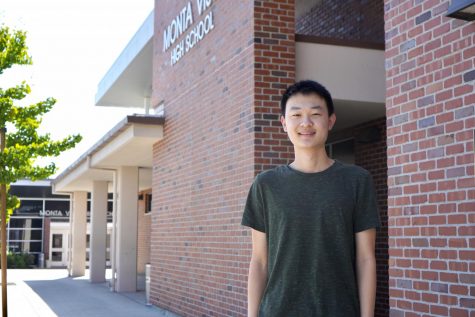 Robert Liu, Managing Editor
Robert is a senior and a managing editor for El Estoque. He spends his free time practicing the piano, programming and reading books.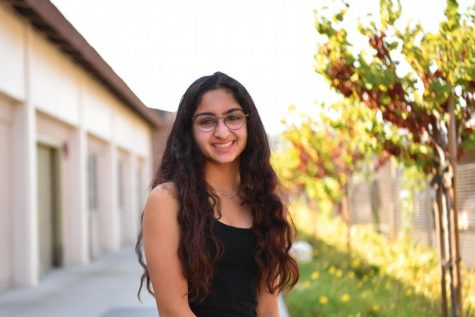 Nika Zamani, Sports Editor
Nika is a senior and sports editor for El Estoque. Along with being a staff writer for La Pluma and Res Novae, she is the founder and president of the Monta Vista Persian Club. In her free time, she likes to go on walks and spend time with her friends.