Boys Water Polo falls to Harker HS 11-22
The team loses its energy in the second half after a promising first half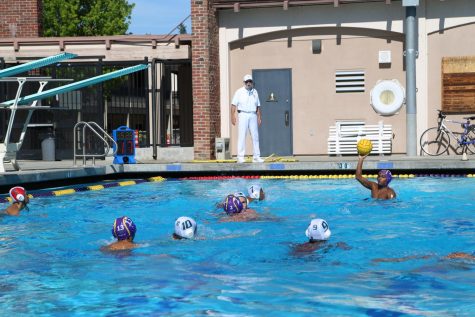 On May 13, the Varsity Boys Water Polo team lost its ninth game of the season against Harker HS with a score of 11-22, bringing its game standing to 4-0-5. Despite a promising first two quarters with Harker in the lead just by a few points, Harker's lead grew from 16-10 at the end of the third quarter to 22-11 at the end of the fourth. Despite the loss, Junior Nilay Kundu believes he saw improvements from the previous game.
"Compared to our first game, I think this was a lot better," Kundu said. "We had a really good first quarter. But then afterwards, we kind of lost our synergy, and that shows in the score. We managed to get a lead, which we hadn't done in the first game — that [was] my highlight for this game."
Junior Neelkanth Shitolay also attributes the team's downfall towards the end of the game to the players losing stamina and not spreading across the pool — which they were successful in doing during the first quarter. He says the highlights of the game were the shots the team made from 8 meters and 6 meters during the first half. Junior Ryan Hong specifically highlighted junior Luke Bowman's skip shot, which he says is "one of the best shots he's ever seen."
Going forward into the season, Shitolay wants to continue working on the team's 6 on 5 plays and getting open, both as a team and individually.