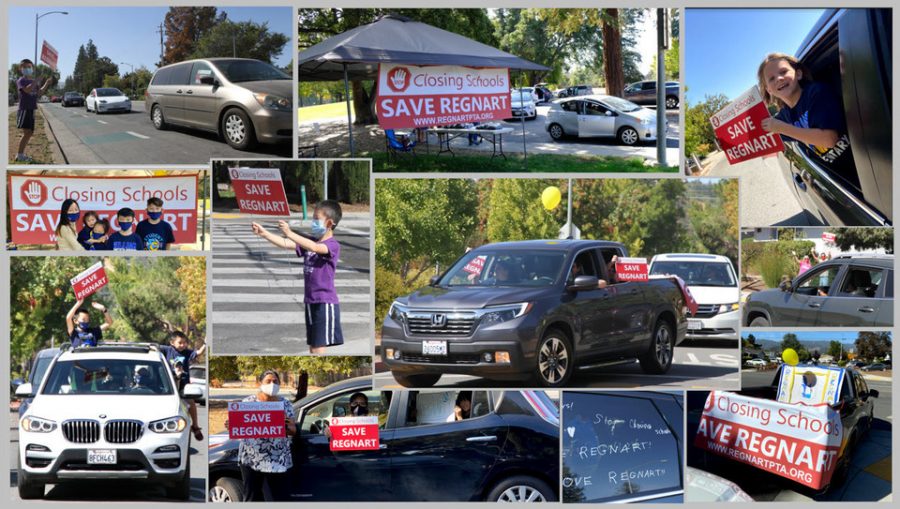 Used with Permission from the Regnart PTA
Part 4: CUSD board and community members address the possibility of school closures
Exploring CUSD's potential school closures and its impact on students, parents and teachers.
May 6, 2021
As parents logged on for the monthly board meeting to see how the CUSD board would resolve the district's financial situation, The Cupertino Advisory Committee, a group of community members who advise the board, proposed a plan to make the district solvent again. It would require school closures.
In response, community members protested, making signs reading "Save Regnart" and "Save Cupertino Schools." Regnart PTA board member Yari Toleno says that her first reaction to the possibility of school closures was "frustration, sadness and anger," adding that she believes the closures would cause confusion among students.
"If Regnart would have closed during this pandemic, I really don't know how the students would have taken the news," Toleno said in an email. "The last eight months have been hard enough for these kids, to compile a school closure on top of all of their worries would have been quite catastrophic in my mind." 
As a result, car rallies were planned to voice opposition to the board's plan, which Toleno believes was necessary in order to raise awareness about the situation.
"The car rallies and protests were a prime example of what every citizen should do if they feel the need to be heard," Toleno said in an email. "Sadly, we tried the 'email/phone call route' and no one was listening to us. We then decided to mobilize and make sure our community was made aware of the proposed closures. The Save Regnart Campaign quickly grew within two days and we had hundreds of community members joining in on our rally cry."
Board member Jerry Liu says that he and the board are committed to trying to keep all CUSD schools open, but that the board must keep its options open. He believes that in a financial crisis, the district will do what they have to to keep the district solvent, even if that requires closing schools.
"I believe, fundamentally, the problem with this district is we're underfunded," Liu said. "That's why we can't take [school closings] off the table. But I'm willing to commit as a board member, and I will very much advocate for, [that] we don't just say, 'Oh, [we will run out of funding in] three years, let's worry about in three years' but [instead], really actively work on it."
Liu believes that as of now, the board will make decisions about closing schools based on the environment of the school.
"
I think right now, I don't believe we should run schools with one class per grade. I think that's just not a good environment for the kids. It's not a good environment for the teachers."
— Jerry Liu
"There is a difference between closing schools because you need the money versus closing schools when the learning environment has gotten bad for the students," Liu said. "I think right now, I don't believe we should run schools with one class per grade. I think that's just not a good environment for the kids. It's not a good environment for the teachers."
According to Liu, one possible solution is to allow parents to choose what elementary school to send their child to instead of requiring parents to send students to their local elementary school. Liu argues that this will help fix the current enrollment disparities at different schools.
"Right now we have these alternative programs — we have Faria and McAuliffe, Clip and [Murdock Portal]," Liu said. "They all have long waiting lists … I think there are incentives we can put in place to have [school sizes] balanced out. But we need time — it's not something we can do right away."
With the addition of these alternative programs, Liu hopes that the community as a whole will choose to pass parcel taxes that will help the district, as the district doesn't have many options left to combat the issue.

"[If] the community can pass this parcel tax, we will commit to work with the community to put these things in [and] make it all transparent," Liu said. "Right now, you can't even find out how many kids [your school is] up to. I would, at least for my part, advocate for making that information public so [people] know what the metrics are, what their actions were doing and where we are today. [That way] it's not going to come as a surprise in 2023. People [won't] go, 'Oh my God, what's going on here?'"
Board member Lori Cunningham believes that because of the community's reluctance to discuss school closures, the board is unable to affirm that schools will stay open.
"We are not at the point where we can say [that any school is safe from closure] because we never got to that point in the conversation," Cunningham said. "I think that the community really was not comfortable with any of the conversation that was happening and did their best to stop the conversation happening about certain school sites."
While Toleno sees the challenges of the current budget situation, she believes that better avenues should be pursued in order to prevent school closures. She thinks that the board should improve communication about financial issues and the boards plan.
"Many parents and community members are not aware of the dire straits CUSD is in currently," Tolene said in an email. "People assume we are a 'rich' community with the best schools, so there is no way that the schools are [facing] financial issues. The disturbing fact is that they are wrong. Granted, most of Cupertino is in an affluent community, but not every neighborhood reflects that."
Vogel believes that community involvement in decisions of CUSD depends on what is being discussed, noting that school closures are an eye-catching move that parents would want to be involved in.
"I think the issue of school closure has brought a lot of people out who maybe even though they had kids in our district, maybe they weren't paying attention to the district, maybe they were only paying attention to their own school," Vogel said. "Now, there's a huge level of involvement and I think … no matter what we do, we will not make anybody happy, we all know that. I think it's our responsibility to listen to them and if a decision is made to close schools, I think we have to really involve the community."
However, on Nov. 12, parents declared "victory" when board members decided to table the decision to close schools until later. In the meantime, the board is asking the community to help pass a parcel tax in the upcoming 2022 election. According to parents, this would resolve their objection to closing schools as well as help fund the district. Despite this, Vogel notes that school closures remain a possibility in the future, adding that closing schools will never be an easy decision.
"It's an emotional thing to close a school — it's tough," Vogel said. "Not only in the decision of what to close, but also in the decision of how to move forward and help the communities move forward."
—
In the 1970s, CUSD experienced a gradual decline and later a rapid increase in enrollment. Through the work of Dr. William Bragg and board members around him, CUSD opened new schools including Lawson Middle School. The 2010s came with declining enrollment, spurring community distrust between administration and the public and finally, reaching the depths of deficit spending. As parents and community members rallied around schools to save them from possible closures, a variety of methods were suggested attempting to save CUSD's solvency, and some implemented. Former board member Pearl Cheng summarizes the life of our local public school district.
"Our community will come out strong — it always has through these times of up and down," Cheng said. "I think we just have to know that and be able to support that as difficult as some of these decisions."