My dad got COVID
My experiences living with a family member with COVID-19
Dinner parties, family gatherings, outings and movie nights with friends — all the aspects of a social life that I deeply craved but had been forced to let go of due to the COVID-19 crisis were slowly but surely beginning to make their way back into my daily life. A sense of normalcy was starting to present itself in my home after a dreaded year filled with FaceTime calls and Zoom screens. 
Vaccines were at last becoming accessible to us and each member of my family scheduled  appointments as eligibility requirements changed. With both of my parents being child care workers, they were the first in the family to receive what we viewed as the solution to all our problems. By the end of March, my parents and older sister had received both doses of the vaccine, and on April 14, I received my second dose of the Pfizer vaccine. For the first time in a year, I felt like I could let go a little. 
But just as everything seemed to get better, it got worse.
My dad had been complaining of a red, itchy eye for a couple days, but since he is notoriously prone to allergies, my family assumed it was just an allergic reaction and urged him to continue taking his allergy medication. In spite of our confidence in my dad's diagnosis, my sister, being the mildly paranoid medical student she is, took it upon herself to schedule him a COVID-19 test, just as an extra safety measure. There's no way he's going to have it, I thought to myself, dismissing the thought. Aside from the fact that our whole family had been vaccinated, we had continued to heed precautionary measures like wearing masks in public and avoiding large gatherings.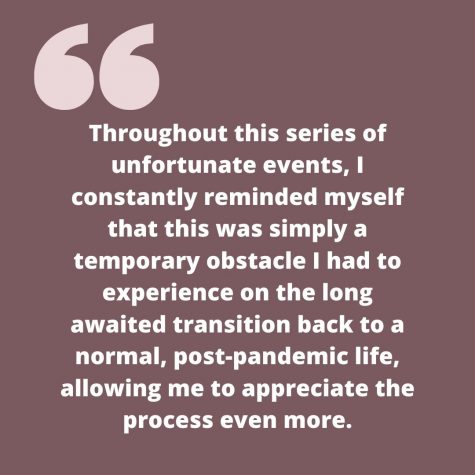 After days eagerly awaiting his test results, my mom finally got that call from my dad. I felt my stomach do a cartwheel as my mom's normally cheerful expression was erased by her wide eyes, filled with frantic fear and worry. 
"Your dad tested positive," she announced. My sister and I looked at each other, our faces mirroring a mountain of emotions. Confusion, sadness, anger, worry, stress, frustration — in that moment, I didn't know what to feel or what to do. 
Hearing those words immediately set off panic in me, and a million thoughts shot into my brain all at once. Is he going to be okay? Does that mean my whole family has it? Was I close enough to him to also get it? How will we live in the same house without getting infected?
How did this happen?
It felt like a slap in the face. A whole year of staying safe. A whole year of wearing masks, social distancing and not inviting people over. A whole year of efforts to heed every precaution had apparently gone straight down the drain. I found myself incredibly frustrated, questioning if this so-called, "temporary" phenomenon that had taken over everyone's lives was ever going to end. After my dad tested positive, it seemed like the nightmare started all over again. 
Nevertheless, we forced ourselves to figure out what life for the foreseeable future was going to look like. My dad had to be fully isolated, but still be looked after as much as possible. Luckily, his symptoms were mild and could be easily managed, with only a slight fever and some cold chills. The red eye he had ended up being viral conjunctivitis, a rare indication of COVID-19, one we probably would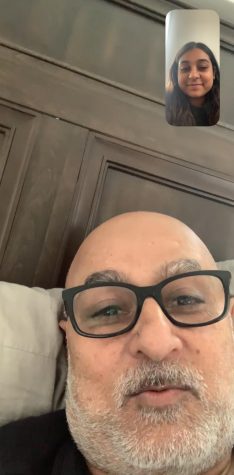 not have even paid attention to if it weren't for my sister's abundance of caution.
My dad stayed in my parents' room, while my mom slept on the floor of my sister's room. The rest of us began wearing masks in the house because even though my sister, mom and I had tested negative after my father's diagnosis, we still wanted to be as safe as possible. My dad was not to leave the room for at least 10 days, as instructed by his doctor, except for opening the door to retrieve the food and water we left out for him every couple hours on a rollable table. 
Though we were steps away from him, phone and FaceTime calls had to suffice as our only source of communication. This felt rather ironic, considering we had just started moving away from the FaceTime app and actually seeing people in real life. But even though these changes to basic aspects of daily life were hard to get used to, we had to do what we had to do. 
I started getting used to the knocks my mom made on his door, along with her yelling variations of "Dinner's here!," "Eat your food!" or "I brought you more water," every couple hours. The initial wave of stress and worry I faced when finding out about his positive test result — a panic that had only been exacerbated by the fact that he is immunocompromised due to living with diabetes — steadily faded away as my dad became close to asymptomatic after the first few days of his quarantine. I assume because he was fully vaccinated, the vaccine must have at least been helping his body fight the virus one way or another.  
I never expected someone so dear to me to get COVID-19 — sure, I've had a couple distant family members test positive, but never someone in my immediate household. Even though I found myself caught up in all the negative potential outcomes of this situation, I also learned valuable lessons along the way. I learned how to keep calm in a state of stress, how to quickly come together with other members to try and hash out a solution and how to take care of a person who I'm not allowed to see or be near — a person who had spent most of his life taking care of me. 
Throughout this series of unfortunate events, I constantly reminded myself that this was simply a temporary obstacle I had to experience on the long awaited transition back to a normal, post-pandemic life, allowing me to appreciate the process even more. This was hard to do, since my dad testing positive felt like a major setback for what I had so anxiously been looking forward to for months on end. That being said, his journey to recovery has been successful, and my journey to a sense of semi-normalcy has mercifully resumed.