Girls Basketball: Monta Vista loses to Homestead 43-35
Varsity loses its fifth game of the season
The Varsity Girls Basketball team lost its third home game against Homestead 43-35 on Friday, April 30. This loss puts them at second place in the overall league and adds to their 2 win – 2 loss season record. Despite the loss, the team remains optimistic and excited about the season this year. 
Sophomore Julianna Kimm says they had come close to beating Homestead last Tuesday with a final score of 33-31, which was why she had high hopes for this game. According to Kimm, Homestead is one of the best teams that MVHS competes against every season, which makes each game a good learning experience to correct their mistakes and build onto what they did well.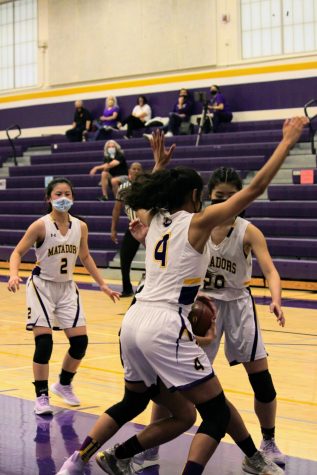 In the first half, MVHS and Homestead were neck and neck, with Homestead leading 19-14 at halftime. After halftime, MVHS seemed to pick up the pace, nearly closing the gap. However, it seemed their efforts weren't enough, and by the fourth quarter, Homestead was able to pull apart the gap and win. Kimm believes that due to the high pressure on the court, her team can at times get "frazzled" on the court.
Junior Siri Adusumilli agrees with Kimm and describes changes in the team's gameplay and mentality in the second half when MVHS failed to close the gap between the scores. 
"[During] the first half, I think that we did a good job playing defense," Adusumilli said. "We kept them to a low scoring average [and] I think that was crucial in winning in the game. But in the second half, our offense went down, which is a big factor in keeping us in the game."
Kimm says that one of the team's biggest weaknesses in this game was not being aggressive enough — they frequently hesitated with their shots and passes. 
"[Sometimes] I don't think I'm confident enough to make those shots, so it kind of gets in my head," Kimm said. "If we hadn't missed all those shots and had all those turnovers, we definitely could have won the game. So I think silly mistakes are [what] we can work on for our next game."
Sophomore Lucy Choy agrees, adding that because of the team's lack of aggression, Homestead was able to get away with certain fouls. She explains that the referees were not calling many of the fouls out, which allowed Homestead to gain an advantage during the game.
Despite the loss, Adusumilli believes that this game will not discourage the team's attitude towards the overall season. She says that because of how good Homestead is, the team will be able to take motivation from its loss and use this energy to win future games.
"So far we've only played four games, so I don't think [our performance] says much about the season as a whole," Adusumilli said. "But now that we know [how challenging] the hardest team we play [is], we definitely have a shot. That makes us want to play harder and [will] make sure we win every single game this year."