Reflecting on Zoomcoming
Shortcomings and successes from this year's Homecoming
Unlike the usual week-long Homecoming experience that culminates in a Friday rally, football game and Saturday dance, this year's Zoomcoming went remote and included various social media challenges, online performances and competitions like a Class Kahoot game and Staff Laughing Competition. In addition, ASB utilized Zoom to show off dance, chorus and band performances during Advisory on Wednesday, March 24 at 9 a.m. 
For senior and ASB President Nick Hsieh, the event proved to be a challenge to organize online due to barriers like communication and synchronization of the larger performances. He relied on social media platforms like YouTube and Instagram to execute and promote the weekly activities which he believes helped lead to a successful event.
"After the actual event, I can say that it wasn't on par with what a typical Homecoming," Hsieh said. "I would say the difference is the much larger engagement that comes with in-person school when we're now virtual. It's much more interesting seeing someone performing a skit rather than dances online while you're sitting at home. And then when you're in school you see all these decorations you see people dressed up for Homecoming. But because this was the first time we worked over Zoom in such a big way, I can't deny the results because we had fun with this and we received so much support to make this Zoomcoming possible."
Though the virtual performances lacked the physical, stimulating feel from a live performance, Hseih  considered the event a  success because of the positive feedback from students.
"Our Zoomcoming [video] became a lot harder to promo without that in-person hyping up," Hseih said. "But it surprised me to see how many people in my Advisory period were actually enjoying the event which made me realize that this was still a good reprieve for MVHS because my teacher and classmates [were laughing] and enjoying the activities like my personal favorite, the Staff Laughing Competition, because it got staff and students together in a hilarious performance."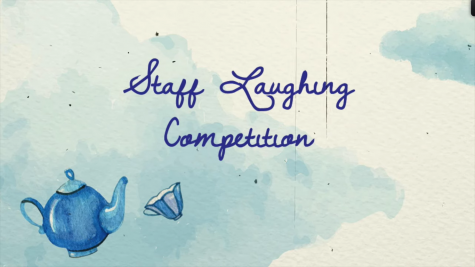 The Staff Laughing Competition, which pitted staff against each other in a humorous competition of jokes, did more than just give students a laugh according to senior and ASB secretary Kelli Kosakura. She worked with the Executive Council behind the scenes for the Zoomcoming production.
"I would say the Staff Laughing Competition [was different] in a positive way from what we've done in the past for Homecomings," Kosakura said. "We don't always get staff involved with all the games just because they're busy and stressed, but I think with all the teachers that came out to help, it gave students a chance to see their [teachers] in a different light. Normally, students can connect in person, but with that barrier of learning remotely, this helped teachers reach out to students in a more personal and honestly fun way."
Like Hsieh, Kosakura also reflects on Leadership's execution of a virtual Homecoming and how there is little room for comparison because of how singular the event was overall. 
"I can't judge this Zoomcoming harshly, which is why I think it [went well]," Kosakura said. "If we do later events online, I see room for improvement on how we reach out to students. A lot of students could be feeling shy or uncomfortable about reaching out and it's our job as Leadership to make participating fun and enjoyable instead. I honestly hope that for future big events, we'll be in-person where the work [like] communicating and organizing becomes much easier."
Although Kosakura saw a need for greater emphasis on social outreach, sophomore Julianna Kimm, who helped to organize the Zoomcoming royalty nominations, believed that the success of the event was largely possible due to the participants who did support the event and attributes that success to Leadership's use of popular elements such as Disney shows.
"We all grew up with and love shows like 'The Lion King' and 'Aladdin' [so I think that] adding in comfort characters and shows into the helped connect staff and students during the event even when we're distanced online and became one of my favorite features," Kimm said.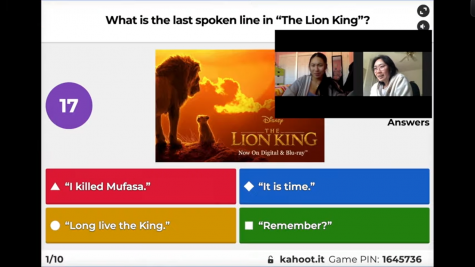 Kimm also believed that there was increased involvement because the event occurred during Advisory. 
"Most students would have probably ignored or not known about the event because it's not easy to promo online when we can't entice people in-person to join activities," Kimm said. "I had a lot of people saying, 'Oh my gosh, it's gonna be so bad' or 'It's too late for Homecoming.' But using Advisory got teachers and students excited and engaged and I think that worked out to keep people interested in Zoomcoming and prove that we could pull this kind of thing off online."
Sophomore and 2023 class officer Itai Lavi, who worked on editing and adding transitions to finalize the youtube ready video, recounts that the hardest part of preparing the Zoomcoming event was editing the video and adding in elements such as music and blending the clips together.
"It was far from easy and very time consuming to get through all the video clips," Lavi said. "But we worked around that and I think [that] staying positive in honor of [trying to replace] our Homecoming with an online [version] helped to get past that challenge because we were acknowledging that if we did have a Homecoming, it was something to look forward to and get excited for."
To better prepare for future online events Hsieh and MVHS Leadership is focused on reaching out to the student body for feedback. 
"We're always trying to look for ways that get as many students involved as possible," Hsieh said. "I want to use my role as Leadership to give back to students even in this online experience and rather than asking students to get involved, I want to be able to reward students for participating. It's Leadership's goal to let students have fun during these events and I think that was our goal with this year's [Zoomcoming] as well."
With many things to reflect on, Leadership will continue to meet and discuss this first virtual event to determine how to implement change and increase participation. Kosakura attributes the success of this event to the supportive reaction from students.
"I know that there were [students] who usually aren't school-spirited who participated in the drawings and Kahoot game," Kosakura said. "And to me, it meant that our attempts to make Zoomcoming special, and possible even remotely, were being appreciated by other students that in a way, worked to [unite MVHS]. I think it was hearing students who usually don't get engaged or interested in school events asking 'How can I get involved?' or 'I heard about Zoomcoming, is it going on? What can I do to help?' and actively working to make Zoomcoming complete made me the happiest."