Art
Exploring the experience of students who have participated in art competitions
Although junior Olivia Tsui has been practicing art ever since she was a child, her first competitive experience was the school-wide competition hosted by her Chinese school. Tsui then discovered that she enjoyed competing and also started to take lessons on Western art with a Chinese painting teacher. Her teacher gradually exposed her to more competitions, leading to the most recent one she participated in.  
"The actual prompt was in Chinese—it basically translated to 'Our Beautiful Taiwan,'" Tsui said. "It took a while for me to brainstorm, [and] my parents were suggesting, 'Oh, maybe you should draw this famous mountain in Taiwan.' But I had the idea of painting a night market because I thought markets are really festive and it's uniquely Taiwanese. So for me, I wanted to embody the prompt and try to find what fit the best."
Similarly, in the past, junior Taryn Chong also participated in competitions in which the winner's piece is painted on a landmark such as a utility box. Last year, Chong decided to participate in the Scholastic Art Competition and created a short film about feeling powerless.
"I came up with it a couple of years ago — like these characters for a project," Chong said. "But I never used them. And then I wanted to use them somehow and I had a project in multimedia class for an animation. So I was like, I might as well submit it to that too. While I was working on it, I remembered that there was the Scholastic awards."
According to Chong, the greatest challenges she faced was her schedule and completing her submission before the deadline. After remembering about the project only a couple of weeks before the deadline, she was forced to quickly finish all her school-work and attempt to complete it after classes or during the weekend. 
"Not even just competitions, but when creating stuff outside of school, it's definitely hard because art is not something that is connected to anything we do at school unless you take an [art] elective," Chong said. "So you have to use outside time to work on things like your competition pieces or anything else. I think it taught me about my own work ethic. I usually have a bad work ethic, but this kind of taught me that I can put my focus into something and I can work towards something."
For junior Elizabeth Ge, a difficulty she has encountered is coming up with subjects to draw in competitions that do not have a given theme.
"It's hard to think of something new or creative that you could do," Ge said. "And chances are, if you do end up thinking of something, it's probably already been done by someone in some way, shape or form. I'm still working on it, but I've been trying to combat that by focusing more on my execution and how well I'm able to express what I want to express through my artwork rather than on just how original my idea is."
Tsui explains that she has found a variety of motivations to participate in art competitions.. 
"There's an incentive because you might win and you might get a prize, but also if you do it, it's fun because you kind of have an incentive to do art and you might get a reward," Tsui said. " And [art for competitions] is not just ordinary art that you do in your free time, like just sketching. You actually make a completed piece and that's fulfilling in itself."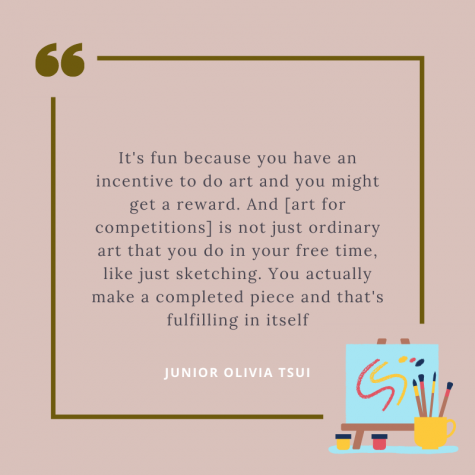 Additionally, Tsui enjoys the overall process of creating a work of art. She feels as though there are challenges that come up during the regular process, which can induce "panic" in the moment, but are enjoyable in the end. She advocates and encourages people to "try things out" and believes this applies not only to art competitions but also to competitions in general.
"I see a ton of [competitions] everywhere, and I feel like it's not that hard to just spontaneously do it," Tsui said. "Even if you feel like you're not competent in winning, or you're not confident that you'll get anything out of it, it's just like taking a break and taking the opportunity to do something. Usually when I do art, I'm kind of like, 'Oh my God, I still have homework to do.' But honestly, you feel like you're stress[ed] about it at the moment, but it's actually pretty enjoyable."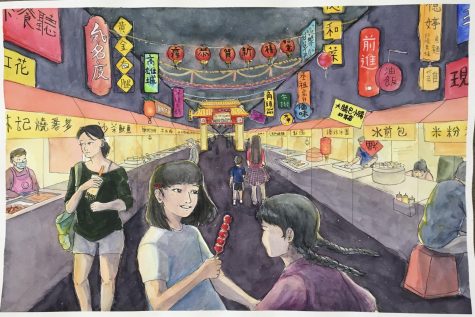 "As I started out, I knew that I wanted to make the night market and I wanted to draw some kids in the front," Tsui said. "But, in order to do that first, I had to plan out exactly how I wanted on paper. Because usually, I don't make finished pieces, so it was kind of like you have to do some more planning when you make finished pieces. So what I did was, in my sketchbook, I sketched out the perspective of the night market and how I was going to lay things out. And then after I did that, I would search up a ton of reference photos. And then I took out my watercolor paper and I sketched it directly on. I did a lot of it on my desk, so I brought in another table into my room and I taped it on and I lined it and I basically painted it after that." 
About the Contributors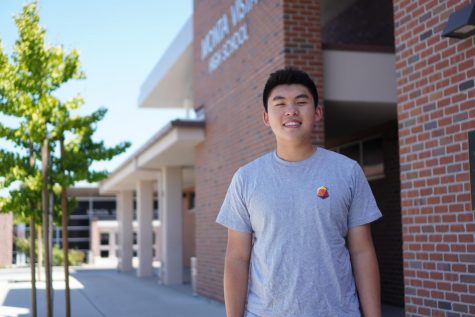 Gavin Hung, Staff Writer
Gavin is currently a junior and a first year staff writer for El Estoque. He is part of the school's robotics team and in his free time, he enjoys watching short films, spending time with his family and walking his dog, Kero, who is always looking for a treat.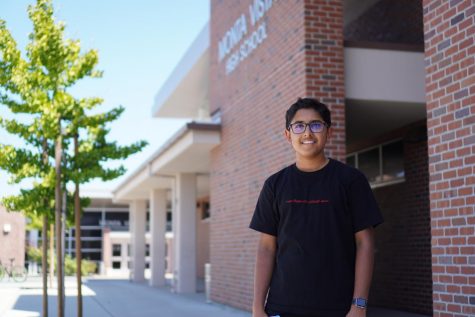 Tanish Mendki, Features Editor
Tanish is currently a junior and features editor for El Estoque. He is a captain for Monta Vista Speech and was on JV Badminton last year. He is currently obsessed with the Big Bang theory and hopes to complete the series within the year.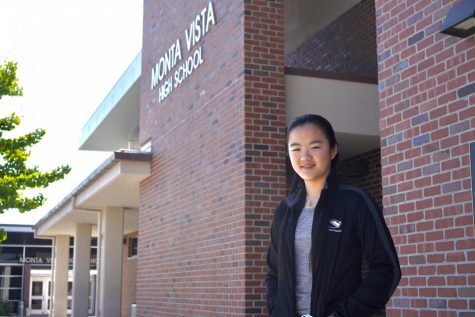 Michelle Chen, Features Editor
Michelle is currently a junior and a features editor for El Estoque. Her interests include percussion and volleyball; she is an All-State level percussionist and was a captain on both her club volleyball team and the MVHS junior varsity team last year. In her free time, she enjoys going on walks with her family and their two dogs.