Live coverage of MVHS' shift from distance learning to hybrid, in-person instruction
Updates on FUHSD decisions about returning to in-person school
April 8
Resources related to the April 19 reopening have been pushed out to students including the Reopening Student Handbook, Reopening Orientation Video, Reopening Orientation Slides and the Reopening Bell Schedule. Students were assigned one of five learning groups via email yesterday. The five groups are:
Group 1: Remote Instruction Only for Monday through Friday. 

Group 2: Remote Instruction and In Person Activities. 

Group 3: In Person Learning Monday and Tuesday, Remote Learning Wednesday Through Friday. 

Group 4: Remote Learning Monday Through Wednesday, In Person Thursday and Friday. 

Group 5: In person learning Monday/Tuesday/Thursday/Friday, Remote Learning Wednesday.
April 5
Today's FUHSD Parent & Community Webinar offered more hybrid instructional model updates.
FUHSD has decided that students who have chosen the in-person option may choose to return for two days per week or four days per week. If students choose to return two days per week, they will not be allowed to pick the two days they will be in-person for — the school will assign these based on what maximizes social distancing in classrooms. 
At MVHS, 19% of the total student body — 376 students — is returning in-person. Of these 376 students, 83 of them will be returning for two days per week and 293 will be returning for four days per week. 
In accordance with CDC guidelines, students will be seated at a minimum of three feet from one another in classrooms. All other aforementioned safety guidelines, such as filling out the daily screening tool from Qualtrics, will be in place. Currently, some staff and students are piloting the Qualtrics screening tool and sending feedback to Associate Superintendent Trudy Gross. There will be wipes with soap in each classroom so that students can clean desks between classes. Students that do not adhere to guidelines such as wearing masks or social distancing will be given one warning, and continued offenses will result in the student being sent home for the rest of that day, which will be considered an unexcused absence. 
Currently, COVID-19 testing is available for athletes and coaching and training staff, but the district is working on expanding this. When the hybrid model begins, if there is a positive case in a classroom, the whole class will be required to quarantine, with the exception of vaccinated individuals who have been fully vaccinated for a minimum of two weeks. This past weekend, there were three separate instances of an athlete testing positive, and since sports teams physically interact among one another, three teams, all at three different FUHSD high schools, are currently quarantining.
At school, students are required to have devices for a variety of reasons including accessibility to resources such as Schoology, as well as opportunities for collaboration with their peers that are in remote learning. After returning to campus, free lunches will be provided to all students, and a grab-and-go distribution will be set up to minimize physical contact and the cafeteria will not be one of the designated eating areas. Even though Wednesdays are asynchronous days, free meals will still be offered on the Cupertino High School, Homestead High School and Fremont High School campuses.
The district continues to update the FUHSD Guide to Bringing Back Students & Safety Protocols on their website, and a fully updated FUHSD Guide to Bringing Back Students, which will include all campus-specific safety protocols, will be shared and posted online before April 19. Additionally, students will receive their individual schedules through Infinite Campus Messenger on April 9 where they will be assigned to their learning group. 
Freshman Orientation, along with other welcome activities, will happen at each FUHSD high school campus between April 7 and 9. More information about these events will be released soon. 
Moving forward, the plan for graduation is still to have multiple in-person ceremonies since Santa Clara County is now in the Orange Tier and allows for 33% maximum capacity at venues. Parent volunteers are working with Great America to sort out insurance challenges in order to potentially have a Grad Night event for the Class of 2021. Additionally, finals week this year will have increased complications due to conflicts with AP testing. The district is encouraging teachers to avoid giving high stakes, high stress finals.
"We have people working hard to be ready," District Superintendent Polly Bove said. "It seems like it's turning on a light switch — it's not. It has its complexities, but everybody's doing a terrific job and I'm seeing great enthusiasm about this because it feels like we're returning to more normal activity."
April 3
FUHSD will be hosting another Parent & Community Zoom Webinar on Monday, April 5 from 3:30 to 4:30 p.m. to provide updates about the in-person learning option. MVHS will be sending out a Reopening Student Handbook and video by Wednesday, April 7.
Teachers are required to come back to campus prior to April 19 to prepare their classrooms, and are given flexibility to do so. They may choose some of the following options for classroom prep:
April 7 to 9, since April 7 will have an asynchronous Advisory period after attendance, and teachers can host asynchronous classes on April 8 and 9. Office Hours during these days are also optional. 

Non-school hours between now and April 7; teachers will be paid hourly for up to 10 hours. 

Educationally Related Activity Periods (ERAP) times between now and April 7. 

Spring Break (April 10 to 18); teachers will be paid hourly for up to 10 hours.
March 31
Today's staff meeting revealed more information about school reopening. 
The school will be a closed campus, and students may not leave for lunch, brunch or free periods unless those free periods are the first or last periods on that particular day. In terms of food and drink, since the campus is closed, free lunch will be provided to students, if requested. Eating indoors is prohibited and students must bring their own water since drinking fountains will be closed. 
Lockers will not be accessible since they will be zip-tied. In order to minimize physical contact, stairs and hallways will have one-way traffic. Also, the main office's front doors will remain locked, but there will be a doorbell for service. Students and parents will be asked to meet on Zoom and phone calls or communicate through email.
March 25
CA Gov. Gavin Newsom announced expanding eligibility for the COVID-19 vaccine. Californians who are 50+ may sign up for a vaccine appointment starting April 1, and Californians who are 16 and older may sign up after April 15.
March 24
In light of the quickly approaching March 26 deadline for the Commitment Survey, El Estoque conducted a Q&A with Principal Ben Clausnitzer about the return to in-person, hybrid instruction on April 19.
Q: If students choose one option and then change their mind, will they be allowed to do so and what would be the process?
A: If a student has chosen the option to return in-person and they change their mind and would like to go back to remote, that would be something that can happen. We don't have the process yet, it probably is going to be contacting one of our assistant principals. 
If a student wants to opt for in-person learning, rather than having a lot of movement in and out, FUHSD is talking about maybe having a window where we go back out and ask that question [to opt in if they want to], which might be somewhere in the range of two or three weeks later after April 19 to gauge interest. 
Q: Despite the new CDC guidelines allowing 3 feet instead of 6 feet distancing in classrooms, will students still be returning for two days a week?
A: In general, when the CDC comes out with guidance, then it might flow to a state level and then eventually to a County level, and as a school district in Santa Clara County, we're waiting to hear what guidance Santa Clara County Department of Public Health would say in regards to that particular topic. Our county has been more cautious than most in the United States with their guidance … We have to operate from the current County guidelines, and the current County guidelines say 6 feet, and we are waiting to hear for future guidance, if that would stay the same or change. But we have not seen anything yet. 
Q: Why is office hours virtual only? 
A: Office hours is remote and it was just out of trying to limit the number of contacts teachers have with students, so it's FUHSD working with the Teacher's Association and coming up with a process everybody can live with. So while we give the opportunity for students to be back on-campus for classes, unfortunately that's not the case for office hours. 
Q: Will the library be open?
A: The library will most likely not be open, and that's because with our D Building construction, we have teachers sharing classrooms and during periods they don't teach, they would like to have a place to go versus being in the classroom with the other teacher and the other students. 
We will have our Student Union open. We're kind of reconfiguring the Student Union… we can also open the big three doors for airflow and we're reconfiguring it with student desks and chairs versus the big tables so that we can fit students and have them be appropriately distanced, and it can be a place for students to go and access WiFi and more. 
Q: How will brunch and lunch work? Will the cafeteria be open?
The cafeteria will be open in the context of serving food, they'll be serving food from three different locations … they're still figuring that out. I don't think they're going to serve from the actual indoor cafeteria. The idea is to disperse gathering so that you don't have all students going to one location, you go to one of three. It will be very much grab-and-go, not dishing things onto your plate. 
Eating is allowed, eating during brunch and lunch, outdoors, and the key is to be physically distanced outdoors. We're working to have spaces in the academic quad, the Rally Court and potentially some other locations, for example, the stadium seating, having one chair at each table [in the Rally Court] and taking the other chairs and moving them out into the open space and positioning them in a way that they're distanced appropriately, as well as the Amphitheater stairs, marking them in some way so that students know where it's OK to sit and where it's not. 
Q: How will the school deal with the logistics of having construction? 
A: The ongoing construction with the situation in the D Building is actually more simple than in the past, because it's at the back, southeast corner where they'll put fences and it'll be near the parking lot and blacktop area. Unfortunately that does mean Fort Baker won't be accessible using that gate … that whole corner will be closed off with construction trucks, vehicles, offices, storage, fencing. So in that way it's a little bit easier, because you can imagine for construction they'll be entering down the access road straight to that back corner. 
The good news about the D Building construction is that by starting now, we will have it done in August, versus starting in June would have meant we would not have it done until like October, so the good news is that we'll have it in August when school reopens.
Q: How many teachers will have to share rooms? 
A: I don't have the number off the top of my head, but in general, most of the teachers in the D Building … roughly 12 teachers. 
Q: How many teachers will be teaching on campus? 
A: We have roughly 140 staff, and well over 90 percent of all of our staff will be here on-campus … there are very few at Monta Vista that fall into that circumstance that need some sort of an accommodation or leave
Q: Will Study Buddy tutoring take place on campus?
A: Right now it's virtual, but moving forward it's a great question, will we get to a place where we're thinking of extracurricular activities or programs for support, and will that also be something to be on-campus. 
Q: What happens if a staff member does not want to or is not able to return?
A: They might not be able to return because of family medical situations, which would turn into a family medical leave. Or it could be a medical situation for themselves, in which case they would work with FUHSD Human Resources around either the process of accommodations or a leave. But if there was someone who didn't fall into those circumstances and just felt like 'I prefer not to return,' they would be working with Human Resources for an unpaid leave of absence.
Q: Is the district negotiating with the Fremont Educators Association? How are they going?
A: Very much so. FUHSD and FEA are very much negotiating in working out the details. I'm not in negotiations. I'm not part of our negotiations team that sits inside there and so obviously within negotiations, one of the things that's very important is that they don't take those conversations outside, so I myself am not necessarily privy to that information with our bargaining. So I've been waiting, just like everybody else a little bit, in terms of the agreements that our Teacher's Association and FUHSD will come up with, so that we can get prepared for April 19.
Q: So far, has the initial interest survey responses corresponded with the Commitment Letter responses?
A: Out of that interest survey, it was about 40 percent of students or families who were interested in returning in-person. I have not seen any data yet, that data around the Commitment Form, that data is held there out there in our district office and it's due on March 26 and probably then I'll know more.
March 22
An email from Principal Ben Clausnitzer stated that everyone has received their Commitment Letter through Informed K12 and each family needs to select a learning option for the rest of the school year before March 26. 
MVHS administrators will be hosting a School Community Zoom webinar tomorrow from 4-4:30 p.m. to answer questions.
March 19
The Centers for Disease Control and Prevention (CDC) updated their guidelines today, announcing that students in classrooms may be allowed to sit 3 feet apart with masks on, instead of the previous guideline of requiring at least 6 feet of distance. However, the 6 feet rule still applies to sporting events, other activities and lunches. 
FUHSD Superintendent Polly Bove says the district is currently considering this updated CDC guideline and waiting on further instructions from local health departments. The commitment form for families will be sent out via Informed K12 today, and families will be asked to indicate whether they are interested in potentially changing the hybrid model to four days a week instead of two. 
Additionally, two staff webinars will be held on March 24 to continue discussion about the evolving circumstances.
March 18 Parent & Community Webinar
FUHSD hosted a Parent & Community Webinar to address questions and concerns about the evolving situation. Panelists included FUHSD Superintendent Polly Bove, Deputy Superintendent Graham Clarke and Associate Superintendents Trudy Gross and Tom Avvakumovitz.
Bove explained that according to results from the initial interest survey, just under half of the total number of students say they want to return on April 19. She also explained that the district will send out a commitment letter via Informed K12 soon, where families will need to choose 1 of 3 options — continue with distance learning, continue with distance learning but also participate in in-person activities such as club meetings and athletics or opt for the hybrid learning model and attend in-person school two days a week. 
Students who start with the in-person hybrid model and later decide to return to distance learning may do so by calling the school. Students who start with one of the distance learning options and then decide they want to do the hybrid model may do so, but the district will establish a process for that later on.
The panel emphasized the safety precautions that schools will be implementing, including a daily symptom self-checker, wearing masks at all times except when eating, using hand sanitizer and wipes, seating all individuals at least six feet apart, cleaning, disinfecting and reporting and contract tracing in partnership with the County. Additionally, if a student is symptomatic during the school day, they will meet with a staff member and home will be contacted. The student will be picked up or allowed to walk home, and when they return, they must have a doctor or healthcare professional's note with them as proof that an evaluation has been completed. In terms of social interactions, group activities will be limited and teachers may not circulate around classrooms.
Currently, the school office staff has been working on a rotational schedule, but starting March 26, all of them will be returning in order to prepare for the April 19 opening. In addition, in-person meetings with office staff are now available by appointment.
March 18
Principal Ben Clausnitzer announced to the MVHS staff that in preparation for hybrid, in-person instruction on April 19, FUHSD upgraded their technology this past weekend to ensure that network connections would not be an issue. Moving forward, each classroom will be able to support up to 30 people on Zoom.
All students, regardless of whether they are in-person or online, will be on Zoom, and everyone will be taught the same lesson. If they were doing so previously, teachers will continue to use remote teaching technologies such as Peardeck, Padlet and more.
More March 12 updates
Principal Ben Clausnitzer sent out an email with the finalized bell schedule. The email also explained that based on information from the initial hybrid model survey, the number of students planning to choose the in-person option means that the school will operate on an A/B group schedule — the first group of students will attend school in-person on Monday and Tuesday, while the second group will attend school in-person on Thursday and Friday. Wednesdays will remain asynchronous. 
Families will need to fill out a commitment form through Informed K12 by March 19 where they will make a final decision about whether their child will stay in distance learning or return to in-person school.
On Thursday, March 18, FUHSD will host another Parent & Community Zoom Webinar from 3 to 4 p.m. to provide more updates about the evolving situation. 
March 12
FUHSD announced that the bell schedule after hybrid instruction begins on April 19 would keep the same block schedule, but include changes to allow for a 15 minute brunch and 5 minute passing periods. Additionally, the Tuesday/Friday block would flip Block 6 and Office Hours to have Block 6 first. 
Office hours will only be offered remotely, and students who choose to attend school in-person may go to office hours on asynchronous Wednesdays, their non-physical attendance day or after their Block 6 on Tuesday/Friday after they go home. The modified schedule is below.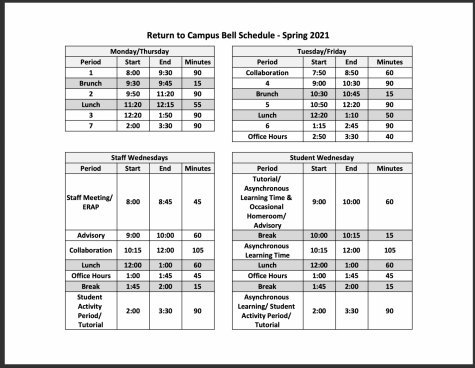 March 11
Principal Ben Clausnitzer sent out an update email about the option to return to in-person school, explaining the guidelines would include staff and students wearing masks at all times, maintaining physical distancing, not having more than 12 to 14 students in each classroom and using either a personal computer or one lent to them by the school. 
Clausnitzer also said that the current plan for graduation is to hold multiple, in-person outside events. Since Santa Clara County is currently in the Red Tier, the guidelines would allow each event to have a maximum of 400 people.
March 9
FUHSD sent out an email explaining that on Monday, April 19, students and staff will be able to return to campus for hybrid, in-person instruction. Students may choose to remain in distance learning or return to campus. The decision was influenced by factors including the Red Tier status of Santa Clara County, vaccine availability for educators and Santa Clara County Department of Public Health's updated guidance. 
More information will be sent out in the upcoming weeks, and details from yesterday's webinar can be found on the district's Distance Learning and COVID-19 Resources webpage and El Estoque's recent coverage.