Girls Tennis: MVHS defeats Homestead in its first match of the season
MVHS wins 6-1 despite COVID changes and restrictions
On Feb. 8, the MVHS Girls Tennis team defeated Homestead High School, bringing its current league standing to 1-0. Despite the team's landslide win, junior Mukta Uparkar says the atmosphere of the match was subpar in comparison to the team's usual energy in cheering for each other. 
"Usually we're cheering for one another and when someone's down, you cheer for them to get them up," Uparkar said. "When someone plays a good point, you also cheer for them and say 'Let's go.' But we weren't really doing that, because we had to keep track of the balls, because we weren't allowed to touch the opponent's balls. We weren't really bonding with the team; I think because we couldn't do the cheer. I don't know if there's something about not being able to be near your partner or other team members [but] that just throws everything off."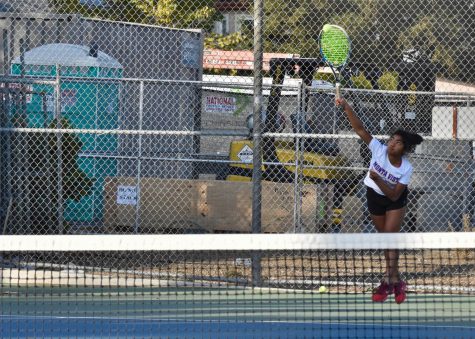 Due to COVID-19 restrictions, the tennis team has implemented a number of changes, including wearing masks for doubles players, distancing from other team members and not sharing tennis balls with their opponents. Additionally, the length of the season has been shortened from a few months to seven weeks, limiting the amount of time players have to improve their skills. For Uparkar, the shortened season and not having practice matches or tournaments during pre-season has resulted in insufficient communication with her doubles partner.
Senior Anusha Adira shares this concern and says that although she won her match 6-4, 4-6 and 10-5 with her doubles partner junior Karishma Goswami, she feels they could have had a stronger performance considering that HHS had only recently moved up to MVHS's league. However, the game against HHS taught Adira what she and Goswami needed to improve on going forward into the season. Individually, one of her main goals for this season is to increase her aggressiveness on the court.
Adira also notes that this tennis season looks different from previous years, which may impact her and her team members' performances. 
"Tennis season for girls was always in the fall," Adira said. "So one thing is that we had a lot more daylight and we didn't have any breaks that interrupted. We wouldn't have been playing it [at] 10 a.m. in the morning during break. And then with the COVID restrictions, we have to play with our masks on, which are not the most comfortable to say the least. So that definitely changes how [we] are viewing the tennis season."
Junior Meenakshi Manoj won her matches 7-5 and 6-2 and says that even though the match was a bit chaotic with the masks requirement and not being able to share balls on the court, she felt that the team performed well overall and is proud of the team's win. 
"Because of the pandemic I wasn't able to play [in a long time]," Manoj said. "So I had a goal to definitely win a match after such a long time, because I was out of practice and I think the team in general was out of practice [but] honestly, I think our varsity team is really good. They worked hard, so there was a good outcome."
About the Contributors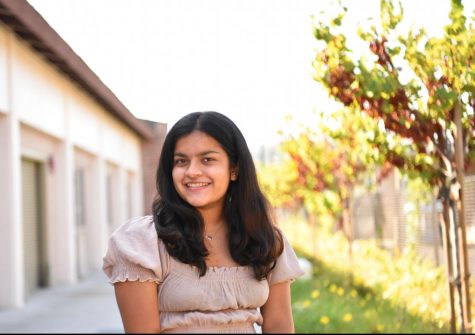 Jayanti Jha, Co-editor-in-chief
Jayanti is currently a senior and a co-editor-in-chief for El Estoque. She plays field hockey on the MVHS Varsity team as a forward. In her free time, she loves to rewatch "Dance Moms," try new foods and play the only song she knows by heart on the guitar: the theme song for "The Office."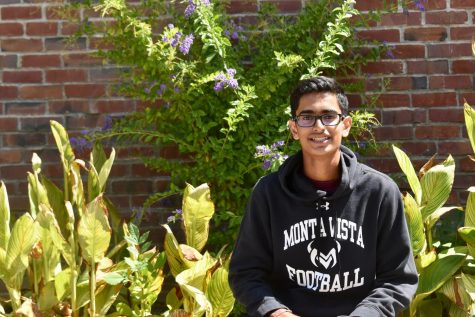 Anish Vasudevan, Co-editor-in-chief
Anish Vasudevan is currently a senior and co-editor-in-chief for El Estoque. He is a wide receiver and cornerback for the MVHS football team and enjoys playing recreational basketball with his friends. In his free time he watches ESPN and dreams of being a sports journalist someday.