Bobby exceeds expectations with his second solo album 'Lucky Man'
The latest album from iKon's main rapper merges vintage-inspired rap tones with new experimental styles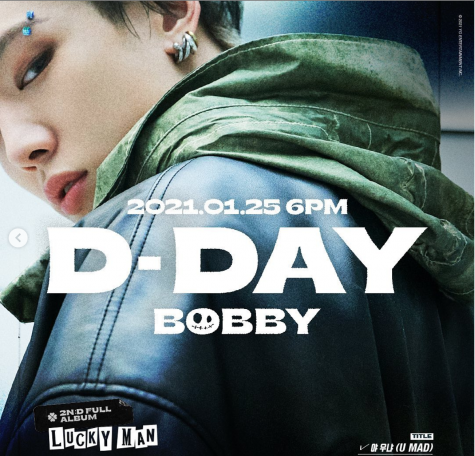 On Jan. 25, Bobby (Kim Ji Won), the main rapper of the Korean boy group iKon, released his second full album, "Lucky Man." He stated that the album was centered around expression of the emotions that people experience distinctly in their 20s; the album's name stems from his belief that people are lucky to be able to experience such things. 
Bobby gained fame after emerging as the victor of "Show Me the Money 3," the third season of the popular South Korean rap survival program. Having overcome criticism for being an "idol rapper" (as opposed to underground rappers, many of whom don't consider K-pop idols to be legitimate rappers), Bobby took first place on Team Illionaire and went on to release his first full-length album "Love and Fall" in 2017 while participating full-time in his group's activities.
"Love and Fall" contrasted with the charismatic image that Bobby had built with his powerful stage presence on "Show Me the Money," showcasing his vocal ability and versatility with different beats and genres. However, "Lucky Man" brings back that same original style while highlighting Bobby's evolution as an artist; the album incorporates the vintage Team Illionaire-style trap beats he used on the show with pop, electric and rock flavors.
"U MAD"
The album's title track, "U MAD," addresses Bobby's weaker self. The lines, "It's so wrong how you use your head / Filling up one's stomach with fodder and feeling happy / Wouldn't be human, more like livestock / Being foolish isn't even an illness" make it clear that the track is meant as both a mockery of his own weakness as well as an uplifting challenge to better himself. 
Many different elements in the song work together to evoke the fiery, rebellious theme that Bobby wanted to convey. The track's music video is centered around a prison break theme, filled with choreographed brawls, bright explosions and flying projectiles, symbolizing the struggle to rid himself of his fearful mentality. The dark rap/trap beat features skidding tire screeches that complement the fuzzy, loud brass fills and booming bass in order to add to this scene of frantic escape.
"U MAD" seems to be the perfect choice for the album's title track as a shining example of Bobby's distinctive artistic flavor. The rapping style employed pays homage to older performances like "YGGR #hiphop" — both songs use addictive hooks and intense delivery characterized by Bobby's uniquely scrapy vocal style. The similarities make fans nostalgic for his astounding stage presence from all of his live performances on "Show Me the Money."
"In THE DaRk"
"In THE DaRk" draws many parallels to "Firework," a b-side track from "Love and Fall." From being written in the same key and featuring the same style of electronic pop-dance instrumentals to employing nearly identical samples for the lighter backing vocals in the choruses, the similarities between the two songs are unmistakable. 
Even lyrically, "In THE DaRk" seems to be a continuation of the anecdote from its predecessor. "Firework" describes the sparks that fly between Bobby and his lover during their time spent together in the night, which light the fuse of the firework to which he compares his lover. Meanwhile, "In THE DaRk" appears to be placed in a time when he has become separated from this person. He longingly tells them, "At night when everyone is asleep, I think of you / At this dawn, at this dawn / Shine, you shine on my existence" and asks them, the firework that ignites his nights, to "add color to the world" once again.
These numerous overlaps can be considered overly repetitive, but "In THE DaRk" provides a more realistic narrative in contrast to the more idealistic tone of "Firework." The heartache and wishful attitude in the song effectively convey the artist's more mature outlook on romance, highlighting his growth.
"Ur SOUL Ur BodY"
"Ur SOUL Ur BodY," a beautiful duet between Bobby and his groupmate DK (Kim Dong Hyuk), melds Bobby's raspy tone with DK's lighter, soothing voice. The track is a great example of Bobby's singing ability, and serves as one of the more experimental pieces in the album. Featuring a simple piano melody backed by a slower deep house beat, "Ur SOUL Ur BodY" relies on layers of synthesized instruments and background vocals for depth and is instrumentally much simpler than the rest of the tracklist.
However, one shortcoming of the track is that lyrically, it fails to distinguish itself from many other love songs. The duo makes great use of vivid imagery to describe their lovers, illustrating the harmony and peace that come from a loving relationship. In their lovers' presence, the pair announce that, "The whole world becomes romantic … / … the lights go out / The Milky Way is drawn into the room." However, the idea of learning new quirks about one's partner and exploring new places with them isn't quite unique, and starts to feel stale among similar songs.
Closing Thoughts
Overall, "Lucky Man" is a comprehensive representation of Bobby's talent as both a rapper and a vocalist, showcasing his wide range of ability with different tones and genres. The incorporation of his older trap styles was particularly refreshing, as it was one element absent from his first album.
In promotion of his new album, Bobby was recently featured on Korean media distribution channel 1theK's video series "Look Me Up," where he looked himself up on the Internet and reflected on his journey as an artist. In the interview, he frequently commented on his immaturity and brashness as a younger artist, something that he has shown to have overcome throughout all 17 tracks on the album. Viewers should definitely look to continue watching Bobby's artistic development in future releases, although hopefully it won't take four years for the next album!
About the Contributor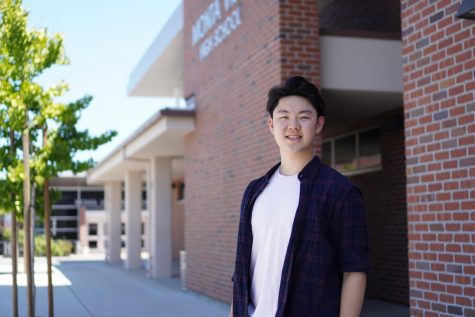 Tyler Cho, Opinion and Design Editor
Tyler is currently a senior and an opinion and design editor for El Estoque. He is a player on the varsity MVHS Boys Volleyball team and also participates in club volleyball. Outside of school and volleyball, he enjoys spending time with his family, playing bass guitar and spending hours on end absorbed with Starcraft.