Chinese apps WeChat and TikTok face U.S. ban threats
Exploring MVHS community's opinion on the future of the social apps in America
Since TikTok's release in September 2016, the app has amassed a global user base of nearly two billion, according to the New York Times. As TikTok continued to grow in popularity, both in the U.S. and abroad, the U.S. Government had security concerns as a result of its Chinese media origin.
Since then, the U.S. Government has threatened and attempted to ban TikTok in the U.S., once in August 2020 and most recently in November 2020. During the same ban, the messaging app WeChat which similarly originated in China faced a similar ban threat from the Trump administration out of concern for privacy, specifically because of the lack of standards for data collection within the apps.
After investigations in November, neither bans have gone through. 
Out of 151 MVHS students surveyed, 36% currently use or have TikTok installed. One of those students is junior Miyabi Kadowaki, who has had TikTok downloaded since April of this year and has amassed over 190,000 followers on her account (@miyabigrace). Kadowaki says that TikTok plays a unique role in the lives of teenagers today and that a potential ban on TikTok would result in a disconnect.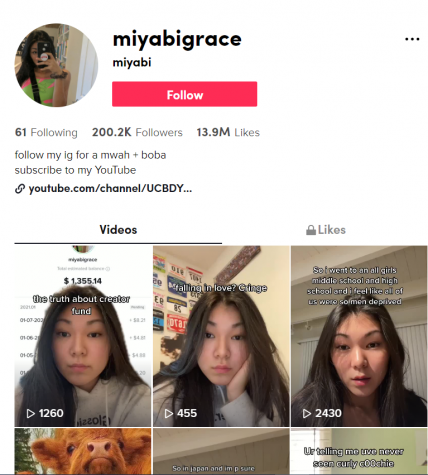 "I feel like TikTok is, compared to the other social media platforms, more real," Kadowaki said. "I've seen people open up more about their experiences and stuff on TikTok and … I feel like it's very different from other social media, where other social media only [shows] the best version of yourself. But I feel like TikTok … [is] more real and down to Earth."
Kadowaki adds that TikTok is a platform to quickly spread information and messages, such as with the Black Lives Matter movement. Senior Chloe Wu-Breshears uses TikTok to advertise for her clothing brand, Name. clothing, which she started working on during shelter-in-place.
Wu-Breshears thinks that the U.S. Government's attempts at banning TikTok have become less of an issue as time passes since their initial attempt, and the attempts could be a deterrent from political issues.
"I feel like there's a clear reason why the President is trying to take down TikTok, and it's not because … he's actually very threatened," Wu-Breshears said. "I think it's more of just a ploy to take attention off of other issues such as the election and COVID response."
Kadowaki agrees to an extent — she believes that the reasoning behind the U.S. Government's attempted bans on TikTok are unjustified, but doesn't see them as a distraction.
"I feel like there's nothing really wrong with TikTok, and I've heard the whole 'allegations against China' thing," Kadowaki said. "But I don't think TikTok is really harmful towards the U.S., so I'm not really sure why the President would ban it."
The U.S. Government has also attempted to ban WeChat, a Chinese messaging app that is formatted similarly to WhatsApp or Messenger. Out of 151 MVHS students, 38% use WeChat. MVHS parent Monica Wu has been using WeChat for five years and says that a ban on WeChat in the U.S. would have a major influence on communication for the MVHS community.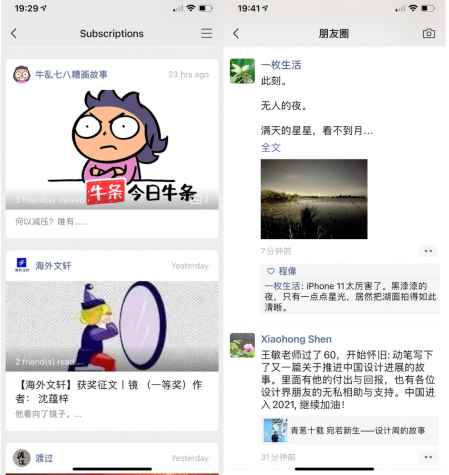 "[WeChat] is such an important communication tool for me to stay connected with my family, my relatives, my friends in China and also friends here," Wu said. "The most difficult thing [is that banning WeChat] will make communication with my relatives in China [challenging]."
According to Wu, in addition to being used for communication with relatives overseas, some of WeChat's appeal comes from its availability and range. WeChat is free to download and use, and offers free text messaging and video calling with users both domestically and internationally. 
Wu shares that WeChat also serves as a means of communication for groups within the MVHS community, and its loss would break down communication among these groups.
"Running groups, volunteer groups, school monitor groups and also mental health support groups [are examples of the] many groups [that] are created and running based on this app," Wu said. "If this app is gone, I do not know how all the support groups can stay together [and] how we can communicate."
Wu added that an additional factor of familiarity makes WeChat so crucial to MVHS families and communities, and would make it difficult for the groups to move to an alternative messaging app if WeChat is banned. 
"My position, [is that] I do support continuing [to] use this app," Wu said. "Tell Trump and also the government: [Don't] ban WeChat … that will impact my life a lot … for me as just an ordinary [person], this is such a valuable tool for … communication [to] make us connected."