Asking for help
Exploring the effectiveness of the Wellness Check-In form
Near the beginning of emergency remote learning in spring of 2020, FUHSD implemented the Wellness Check-in Form, available in both English and Spanish, in hopes of providing another mental health resource for the district's students. As of Nov. 6, 23 of those requests were made by MVHS students, however, school-based therapist Richard Prinz states that a few of those were from students who thought the form was mandatory.
Prinz explains that after a student submits the form, the request reaches Nancy Sullivan, the Director of Educational & Special Services for FUHSD. Upon receiving the request, Sullivan directs it to the student's school, where each student is paired with a school-based therapist or school psychologist.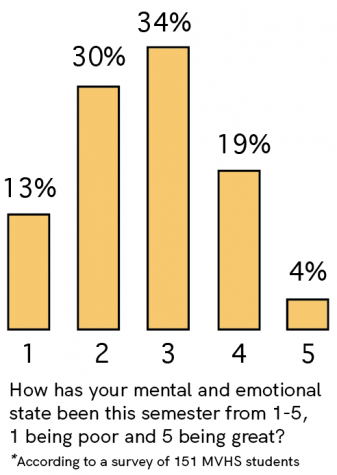 Senior Alice Zhou, who is the Vice President of the Bring Change to Mind club at MVHS, states that she has only briefly heard of the Wellness Check-in Form in occasional emails sent out by the school.
"I find that forms like these [that] are just sent out without much context and without a lot of personal discussion [are] not going to be that effective," Zhou said. "I feel that [for] people who are actually struggling through things, the hardest part about it is opening up, and this form is just forcing them into like, 'Oh, put your name here, and we'll have someone contact you.' But what they need is gentle support and pushing from the people around them in order to have them open up and have them be willing to speak about their problems."
In addition to viewing the Wellness Check-in Form as ineffective, Zhou says she is not fully aware of the form's actual purpose. Prinz emphasizes that the form is not for medical or mental health emergencies. Instead, it is simply another method to contact counselors and professional help on top of simply writing an email. He also shares that he treats both these requests and direct emails to him the same way, noting that he tries to reply right away to both. Compared to the 23 requests from the Wellness Check-in form, Prinz estimates that he gets approximately four or five requests by email per day.
"Not everybody knows about school-based therapists, or that they can go to guidance counselors for social emotional coaching, so I think the Wellness Check-in Form was a way to get that message out there and make that service available to everybody," Prinz said. "I think whatever we can do to get the word out that it's OK to struggle, it's OK to be sad, it's OK to be anxious [is important for students]."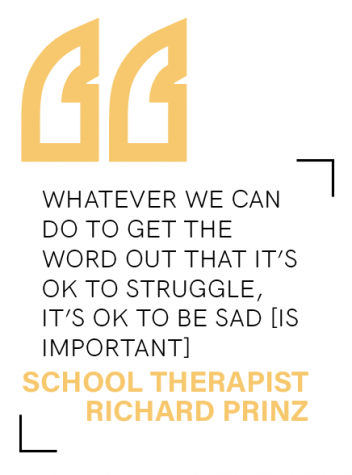 Sophomore Divya Venkataraman, one of the student facilitators on the Mental Health Committee of the Student Equity Task Force, believes that in effectiveness, "it's there plenty." However, she feels that the form lacks publicity, stating that many students do not know that the form even exists.
Likewise, Zhou believes that the school does not place enough emphasis on the fact that these resources are there for students. She believes that the school could do more to encourage students to utilize these resources, yet she also shares that the school should provide other resources beyond just the school's counselors and psychologists.
"I feel like students aren't so keen on taking advantage of what the school is providing," Zhou said. "There's a bunch of phone numbers you can dial, such as institutions nearby that you can go see if you're not comfortable opening up to school people or you want to go see [other] professionals [outside of MVHS]. Because the atmosphere at MVHS in general is to study hard, this competitive atmosphere pushes the fact that we have these resources for students even further to a backseat."
Venkataraman echoes Zhou's statement that MVHS students largely put too much of their time and energy into productivity, which causes students to disregard their mental health. She states, however, that when they choose to dismiss their social emotional state, it creates a negative impact on every aspect of their life.
"Mental health in itself is such a big thing, [and] it plays such a big role in our lives than we let on," Venkataraman said. "The closest analogy I can think of is if you remove a large chunk of your brain, then you're obviously not going to be the same person. Kind of similar to that is if you disregard your mental health by removing it from your body, then you're going to be a different person, you're not going to be able to focus as clearly, you're going to be sad all the time and it's going to definitely have large impacts on your social life, your academic life."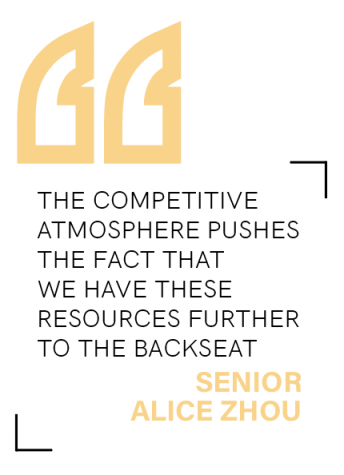 However, Venkataraman explains that the stigma which surrounds asking for help prevents many students from getting the help they deserve. She shares that students may be apprehensive to reach out because of a feeling of shame about their mental illnesses. According to her, society has taught individuals that feelings like sadness and inattentiveness are not things that high schoolers should be experiencing.
She also feels that identifying the symptoms of mental health concerns is in itself a difficult task to do since many individuals are unaware of specific symptoms. She explains that unlike the symptoms of, for instance, strep throat or a cold, mental health symptoms are "a little bit more unclear." Prinz shares these beliefs, stating that many students feel as though they should be able to work out their mental health issues by themselves as opposed to reaching out to professional help.
"Some students told me the other day [that] their parents said, 'It's all in your head, so it's not a problem,'" Prinz said. "It's a very materialistic point of view — 'If you can't see it, then it's not a problem.' When people hear about [counseling and asking for help], there are people who still feel afraid to venture into that realm."
For the people who are hesitant to reach out, Prinz explains that he understands the accompanying thought process, sharing that this unwillingness to reach out stems from society's lack of discussion around mental health.
"A lot of people don't have experience with counseling, [but] people could sort of see it more as if they're getting a tutor," Prinz said. "Instead of for math, it's for social emotional things, or instead of learning how to run the hurdles in track, you're getting a coach to help you navigate changes in your life. That's kind of what counseling can be like, where you get a different perspective, and you can entertain a different perspective."
Zhou echoes Prinz' statement that many individuals are afraid of being vulnerable with others and sharing their experiences. She hopes that students with this mindset are aware of and are utilizing these mental health resources, whether that includes the Wellness Check-in Form or directly contacting teachers, counselors or school-based therapists.

"I think that a lot of people fear, 'If I reach out, what good is it going to do?'" Zhou said. "'How can other people help me? Will they even support me? Will they understand? They might not be able to empathize [with] what I'm what they're going through because they don't know the situation exactly, and they haven't been through it themselves.' But there are a lot of resources out there and people who are willing to listen to you, and I think that's really important to emphasize. Your parents, your family, your friends — you might not think that they will care that much, but they care for you and they're willing to listen. So finding that support and the people near you and not being afraid to verbalize your emotions is really important."
About the Contributor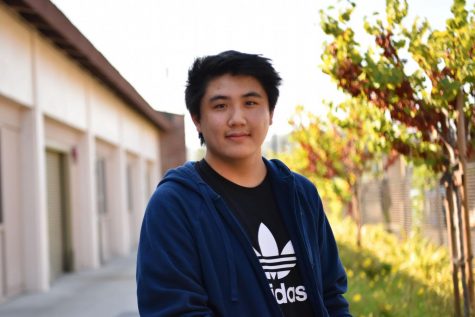 Matthew Yoshimoto, Managing Editor
Matthew is currently a senior and managing editor for El Estoque. In his free time, he enjoys going on hikes at Rancho San Antonio, spending time with his family and friends, watching The Office and listening to music.