'Over the Moon,' shines in its graphics, soundtrack and storytelling
The visually stunning musical adventure, starring MV alumnae Cathy Ang, takes a modern twist on a traditional Chinese legend
October 28, 2020
"Over the Moon," a computer-animated musical film, premiered on Netflix and in select movie theaters on Oct. 23, featuring a star-studded cast of Asian descent, including Phillipa Soo, John Cho, Sandra Oh and Ken Jeong, as well as MVHS alumnae '13 Cathy Ang. The film is a directorial debut in theatrical feature films for legendary animator Glen Keane, who worked on iconic Disney animated films like "The Little Mermaid," "Beauty and the Beast," "Aladdin" and "Tangled." Not only does he successfully bring the charm of Disney and Pixar to "Over the Moon," but he also gives the film a unique personality of its own. The film was co-produced by Netflix — proving that the streaming service has become a strong competitor in the animation industry — and Pearl Studios, the Chinese film production company responsible for "Abominable," which brought Asian representation to the big screen in late 2019. 
The film follows 14-year-old Fei Fei, voiced by Ang, who is distraught after finding out her father plans to marry a lady named Mrs. Zhong, voiced by Sandra Oh, four years after her mother's death. She decides to build a rocket to fly to the moon in hopes of finding Chang'e, voiced by Phillipa Soo, the mythical Chinese moon goddess who Fei Fei's mother, voiced by Ruthie Ann Miles, told her stories about as a child.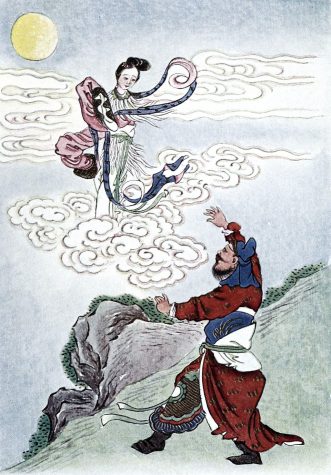 As the ancient myth goes, Chang'e once loved a man named Houyi on Earth, but was separated from him when she consumed an immortality elixir that brought her to the moon and made her a goddess. She has only a jade rabbit to keep her company on the moon, and waits to be reunited with her true love. Fei Fei believes that proving the goddess's existence will remind her father, voiced by John Cho, of her late mother and the idea of "everlasting love," stopping him from remarrying. She is joined by Chin, voiced by Robert G. Chiu, the 8-year-old son of Mrs. Zhong; Chin's pet frog and Bungee, Fei Fei's white pet rabbit.
On the moon, they encounter Chang'e — who is very different from what they expected — and various luminescent creatures, such as Gobi (voiced by Ken Jeong), a green glob intended to resemble a pangolin, that is reminiscent of Olaf from "Frozen" mashed with Bing Bong from "Inside Out" (the Disney inspiration is strong). Fei Fei is sent on a mission to find a "gift" for Chang'e that will bring back Houyi. The adventure takes viewers through heartwarming lessons, catchy musical numbers and electrifying visuals.
What makes "Over the Moon" different from many of its predecessors in Asian representation on the big screen ("Crazy Rich Asians," "Abominable" and "Mulan") is that by spotlighting the Mid-Autumn Festival, also known as the Moon or Mooncake Festival, the film delves much deeper into Chinese culture. The Mid-Autumn Festival is a traditional Chinese festival, the second-most important holiday after Chinese New Year, that emphasizes family reunion and is closely associated with the myth of Chang'e. A substantial period of time in the movie is allotted to storybuilding, giving watchers a sense of Fei Fei's dynamic with her father and her extended family, as well as their tradition of making mooncakes. The first quarter of the film also gives viewers a glimpse of modern China, evidenced by the high-speed monorail train in construction and courtyard dance exercises, which is especially popular among the older Chinese population. It brings a new dimension to representation on-screen — instead of creating Chinese characters solely through appearance, family dynamics, cultural traditions and legends are also explored throughout the film.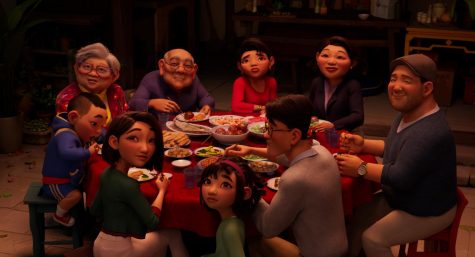 Plotwise, while Fei Fei's reaction to her father remarrying seems a bit exaggerated, it is important to keep in mind that she is still a young, grieving teen, and after all, this is a fantasy animation. In addition, Fei Fei's character development is touching to watch during the second half of the film, mainly due to her new friendship with Gobi, as well as the heart-wrenching conversation she has with Chang'e, captured by a moving musical piece. The film teaches viewers of all ages an important lesson about dealing with grief and moving on, which was exactly the intention of Audrey Wells, the movie's scriptwriter. Wells, a mother herself, battled and later succumbed to cancer halfway through the film's production, and according to producer Gennie Rim, the story was a "love letter to her daughter and for her husband." Personally, the movie left me in tears more than once, from the heartfelt interactions between Fei Fei and Chang'e, Fei Fei and Gobi, and Fei Fei and her father, to the feeling of seeing my own family through the cultural traditions and dynamics encapsulated in Fei Fei's family gatherings.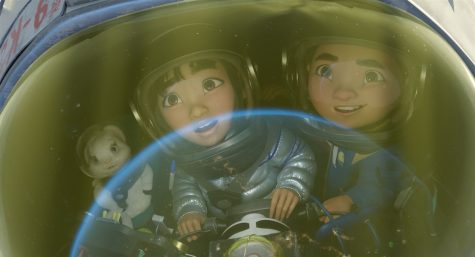 The musical aspect of the film took me by surprise, as I was expecting something similar to "Abominable," but it was a wonderful way to add even more sincerity and originality to the story. Phillipa Soo's vocals are absolutely breathtaking, as expected from the "Hamilton" star, and performs incredibly well throughout the diverse repertoire of her character, seen by the contrasting styles of "Ultraluminary," a catchy pop hit and "Love Someone New," a slower, more soulful duet with Fei Fei. Ang, a newcomer to the film industry but no stranger to musicals, gives Fei Fei incredible dimension with her loud, hearty voice full of hope and desire in "Rocket to the Moon" and a grief-stricken, sincere tone that reflects Fei Fei's mixed emotions in "Love Someone New." Gobi, a seemingly goofy and surface-level sidekick, shows the audience a deeper side to him as he sings, "If you release the past, you'll move ahead and bloom at last, the heart grows and it knows, you can glow, you're wonderful" in the number "Wonderful," clearly communicating the film's key message.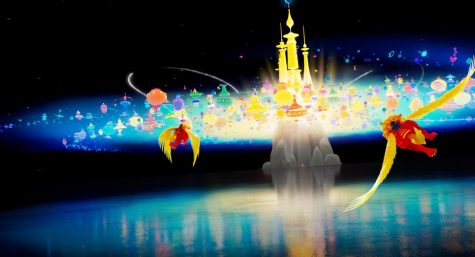 What impressed me the most were the exceptional artistry and detail in the graphics. I've never seen an animation as visually spellbinding as "Over the Moon," from the colorful cosmic galaxy in the very opening of the movie, to the film sequence of Fei Fei building her rocket and later shooting up to the moon, to Chang'e's bright, neon-colored lunar city. Every screencap of the movie is gorgeous, and Chang'e's beauty shines through each of her outfits, hairstyles and makeup looks, all adding different touches to her personality. For example, she dons a reimagined, traditional Chinese robe, but also effortlessly pulls off a C-pop idol inspired dress during her pop concert number, as well as an athleisure outfit with Chinese decorative touches for her ping-pong match with Chin. Sony Pictures Imageworks, the animation studio that worked on the film, truly brought to life the magic and charm of every character, creature and piece of architecture, as well as Chang'e's transcendental, luminary abilities and modern persona, while still retaining the essence of the famous legend.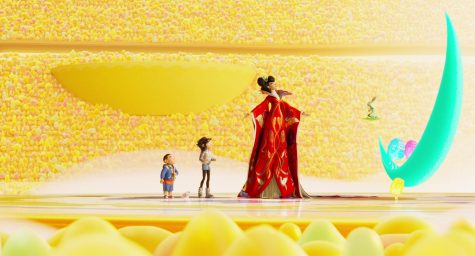 Behind the scenes, this film is a major win for Asian representation. Unlike Disney's live-action "Mulan," we are treated with a majority Asian cast and production team, and as a result, the movie is a much better example of how Chinese people actually think and act. While I cannot completely attribute this movie to proof of Hollywood moving forward by itself, as it was pitched and co-produced by Pearl Studio, a Chinese film production that specifically invests in large-scale Asian-themed projects, nonetheless, it is still a commendable milestone. It may have taken some nudging from an investment overseas, but the high quality and lovability of the movie proves that Asians can indeed take the spotlight on-screen, and will continue to shoot towards the moon.