Halloween movie recommendations
A mix of spooky classics and thriller movies to watch at home this Halloween
"A Quiet Place" (2018)
"A Quiet Place" begins on day 89 of an alien invasion and focuses on a small family starring parents Lee Abbott (John Krasinski) and Evelyn (Emily Blunt). The two must adapt to this new dystopia along with their children, Marcus (Noah Jupe) and Regan (Millicent Simmonds). 
A twist on the "classic alien takeover" movie, "A Quiet Place" focuses on jump scares instead of solely gore. The aliens that prowl the Earth are seven feet tall with mutilated faces covered with dripping black slime. They are blind, but have advanced hearing, hunting every sound they hear. Throughout the movie, the Abbotts try to ensure their safety by learning sign language and tiptoeing on their hardwood floors.
With only 90 lines of dialogue exchanged, in contrast to the average of 1,400 in conventional films, the majority of the movie is silent, slowly guiding the viewers to an inevitable moment of chaos. This suspense and the build-up of "A Quiet Place" is why it's the best thriller to watch this Halloween. 
"Hocus Pocus" (1993)
A classic Halloween film to watch this October is "Hocus Pocus," a story revolving around three witches who must steal the souls of children in order to maintain their youth. On the night of Halloween, a young boy named Max Dennison (Omri Katz), accidentally resurrects the three witches 300 years after their murder, and the witches must modify their wicked strategies in order to survive in the 20th Century. Along with his sister Dani (Thora Birch), and his high-school crush Allison (Vinessa Shaw), Max must find a way to kill the three witches for good before sunrise the following day. 
"Hocus Pocus" incorporates typical Halloween elements such as witches, potions and black cats, a perfect film for getting in the Halloween spirit. The entire sequence of events occurs on the night of Halloween and consists of a typical cat-and-mouse chase between the three children and the three witches. The different special elements used in the movie keep the audience amused, including flying witches and a talking black cat, both impressive effects given the date of the film's production. The silly relationship between the witches and the children keeps the viewers guessing what will happen next, but the comedy is balanced by the despicable nature of the witches. Although the film contains aspects of an everyday children's movie, the spooky spirit and evil villains make for a great Halloween movie for everyone to watch.
"Train to Busan" (2016)
"Train to Busan" follows Seok-Woo (Gong Yoo) and his daughter, Su-an (Kim Soo-Ahn), as they catch a train in the midst of a zombie outbreak. Like regular zombies, these flesh-thirsty creatures can convert others by biting them. Seok-Woo, Su-an and the rest of the passengers have to fight for their lives as the zombies begin multiplying in and outside the train. Due to uncensored gore and violence, "Train to Busan" is intended for older teenagers and adults.
As "Train to Busan" was made in South Korea, there are many differences when compared to American zombie movies. The writer and director, Yeon Sang-ho, portrays issues of morality and human nature just enough so that the viewer can acknowledge it but not be overwhelmed. He is also able to juxtapose fear with other emotions, bringing both tears and shivers to the viewer, unlike American movies that focus mainly on scaring the audience. The variety of elements "Train to Busan" explores makes it more than just a horror movie. 
"Coraline" (2009)
The animated motion film "Coraline," originally a short novel by Neil Gaiman, follows 11-year-old Coraline, voiced by Dakota Fanning, on her journey after moving into a mysterious mansion. While exploring, Coraline uncovers a hidden door that opens to a parallel universe, nicknamed the "Other World," where everyone has buttons for eyes. She meets a fabricated version of her parents, whom she refers to as her "Other Parents" and who seem to care for her more than her actual parents. Coraline attempts to find a way to remain in the "Other World" forever, while simultaneously discovering that it is not as wonderful as it appears to be.
On the surface, "Coraline" appears to be an average children's animation, yet certain aspects of the storyline are relatively dark. The visual representation of the "Other World" is oddly frightening, with different mutilated monsters and haunting ghosts of murdered children. The animation of the characters is also slightly unsettling, the button eyes intentionally resembling evil dolls. Yet, the underlying theme of the movie is meaningful for everyone – that real family will always love each other unconditionally. The touching message, along with the movie's dark, ominous details make "Coraline" a great movie to watch during the Halloween season.
About the Writers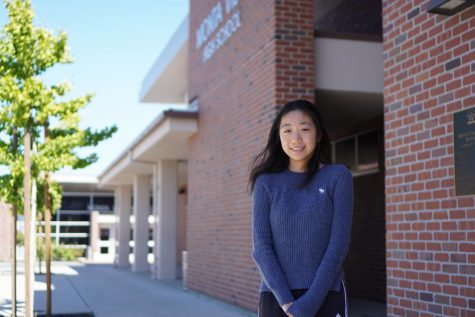 Melody Cui, Staff Writer
Melody Cui is currently a sophomore at MVHS and a staff writer on El Estoque. She enjoys watching YouTube videos and Twitch in her free time; her favorite YouTuber is Mr. Beast. She has a black cat whom she spends her free time with, and a list of books she has yet to read.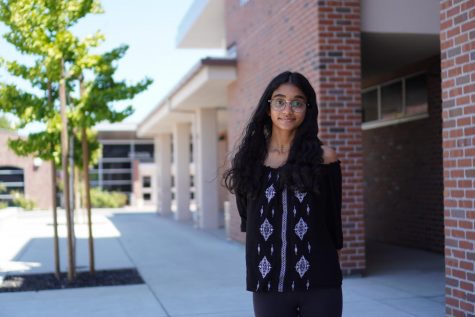 Gauri Manoj, Staff Writer
Gauri is currently a sophomore and a staff writer for El Estoque. In her free time, she enjoys playing the piano, drawing and listening to music.