House fire on Cheryl Drive
Assessing the perspectives of spectators and owners of the home during the incident
The Santa Clara County Fire Department (SCCFD) received multiple phone calls from residents living near the 20600s on Cheryl Drive, hearing about a structure fire that occurred on Sept. 27 at 11:55 p.m. The SCCFD dispatched multiple fire trucks, police cars and ambulances and contained the fire at around 1 a.m. with all five residents safe from harm. 
According to the SCCFD report of the fire, there is no official cause of the incident as of Oct. 5. However, according to the house's resident and MVHS alumnae Celena Andrews, '95, the fire likely started on the back deck of her backyard. She claims it was "smoldering" for a while before the fire broke out. 
On Sunday at 11:55 p.m. on the night of the fire, Sunday, Andrews was asleep when her brother-in-law had woken her up. 
"We'd woken up to the fire blazing in the backyard and onto our deck," Andrews said. "I was woken up by my brother-in-law who said, 'We need to get out.' It was just, for the next two minutes, chaos of trying to figure out what we were supposed to do. I called 911. We got the family out. We tried to open up all the doors and windows on the first level, because we also have two cats. And I grabbed my dog. And then we just had to run out."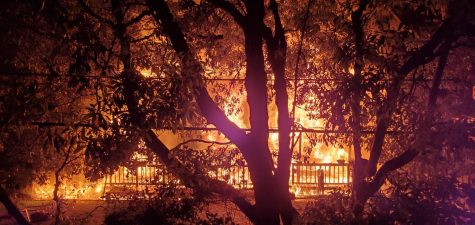 Andrews' house, which caught on fire, is a multi-generational structure that was passed down from Andrews' grandparents when they bought it in 1963. Andrew's family, including her mother, aunt, brother and sister, had all lived in the house and had all attended MVHS. While they successfully escaped the fire, Andrews' two cats were unable to survive the incident.
Senior Samantha Dunn and junior Nitin Kukreja, who both live in the neighborhood, were awake when they heard an explosion from Andrew's house and believed the cause to be a gas pipe explosion. Dunn, who lives eight houses away from the fire, initially heard the explosion and saw the flames through her window as the rest of her family gathered around as well. She noticed that her neighbors started gathering on the streets as the police, firefighters and ambulance were dispatched to the house on fire.  
"[At] that moment I was looking at the fire and [thought,] "Oh man, what are we gonna do if it spreads?" Dunn said. "Embers [are] flying out of the fire and they're landing on our street … near us. So … we have to be ready to go."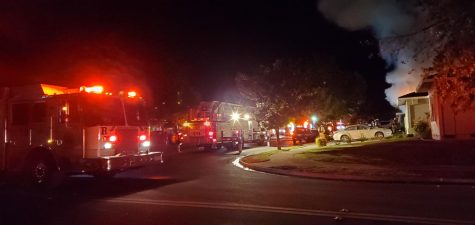 Similar to Dunn, Kukreja also noticed many residents running to each other, making sure everyone including the Andrews were safe. He recalls that the experience was frightening, saying that everything around him seemed red as he heard glass shattering and objects popping from the structure.
The fire was finally contained at around 1 a.m. and the last member of the dispatch left the scene at around 5:30 a.m. on Monday, Sept. 28. Immediately, neighbors all throughout the area started reaching out to Andrews' family, offering blankets, resources and food for them. 
Additionally, Kukreja stated that the community has started a GoFundMe in order to raise funds for the family since Andrews had lost many things from the fire. As of Oct. 5, the Andrews have received approximately $5,000 in donations.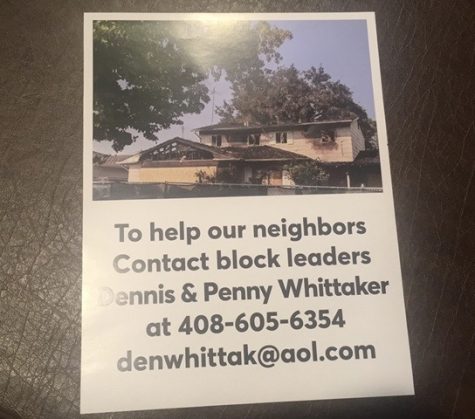 "We [were] all very aware and knew what to do because of fires," Kukreja said. "Everyone was very quick about calling 911 [and helping each other] because they knew that things could go bad."
Andrews, Dunn and Kukreja all said that the SCCFD and local community both responded to the structure fire very quickly. Dunn points out that the crew were quick enough to stop the fire before it burned a large tree in Andrews' backyard, which could have resulted in more houses catching on fire.
Currently, Andrews' family have been living in separate areas temporarily until she finds a place to move in. Despite the events, she expresses gratitude to her community, who have helped her with getting resources and giving her emotional support. Additionally, she stated that any donations she did not use will be donated to support other fire victims. 
"The kindness of strangers, the support, the love, [and] the outreach is amazing," Andrews said. "Things like this horrible incident and just how hard this whole year has been for every single person on the planet, to be able to just stop for a minute and be grateful and thankful for all of us [has] been really overwhelming[ly] lovely. There are no words but thank you."
About the Contributor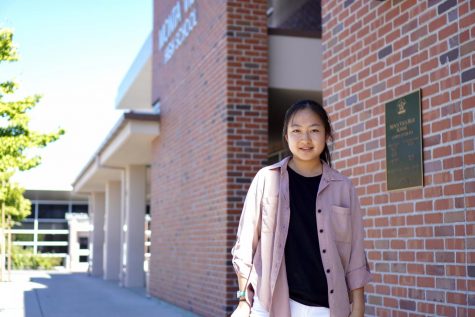 Rachel Jiang, News Editor
Rachel is currently a senior and news editor for El Estoque. She is a varsity member of the MVHS Cross Country team and a VP of LD and varsity member of MVHS Speech and Debate Club. In her free time, she enjoys collecting stamps, studying politics and policy and taking photos.