FUHSD implements free meal policy
Food services prepares a week's worth of breakfasts and lunches available for anyone 18 and under
All FUHSD students received an email from the Food Services department on Tuesday, September 1 informing them of details about this year's food services program — free meals for anyone 18 and under, whether they are a student or not. The email announced that breakfast and lunch meals for the week were being distributed at Cupertino High School, Fremont High School and Homestead High School on Wednesdays from 11 a.m. to 1 p.m. starting September 2.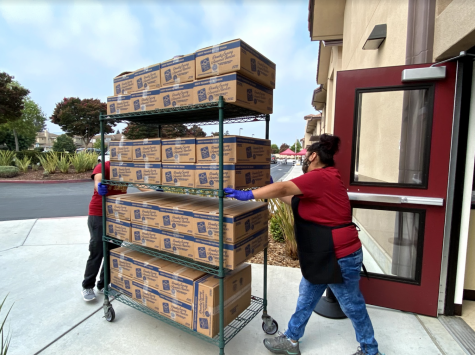 The decision to switch from normally priced meals for FUHSD students to free meals for everyone 18 and under was not made by district officials, but instead by the United States Department of Agriculture (USDA), which runs the National School Lunch and Breakfast Program and provides guidelines for the FUHSD Food Services department. However, District Food Services Manager Divya Puri explains that this decision was influenced by independent lobbying, whose participants included various food services managers and department directors.
"We asked food services managers and directors to reach out to Sacramento and to some of our legislators in Washington, D.C., to help us get this waiver," Puri said. "We'd written letters, and a lot of directors signed the letters, letting us [make the switch]."
According to Puri, the Food Services Department decided to contact the USDA and convince them to make this switch because they wanted more students to have easy access to meals. She claims that due to the food insecurity that many families are facing during the COVID-19 pandemic, many students would prefer cheaper alternatives than paying for food provided by the district.
"Despite [Silicon Valley] being a tech area where people can work remotely at home, there are people who are still out of jobs, and they still have to pay rent and feed their families," Puri said. "It was with that notion that we were reaching out to USDA, and we're really happy that USDA actually agreed to give us that waiver because no child or family should suffer because of COVID-19."
Similarly, MVHS Cafeteria Manager Debbie Herrera also emphasizes the issue of food insecurity, explaining that nobody truly knows the economic situation of the students picking up the food. She cites the situation of students and parents coming to the free food pickup sites in expensive cars or going to multiple food pickup sites within a single day.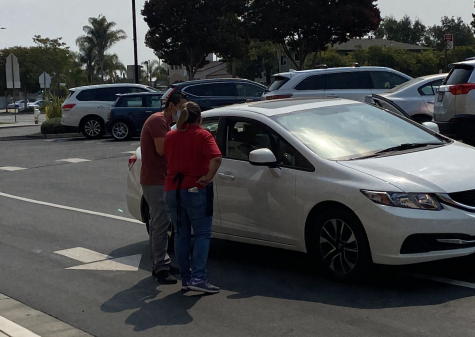 "You've got people that double-dip, but we don't know if they're picking up [for] a neighbor, or they're picking up for another family," Herrera said. "When they pick up the food, we're taking into consideration that they need the food. We can't judge them no matter if they're driving up in a Range Rover or a Hummer."
Puri notes that although the free meals program has only been launched for a week, she has already seen positive reactions from the meals' recipients. She explains how three email blasts were sent to promote the paid meals at the start of the school year, yet only 350 students showed up among all the FUHSD schools. However, only one email was sent out to announce the free meals program, and the turnout amounted to almost 1,100 people within a single day.
"We had cars lined up at the back and people coming and thanking us for the meals that we're offering," Puri said. "So many people showed up — it was phenomenal, and families were grateful."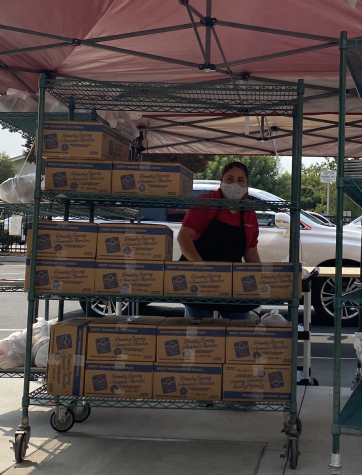 Due to the considerable turnout, FHS Food Services Assistant Santa Gurrola says she would prefer that the free meals were only served to students attending FUHSD schools rather than to all minors within the community. She believes that the Food Services Department is better equipped for providing meals for FUHSD students. 
"If we serve our kids at Fremont High School, I think [I] would have more control of who [I'm] serving here, and more control over how much I need to prepare in the morning when I come in," Gurrola said. "We're serving way more than we have in the past two weeks, so now we have to go back and make more food."  
Herrera believes that as time passes, the number of people participating in the free meal program will only increase due to its convenience.
"I think starting next week, you're going to see a tremendous number that's going to just hit the rooftop because now once we get into the wintertime, a lot of people don't like leaving the house often," Herrera said. "These meals that we're giving will last people five days, so I think [the community's reaction] is going to be positive and our numbers will reach higher next Wednesday. I feel really confident about that."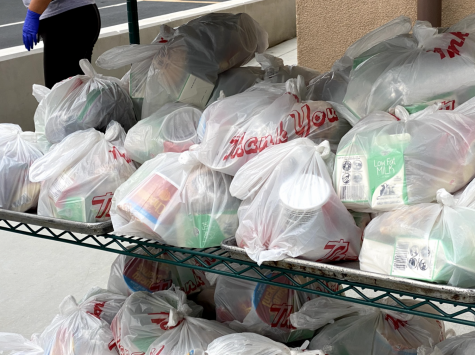 Although the Food Services Department is now faced with the challenge of feeding larger numbers arriving at the distribution sites, Puri is satisfied with how the situation is being handled.
"I am very, very proud of the entire Food Services team of FUHSD," Puri said. "Nobody else has to do what they've done — serving in high temperature and bad air quality, and making sure the needs of our families are met."