Nearly two thousand protestors gather in Cupertino
South Bay protestors gather in Cupertino to demonstrate for the Black Lives Matter movement
Amid many Black Lives Matter (BLM) protests around the country, on Saturday, June 6, four teens organized the "Cupertino Solidarity March" to protest against police brutality and racism. Within a week of George Floyd's death, residents of all 50 states and more than 20 other countries have participated in their own demonstrations for BLM. This has been the first BLM protest in Cupertino. 
Protesters attending the march started the day virtually at 10 a.m. to phone bank with the American Civil Liberties Union (ACLU) of Georgia. At 2 p.m., protesters met at Hoover Park, where 10 African-American speakers discussed experiences with racial discrimination that they and their family members have faced. Afterward, some two thousand protesters marched to the West Valley Division of the Santa Clara County Sheriff's Office to demonstrate before returning to the park for an open-mic where protestors shared their experiences. 
One of the protest organizers, Pallavi Rajan, grew up in Cupertino and graduated from Cupertino High School in 2018. Rajan said the idea for holding a protest in Cupertino sparked after her sister's request to attend protests in Oakland was refused by their parents. Following a suggestion from their father, they decided to organize their own protest in Cupertino, creating infographics, posting information on Facebook and asking around for help. 
"Within 30 minutes, [my sister] wrote a short little message, posted a screenshot of it and it was making the rounds. And then from there, we quickly realized that we needed more organization, we needed more authenticity," Rajan said. "Our other two organizers reached out to us, and from there, we reached out to as many Black-led organizations as we could. We ended up finding a lot of interest from SJSU Black Honor Society, where we ended up working with four of their members … Then from there, we were kind of doing Zoom calls and group chats, and it was crazy and we were very worried about what this was going to turn out like, but I'm glad that it ended up being a success." 
Before the protest began, the organizers also helped promote a morning phone banking effort available for participants to join. The ACLU of Georgia was using Zoom to train people on how to phonebank, hoping to reach six states that Rajan says have historically dealt with voter suppression by calling residents of the area and encouraging its residents to vote. 
"People with the privilege of not being suppressed were using their extra time that they had to help those who are dealing with voter suppression," Rajan said. "We wanted to promote them and use the platform form that we had. I'm not sure how many people ended up doing phone banking, but I hope that some did and I hope that we were able to really take some action."
While arranging the event, the organizers believed that it was crucial to secure African-American advocates from outside the community and have them share their experiences with racial prejudice. 10 speakers took their turn from 2 p.m. to 3 p.m. to read poetry, recite anecdotes about experiences, talk about their family or preach what kind of change they wanted to see within society. 
Rajan says they reached out to people they knew and asked them to contact others to garner greater interest. She says having African-American speakers sharing their thoughts at the start of the protest before the march helped allies visualize and understand why they are attending.  
"[Having Black speakers] contextualizes the whole thing," Rajan said. "You have this huge community of mostly allies, and they're here because they want to show support, but it's not enough to just show up in large numbers and shout chants or whatever. We have a responsibility to be listening and learning from the people who are living this life … I think it was really important to hear from them first to remind everyone [that] we're coming together as a community to support these people who have not been supported by a community in the past and this is our first step of many." 
One of the speakers, entrepreneur Lorena Cuffy, agrees with Rajan that having Black voices present at the protest helped in the overall purpose of the demonstration for the community. She believes this primarily because of the lack of representation of the African-American community within Cupertino and within the attendees at the protest. 
"I hope that from our stories, people will know some personal experiences just by listening to us here today, by meeting us, by having a conversation with those of us who are here, walking together in this march," Cuffy said. "And I'm just grateful for each and every person who was here and who listened and who, afterwards, thanked me for sharing. This is how we do it. We come together, we have conversation and we unify, and we mobilize [and] we strategize."
A Bay Area native, Cuffy shared a story of when she was arrested after meeting the European Union ambassador at a university and an alleged interaction with an officer resulted in her receiving felony charges. Cuffy says this incident left her struggling to find work, and she has since filed a report to expunge and seal her record. Aside from hearing the other speakers in general, Cuffy believes sharing her story might help protestors see African-Americans' plight on a more personal level. 
"[I want them to] know that the stories are real," Cuffy said. "It's not people complaining — it's people's actual lives that are affected by the biases and [systemic] injustices that they're faced with each and every day. [It's] just running down the street, sleeping in their home, being pulled over by a police officer. Or, in my case, leaving the university after meeting the ambassador to the European Union, being jailed and kind of like thrown away. Locked up and thrown away. As I said, [I hope to] influence the change that we need so that this no longer is the reality."
Aside from protestors and speakers, others contributed by volunteering and donating supplies. A medic team that was led by an EMT volunteered to be present as a precaution to any injuries during the event, and provided water, snacks and pre-made signs for the march. The team was also led by young adults from Cupertino. Workers from the boba shop Happy Lemon also attended, who Rajan says initially declined to come and pass out boba, but ended up coming regardless.
Overall, Rajan says the attendees and assistance of volunteers are what made the protest "a success." But one group she did not want present at the protest was the county police. The organizers had let the City of Cupertino know in advance of the protest but did not want to get a permit to avoid cooperation with the police. 
"We were dealing with an element of unpredictability with the police because we were very, very sure that we did not want any sort of cooperation or working with the police at all," Rajan said. "Because that just goes against everything we're protesting. We're protesting a corrupt system that needs to be defunded. Many would say abolish." 
Sargent and the Public Information Officer of the Santa Clara County Sheriff's Office Michael Low agrees with Rajan and says the reason no police were present at the protest was to prevent escalation. Though no officers were at the front of the protest, Low says they were in the immediate area in case of emergencies. 
"I was there all day that day from 9 a.m. to 8 p.m., and thankfully, everything was peaceful [and] we didn't have any instances of violence or any looting or anything like that," Low said. "We definitely had deputies present. However, we did not have them directly out there standing in front because we didn't want to incite any sort of extra emotions. Because I think we've all seen those things on the news across the nation where you have a line of officers, a line of Deputies, in the riot gear and helmets. And it's almost as if that at times that might incite people and get them more upset."
Class of 2018 MVHS Alumni Mariam Naguib attended two other protests, one in Oakland and one in San Francisco, where she says she saw police in riot gear and had the opportunity to talk to police at those protests. There, she says she saw officers take a knee and cry, but once the curfew was passed, she had to leave before the protest had become "violent." 
Naguib finds particular importance holding a protest in Cupertino because of her own racist experiences in high school as a student. Naguib says the protest is an opportunity to spark discussion in the community about "anti-Blackness."
"Cupertino is where I live, and I just hoped that people would show up and show out because you see the anti-blackness in our schools, and our communities, in our homes," Naguib said. "Seeing them recognize their anti-blackness and coming out and showing up is so incredibly important. It's important to have protests for Black Lives Matter, even in places where Black people aren't like a majority."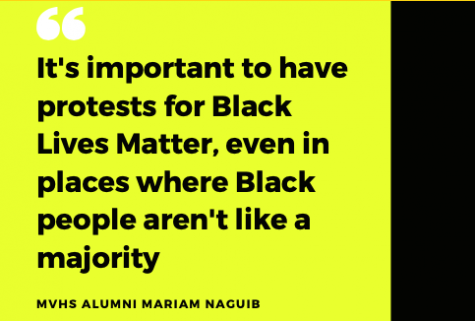 Naguib also hoped the protest would stir discussion about the use of the N-word or shed light on racial stereotypes and how administration at local schools react to racially motivated incidents. Though she still says police involvement is an issue in residential areas like Cupertino, she suggests those topics as places to start. 
"You see anti-blackness within the students who had no issue saying the N-word … and our administration who would cover up racist acts, who would not protect Black students," Naguib said. "You see it all the time. And especially – which is crazy – within communities of color who have that anti-blackness within us, and it's shameful and it's really ridiculous.
Rising senior Molly Mobley says she and her brother are often the only African-American they see in their classrooms as they have grown up in the school district. Her experiences in Cupertino align with Naguib, as she states she has also faced racism here. She says the protests may encourage greater conversations about race in Cupertino. 
"I think that it was amazing to see allies, Asian-American allies in particular, talk about things like the model minority myth, which we could see by a show of hands is not something a lot of people aren't educated about," Mobley said. "It is so important to start these conversations in this community where racism is very much alive, but it's more undercover and almost sneaky in a way. I feel like a lot of these people are gonna go home and talk to their families, and have those dinner table conversations and things that we need to do to make this movement."
Mobley's family owns a preschool, where she says her parents and teachers do not have an 'anti-black' curriculum that may shy away from talking about race. She connects this to how she believes residents in Cupertino may not be as comfortable with talking about race and racial prejudice within their families or online.  
"One thing that I will say to non-black parents is that if you're worried about maybe your kids [being] too young, know that black children are taught basically from birth that there's going to be people that always hate you, you're always going to be in danger and have to carry yourself differently than others to stay alive," Mobley said. "As far as going home and having these conversations, that's definitely the first step. Raising awareness [in any form] is important because I think people have this idea that we're so liberal, that people think alike here, which is not really the case. And when people do have racist beliefs, they are not open about it." 
Mayor of Saratoga Howard Miller attended the protest after attending the Saratoga protest that had occurred earlier in the day, which was also peaceful. Miller says he came to show support for change in the area. He invited the dean of West Valley Community College to the Saratoga protest as they have the largest criminal justice program in Northern California. By doing so, Miller hoped to encourage the people who are creating the next generation of police officers to listen in person to protestors. Beyond that, he points to other areas he has hopes for change. 
"We're listening, we're learning and we've got the experts who are making our next generation of police officers, and they're the ones who are going to help us change the system," Miller said. "This is far beyond policing. We need equal opportunity. We need equal education. We need equal access to education. We need equal quality of education. We need equal access to health care. This is not one issue. This is an impression of every aspect of people's lives and we need to fix this for all Americans and particularly for those who have been oppressed."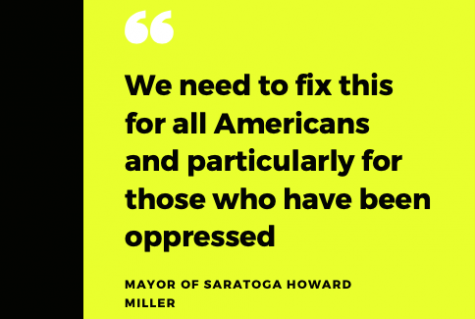 Rajan says that she hopes to see change in not only Cupertino residents, but in the nature of policing across America. She says those who are protesting racism and racial profiling of cops suggest reforms or abolishing law enforcement. For Rajan, that means moving in social workers and other professionals trained in different tasks like addiction or abusive homes, but still maintaining other general rules like traffic laws.  
"From my understanding, the police are overfunded [and] over-militarized," Rajan said. "[The police] take on so many issues in society that they should not be the ones to take on. I still need someone to enforce traffic rules. I still think we need someone to make sure people aren't speeding or they're stopping at red lights, but they don't need to be armed soldiers. And beyond that, in a domestic abuse situation, for example, you don't need someone armed coming in and escalating the situation even more."
According to Low, though Santa Clara County only has Sheriff's offices in 13 cities, they hold the same authority and involvement as police departments in larger cities. Low says that officers acknowledge and empathize with protestors and understand the frustration. He states that within the county, they go through "extensive" training that goes beyond attending a police academy, and that the county's diversity allows officers to have experienced many kinds of communities. Low says that though he believes none of the officers in the county racially profile, they do criminally profile individuals that do not take race into account of suspicion. 
"Our main response is that we are policing and we're serving the community equally, regardless of your skin color, regardless of your background or religion," Low said. "And we don't believe in racial profiling. There's something we consider criminally profiling, and there's a big difference …  And that's perfectly fine. So we don't ever consider racially profiling anyone, but we will enforce the law. We will go out there and just make sure the community is safe."
In response to advocates of the BLM movement suggesting actions for police departments and sheriff offices to take, Low says that while they are unsure of what to do immediately, the Sheriff's office is actively looking to improve in areas of training and will not interfere with any future non-violent protests. 
"We understand the community is frustrated — we understand the community wants to see some change, especially with what happened on the East Coast in May," Low said. "We want people to continue to peacefully protest if that's something they wish to do. We want people to exercise their First Amendment right. But make sure they do so peacefully."
Naguib suggests that residents of Cupertino who may not be able to have frequent conversations with African-Americans about BLM can read books and watch media from African-American creators as a way to educate themselves further. 
"[What makes a good ally], first and foremost, [is] listening," Naguib said. "Listen to Black people. You have to listen and you have to understand and you have to see things for what they truly are — I think is the biggest component of making an ally. Black voices are always to be listened to. But there are so many books and so many documentaries and movies out there about the black experience and how to be a good ally and all these things." 
In addition to helping organize the protest, Naguib also spoke during the open-mic segment after they marched. At the end of her talk, she led the remaining protesters to sing "Happy Birthday" to Breonna Taylor, an African-American woman who was killed by police in March and whose birthday was a day prior. The woman's name was written on some signs protests held and was chanted as they marched. Naguib attributes her singing to Breonna Taylor to further the discussion beyond Goerge Floyd's death in hopes to emphasize that the BLM movement will continue even after the four officers who were present at Floyd's death were charged. 
"We have to keep going," Naguib said. "It's not trending anymore, but we have to keep going if we're going to make change. It is working — we're making change. We got the three other officers arrested and they're being charged. We need to get justice for Breonna. So the biggest thing on my mind right now justice for Breonna."