Mindy Kaling's "Never Have I Ever" disappoints
Netflix's new boundary-breaking series could have handled mature themes better
I think many Indian kids can relate to the fact that when growing up, we all loved and idolized Ravi from Disney's "Jessie." We laughed at his jokes even though they were never really funny. Our eyes would light up everytime he came up on screen, and we always rooted for him in every episode. Considering that India has the largest diaspora in the world, it shouldn't be this much of a challenge to find people who look like us on the big screen. Apart from shows like "Skins" and "Skam," modern Western media struggles with accurately portraying brown people and their culture without exaggerating their experiences to form a punchline joke, especially in shows meant for teens.
This was before Mindy Kaling's new Netflix series, "Never Have I Ever."
A headstrong teenage protagonist. A conventionally attractive love interest. Quirky best friends. The series has all the formulaic makings of a typical Disney Channel show with the added factor of more mature themes like trauma, death and grief. The series also presents itself as one of the most diverse casts for a teenage drama and it's shocking that it's only in 2020 that we see a black lesbian, a disabled character, brown protagonists and mixed Asians on the same screen.
After her father's untimely passing and an incident that left both her legs paralyzed, Devi Vishwakumar returns to high school in the fall as a sophomore, recovered and ready to leave everything in the past. Vishwakumar is immediately subject to everyone's stares and whispers when she enters school, mainly due to the widespread knowledge about what she had been through, and considering that she is the protagonist of a teen drama, it's almost like a rite of passage. We quickly learn that she and her two friends are outcasts in the school's social scene (surprise, surprise), and Vishwakumar draws up a plan to elevate their popularity by getting boyfriends.
The typical mold of coming-of-age titles is further broken by the heavy emphasis of culture and religion throughout the show. Vishwakumar's chaotic, heartwarming and imperfect relationship with her mother is one that I can relate to and is well portrayed by both actors. Their relationship comes with gossiping about other nosy relatives, the frequent fights about not understanding each other and a general mash of overprotectiveness and love. It's certainly not a relationship like those present in the typical Disney shows, and it's an aspect of the show I thoroughly enjoyed.
Her connection to culture is further explored in the episode "… felt super Indian," where she experiences discomfort in her own hyphenated identity. She doesn't feel "Indian enough" and doesn't want to. Yet, this plot point isn't exactly explored throughout the episode or the series. In fact, stereotypes of Indian teenagers are reinforced constantly, like the fact that Vishwakumar takes heaps of APs, participates in millions of extracurriculars and wants to get into Princeton (we get it!). This age-old stereotype is getting repetitive and tiring, even though it is rooted in some truth. Is it too much to ask for Indian teenagers to be starred as anything but nerdy and academically driven?
The focal point of the show also transforms into Vishwakumar's relationship with a popular guy she likes rather than her process of dealing with the grief of her father's death. It isn't until the last few minutes of the last episode that she learns how to deal with the sorrow, and her feelings remain largely buried for the majority of the series.
While there are occasional outbursts of emotion where she reminisces her memories with her dad, she never confronts them or deals with them in healthy ways, like actually talking to her therapist about her grief and loss. While I understand that this show's purpose isn't necessarily to educate its viewers on how to deal with trauma, there could have been better ways to approach the subject of mental health, especially since it's practically rendered as taboo in Indian families.
Aside from the visual portrayal, the scriptwriting is also cringeworthy at times, as it seems like the writers were trying to fit as much modern "teen" slang as they could into every line. The show is written and directed for 12-year-olds, but it also handles topics like sex and arranged marriages, which definitely doesn't work in its favor.
While all the characters have a degree of complexity, they could have been developed so much more, as it seems like the only character whose growth made sense was Vishwakumar. Parts of the show make it seem like it's a poorly made parody of "Jane the Virgin" — it even has a narrator, who for the love of God, cannot pronounce any of the Indian terms or words without butchering it.
I'm not just going to sit here and criticize this show that has broken so many barriers and is going to be watched by so many brown kids over the world. The awkwardness of high school, first crushes and fights with friends all play a part in creating the chaos that is Vishwakumar's life. The subtle references to modern pop culture, like Riverdale, and the protagonists' personality is, in general, endearing. No matter what ethnicity or how old you are, it's easy to relate to at least one of the many characters.
It's sad that we need people of color to come up with productions like this, as Western media fails to take the initiative to make casts diverse and deal with real, invisible and heavy issues. And even if I'm not its biggest fan, I think another season would be benefitting to the show's characters and its multiple loose ends.
About the Writer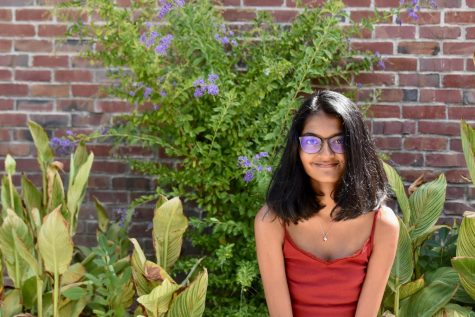 Sreya Kumar, Opinion Editor
Sreya Kumar is currently a third year staff writer and opinion editor. She was previously sports editor and enjoys traveling the world, watching choreography videos and taking photos.