Introverts vs extroverts in lockdown
Differences in how extroverts and introverts have adapted to shelter in place.
With school closed and lockdown in place, students are forced to stay at home and find new routines for themselves. However, the ways through which introverted and extroverted students adapt have both differences and similarities.
EXTROVERTS
It was Friday, March 13, 2020. Sophomore Ronit Avalani, who considers himself extroverted, sits in his fourth-period physics classroom waiting for the news of the school cancellation (for three weeks at the time). As a member of Leadership, he was one of the few students who knew about it before the announcement was officially made. While the rest of his class bursts into excitement and starts cheering, Avalani starts to feel a pit in his stomach, fearing the long term effects of COVID-19 on his life and education. 
"It was offsetting that the students around me were happy," Avalani said. "I knew the information a couple days ahead of time and after processing the information, I realized that there was a bigger issue at hand."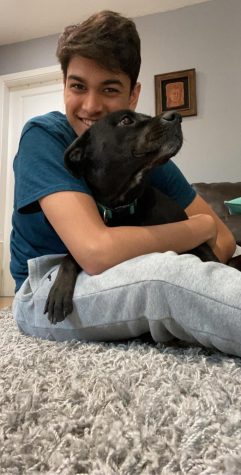 Junior Akash Dubey's fourth-period class had a significantly different reaction in comparison to Avalani's class. 
"Our class was actually pretty disappointed and in shock when we heard the news," Dubey said. "It's funny because we could hear the sophomores next door celebrating, but I think our class just didn't expect everything to be so drastic and happen so fast."
On the other hand, Junior Anura Ghodke was initially happy to hear about the cancellation of school as she felt that the school was finally taking important measures for the safety of the community. the excitement faded when she realized that she wouldn't be able to see her friends due to the shelter-in-place order and lose the connections she had built over the school year as a result. 
"I remember it hit me on March 13 that it might be the last official day of the school year and that would also mean that it was my last day with the seniors which ruined my mood a bit more," Ghodke said. "Once you're on quarantine, you talk to the same couple of people and lose some of those friends that you just see in the halls every day." 
For some, the shelter in place order came with a drastic change to their daily routine schedule. Both Avalani and Ghodke have experienced negative changes when it comes to their eating and sleep schedules. Ghodke highlights the bad habits she has picked up on during the shelter in place — ones that she is now struggling to change.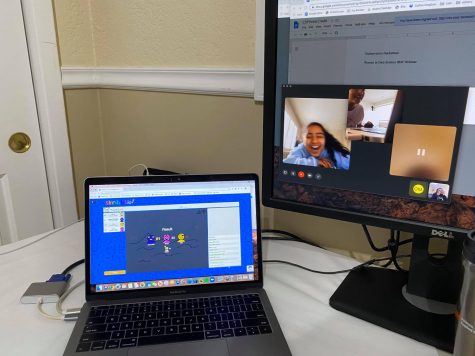 "Now I spend exponentially more time on FaceTime to make up for the interactions I'm missing," Ghodke said. "I stopped binging TV shows junior year, but I have gone back to it during quarantine." 
Avalani emphasizes the lack of motivation he is currently experiencing due to the lockdown when it comes to his school work.

"I just do all the homework for the entire week the night before it is due," Avalani said. "In terms of stress, they have actually decreased, which is both a blessing and a curse. I'm a lot more relaxed but then again, stress is what usually motivates me to be better and without it I have not been accomplishing much." 
As an extrovert, junior Akash Dubey explains that quarantine has shown him how much he relies on other people in order to do anything. 
"I just feel like a waste of space without people around me; I wake up, do nothing, and just go to sleep," Dubey said. "Since school activities had already been put to an end, the cancellation of classes were the perfect nails in the coffin for my social life."
INTROVERTS
With the definition of introvert being a reserved or shy person who enjoys spending time alone, the idea of shelter at home and staying at home may not seem very frightening. For example, sophomore Pratyush Shanbhag was much more concerned with the assessments his teachers had lined up for him in the next few days. However, he thanks his introversion for dealing with the situation well.
"I hadn't realized that the situation was so bad that we had to take such measures," Shanbhag said. "My introversion allowed me to take this unprecedented situation in a more calm manner as my life has just become more solitary, which I am used to."
Similarly, junior Kelli Kosakura had been waiting for the school closure and was more worried about teachers' responses.
"My teachers had to scramble to figure out lesson plans and such," Kosakura said. "I knew three weeks would be a long time but safety first. I'm not a super social person so I wasn't too upset about staying home. I know that I could always call or text my friends too."
Video used with permission by Kelli Kosakura
While Shanbhag believes that shelter at home has been easier for him compared to his more extroverted friends, he believes that social media has helped both introverts and extroverts stay in touch with their friends.
"I think that extroverts will be having quite a hard time living in this lifestyle for the next few weeks," Shanbhag said. "They will be forced to talk face to face with only their family and not with their close friends. However, for both introverts and extroverts, social media is a clear benefit in this lockdown, as it allows people to interact with friends and stay updated on their friend's lives and other people's situations."
For introverts like Kosakura, adapting to this situation has not posed major challenges. Rather,  shelter in place has been an opportunity to appreciate family. Kosakura has found happiness in spending time with her family members with the extra time she has found with distance learning.
"Watching the news can be scary but my quiet side has helped me develop an appreciation for my home and family," Kosakura said. "I've been spending more time with my family too, like going on walks with my mom, throwing a football with my dad and making TikToks with my sisters."