Color Guard during quarantine
Looking at how MVHS Color Guard bonds and practices online during COVID-19 pandemic
Freshman Naomi Baba never knew that March 9 was going to be the last time that she  practiced with her teammates for this school year. 
The release of the FUHSD's remote learning order caused many of MVHS Color Guard's originally planned competitions and performances to be cancelled, including their ever-anticipated trip to Dayton, Ohio for the World Championship competition.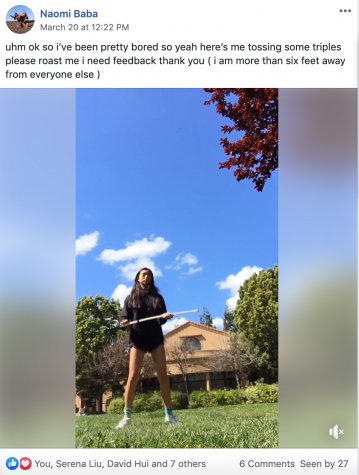 With the COVID-19 pandemic spreading at an alarming rate where, as of March 30, 202 new cases were confirmed in Santa Clara County, the official cancellation of color guard practices for the rest of the school year was inevitable and so was the frustration, regret and disappointment that followed. 
"[At our last practice,] all the seniors started crying as our coaches started giving their speeches about their time here and how fun it was to watch us all grow," Baba said. "The tissue box was passed around a lot, and everyone was crying. I cried too, as it felt so wrong for this winter season to be taken away from us."
According to freshman Sophia Ma, the cancellation of color guard events impacted the seniors on the team the most given how the 2020 Winter Season was the last of their high school career. 
"I try not to think about it too much because it's not productive to hang onto it," senior Muhil Mylvaganan said. "It's gone. It's not coming back." 
Ma also explains that because none of the team members anticipated the shelter-in-pl
ace order, many felt regret regarding their last performance at the WGI Union City Regional Competition on Feb. 29 and March 1. Ma believes that because the varsity team had just recently learned the choreography for their Union City competition, they were not able to perform at their best. 
However, regardless of the disappointment and the regrets, the team supported and motivated each other during this time. Coach Grantís Peranda and the team captains interacted with the Color Guard members through Instagram, Facebook and Zoom. Team members would share various tricks and choreography that they have been practicing in their backyard or on their lawn in the MVHS Color Guard Facebook group.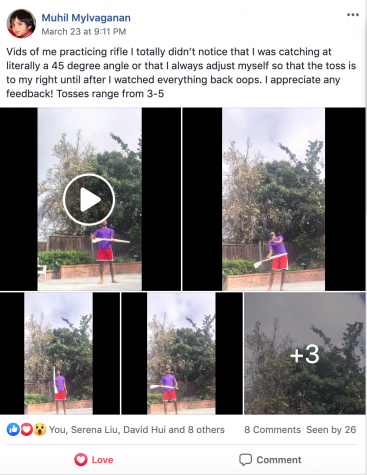 According to Baba, the team split themselves into breakout rooms on Zoom and practiced with their own sections. Captains would help lead the sections and provide guidance and advice for members of various skill levels.
"The captains taught us a small piece of sabre choreography, which was challenging, but after many corrections and failures, most of us learned the choreo," Baba said. "It's not perfect but it's [an] improvement. Even through the Zoom sectionals, the vibes are always positive." 
Although the team has only held one Zoom meeting so far, Ma anticipates more in the future. She explains that it's a wonderful opportunity to socially interact and see her team members, even though they are separated under the shelter in place order.
Overall, while the COVID-19 pandemic created many disappointments for the team, Ma reveals that this event taught her an important lesson. 
"For the future, every single time we have rehearsal or every single time we have a show or performance, [I should] actually make the most out of every single minute that I had there," Ma said. "Because you never know when it's going to be your last." 
About the Writer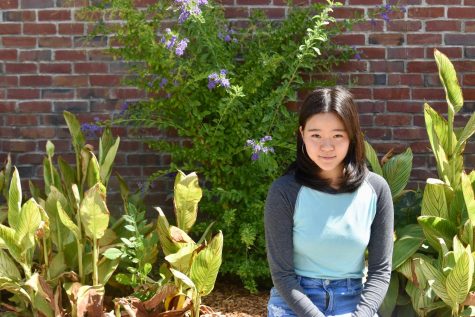 Jasmine Lee, Opinion Editor
Jasmine Lee is a senior and currently Opinion section editor.