Music across languages: Junior Manas Manu's singing journey
Junior Manas Manu shares the most vital values to improving as a singer
Junior Manas Manu began singing only two years ago, but today, the art has consumed his waking hours and is his foremost priority. Despite his late start, especially when compared with other musicians of his age who began much earlier in their childhood, the people closest to Manas agree that he has ascended rapidly not only as a musician — competing and performing across the state — but also as a person, all in the short span of two years. Today, Manas sings in various Indian languages and performs both locally and internationally.
Music is highly valued in Manas's household — his mother, Sabbitha Manu, has over 12 years of training in Indian classical music, his father plays the veena (an Indian instrument) and his family are avid fans and concertgoers of all genres of music. These influences at home provided Manas with exposure to the art from a young age.
"[Manas] picked up a few lines [and] kept singing them, and we thought his voice was very good," Sabbitha said. "So his dad and I kept constantly telling him, 'Manas, you should have learned music when you were younger.' And then one day he suddenly turned and said, 'Why not now?' We thought he was joking."
After that moment, Manas began to experiment with singing, but his first attempts were met with opposition rather than encouragement. One day with his friends, when Manas sang out loud for fun, he explains that he was suddenly shut down and discouraged from continuing. The experience, however, sparked a desire within him that inspired him to begin practicing seriously.
"I was just singing and [my friend] told me to stop, and I'm like, 'Why did you say stop?'" Manas said. "He was like, 'Just stop. You're not good.' So that's what started the fire in me. I wanted to prove him wrong and show that I could do it."
Manas initially practiced singing at home, where his parents provided him with the critique and suggestions necessary to help Manas identify his weaknesses and improve. Following many local Bay Area performances, at senior centers, for example, Manas began training with professional singers, including Indian playback singer Mano.
"More than my parents, I think my teachers have supported me the most because [they] taught me from scratch," Manas said. "I'm a huge believer in God [and] I believe God's always there with me because a lot of people sing but a lot of people have not had the opportunities that I've had, [so] I've been very lucky and privileged and I'm very thankful for that."
Manas is also endlessly inspired by many famous Indian playback singers, especially Arijit Singh, for their admirable morals and personalities.
"I really look up to [Singh] because [he is] more than an amazing singer — I think he's an amazing human being," Manas said. "His story really inspires me — he went to a reality show when he was a young boy, and he got eliminated in the fifth round, yet 10 years later, he came back and he's the top singer in India."
The main driving force behind Manu's rapid improvement, however, is his own dedication rather than the instruction he receives. His close friend, junior Shyam Sundaram, has not only witnessed Manas's significant improvement over the past year, but also seen how his constant desire for improvement in singing reflects in their friendship.
"Music is more than just a hobby for him — it's a part of his life," Sundaram said. "Every single moment, that's what he does — I don't know any other kid who's so obsessed with something. He's always looking for opportunities to listen to [new] music. Even in the library during block periods, [when] we're all trying to mess around, he's on his computer trying to find out new songs that he wants to perform."
Despite not being a musical expert, Sundaram has supported Manas's musical endeavors by regularly supplying him with suggestions. As a visual artist, Sundaram believes that feedback of any type — even if sugarcoated — is vital for improvement.
"If you've ever created something, when you look at it, you're usually your biggest critic," Sundaram said. "It takes others to tell me, 'You've gotten a lot better,' [because] I can't tell — I think that's just an artist's flaw. All you see when you [look at] something that you create is its flaws, so I think having people to rebound off of whatever you create, [and] in [Manas's] case, whatever [he] sings is very important."
"
A lot of people do it as a hobby, but I took it like there's nothing more important to me than becoming the best singer I can be.
— Junior Manas Manu
Sundaram believes that in addition to Manas's incessant dedication to music, his humility has also helped him grow quickly. Now, Manas dedicates up to five hours everyday to music.
"I put a lot of things back and I focused completely on music, day in and day out," Manas said. "A lot of people do it as a hobby, but I took it like there's nothing more important to me than becoming the best singer I can be. You can keep getting better — you see improvement over a long period of time — but I was determined every single day to improve."
Manas began performing in various concerts only eight months ago, but his dedication has brought him a plethora of accomplishments, such as competing in the International Indian Icon (a Hindi TV program), placing in the semifinals on the Voice of Bay Area and singing in opening performances for playback singer Najim Arshad and Grammy award-winning singer Manoj George. Among the lessons that Manas has learned from these performances, he says that honesty has resonated most deeply with him.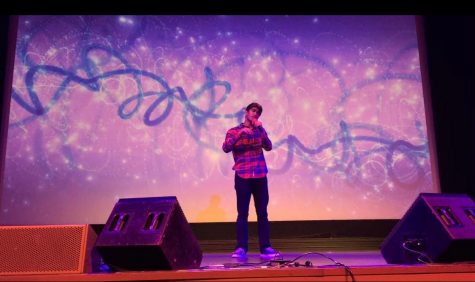 "There are many singers, but when someone sings honestly, you will tear up," Manas said. "When someone sings, you know when it's coming from the heart, and that's what you want. When it comes from the heart, it's a completely different story to anyone listening and even to yourself. That's why I learned [that] you don't want to sing for anyone else — you want to sing for yourself. If you like your own song [and if] you like your own music, [then] other people will like it."
Singing has also brought Manas closer to his culture by encouraging him to embrace a variety of Indian languages, beyond what he speaks at home.
"Music has no language — you can sing in a variety of languages and Manas has been singing in a lot," Sabbitha said. "He sings English songs, he sings a lot of Hindi songs, he sings Malayalam songs [and] he is now participating in a Kannada show. He's equally comfortable with all of these languages, and that itself is getting him a bit closer to his roots."
Aside from its intellectual enrichment, Manas says that engaging in music not only has made him happier and more productive but has also helped him comprehend his complex emotions with the stress and commitments of school and daily life.
"Music is God's language, and music is a language on its own," Manas said. "It keeps you peaceful [and] gives you a clear head. Especially nowadays, where we live, we're really stressed — we've put our emotions back. And when we listen to music, all the emotions become molten and they come out through our eyes. That's [why] we need [music] in our lives to actually realize what emotions we have within."
About the Writer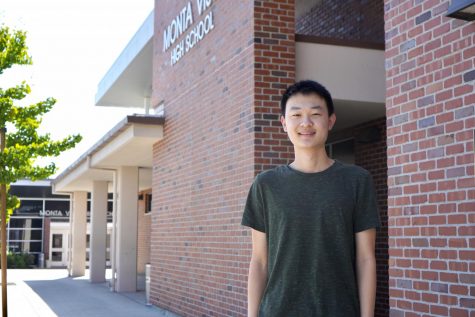 Robert Liu, Managing Editor
Robert is a senior and a managing editor for El Estoque. He spends his free time practicing the piano, programming and reading books.