Athlete of the Month: Sotiris Kougiours
The adrenaline rush of jumping over hurdles for 65 and 300 meters gives sophomore Sotiris Kougiours the motivation to keep progressing in his track career. Kougiours started hurdling in elementary school as his parents took him to a track clinic every Sunday. By participating in multiple events at the track clinic, his interest in hurdles blossomed and prompted his engagement in the Kennedy MS track and field team. Currently, Kougiours is a member of the MVHS Varsity hurdles team. 
"It's something I had to conquer a fear to do, I mean falling during hurdling can have bad consequences," Kourgiours said. "I don't usually give myself a lot of credit, but for hurdles I'm proud of myself for doing it."
Kougiours, who also participates in the 4 X 400 meter relay, sees hurdles as his best event since he won leagues for both the 65 and 300 meter hurdles events last year. One of Kougious current goals is to get an offer for a college team with an emphasis in hurdles. Kougiours, who is a making the jump from JV to Varsity this season, is excited about the social aspect of being around upperclassmen, but is nervous about the level of competition. As one of the only sophomores on Varsity, his goals are to keep breaking his personal records and to stay in shape. 
"In terms of jumping over the hurdles, for me at least, it feels like the whole world like kind of stops and it's just me jumping over the hurdle," Kougiours said. "Then an instant later I'm on track again sprinting to the next hurdle."
About the Writer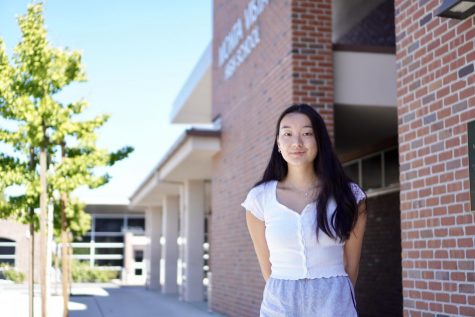 Elena Khan, Visuals Editor
Elena is currently a senior and a visuals editor for El Estoque. She plays field hockey and volunteers for the MVHS Leo Club as their secretary/treasurer. She loves photography and drinking the Baja Blast Freeze with her friends.