Painted horror
The horror in special effects art
Special effects art, also known as SFX art or visual effects, is an art medium used in films, costuming and performing arts. SFX artists use makeup to transform people into different characters, make realistic gashes or create new body parts. The art extends beyond the use of molds to change actors' faces, like in the live-action movie "The Grinch," or using both makeup and programming, like with characters in X-men or Marvel movies. SFX is used across all genres of entertainment — but some find its excitement in the horror department. 
Sophomore Gabrielle O'Donnell started with pen ink on her hands and arms to recreate cuts she obtained from her cats, then graduated to using scar wax and liquid latex to make her fingers fall off, expose her thigh muscles or make other parts of her body appear bruised. She was inspired by her older brother, who would prank others into thinking he had harsh cuts, and received professional SFX tools by him last Christmas, which recently helped her to expand her practice and get her hands on scar wax. 
"I would try and trick people into thinking I got a really bad cat scratch," O'Donnell said. "One of the kits is just a bunch of different types of scalpels that you can make different designs on or [for molding] the scar wax. The ones with pens obviously didn't look super real. I still got reactions out of it, but more people could tell that [it's] pen. But with the scar wax, and the more and more I've been doing it, the more realistic it looks, and the more people think that it's real and get honestly scared."
Check out these videos of O'Donnell creating the looks in the feautred image.
Junior Alisha Saboowala loves horror films and shows like "Supernatural," but she also likes shocking people. Every Halloween, Saboowala creates an elaborate costume, whether it's dressing up as Liv from "Lord of the Rings" or someone with a sliced open mouth and throat. For the past two Halloweens, Saboowala has used the knowledge she gained from watching YouTube tutorials to get creative with SFX art.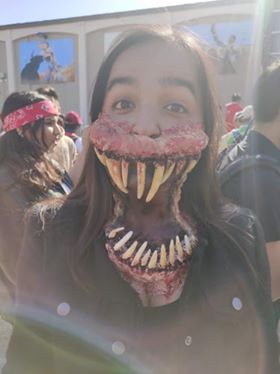 "I was basically inspired by Halloween — I enjoy going all out for Halloween, and I thought that instead of just wearing a costume, I'd focus more on the scary aspects of Halloween," Saboowala said. "[Halloween is] a connection with my childhood. Every year we would go trick or treating no matter what … I've always liked to do scary stuff more than just being a character from a TV show or movie — I find that to be not that original in my opinion, so I wanted to do something that's completely on my own."
Saboowala's latest look for Halloween was of a large jaw that took up her entire face, hanging open to expose 20 large, bloody teeth and her neck as the inside of the mouth. She used plaster and moldable plastic from her mother's dentist's office, liquid latex, a pallet of colors from a bruise wheel and fake blood to achieve the look. She sat in her mother's dental chair as her mom worked on molding the jaw the day before Halloween, and then added makeup and fake blood at 5 a.m. on the morning of. These two looks have been Saboowala's only experiences with SFX art, which she uses purely for Halloween. 
Saboowala puts effort into her SFX costumes as she enjoys the reactions she gets from people.  She loves the subtle looks students give her as she passes them on campus and scaring her friends with her bloody face with dangling skin.  
"I got a huge response, like anyone I would see, they were in awe when I'm walking past them, and that just makes my day because this work is actually being appreciated," Saboowala said. "They really appreciate the amount of effort I had to go through to make this. I was really surprised that anyone would come up to me. The first year, when I went trick or treating, the adults were scared when they opened the doors. It was fun."
Unlike Saboowala, who uses liquid latex, O'Donnell prefers scar wax for her horror looks, as she can mold the look with scalpels and Vaseline to make 3D wounds. With liquid latex — what Saboowala uses — O'Donnell can only make her skin look as if it is peeling — she is unable to take on intricate looks like a split or missing finger. She also spends time deciding on the right colors to use — she uses foundation and shades of body paint to make a look more realistic.  
"I also use fake blood, and then I use blue and red paint, as well as Vaseline to make the scar wax more like flesh with the skin," O'Donnell said. "The blue is used first for the background color and veins, to [then] put red on top of some of the area to get more of a purple so that it looks more like bruised or infected. And then if I really want to do [an infection], I'll use some yellow, and then like bruises [I'll] use green and purple in the paint."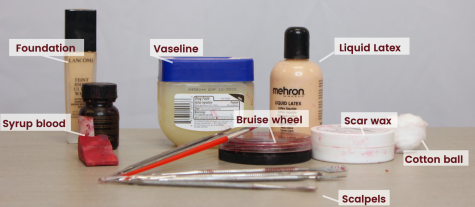 Stephen Evans is the Entertainment Coordinator and puppeteer at Happy Hollow Zoo and recently lead workshops on SFX art — both the horror and character side of it. Inspired by the show "Face-Off" and courses he took in college, last October, he instructed his first workshop called "Blood, Guts and Gore." The workshop allowed kids to experiment with makeup kits to make zombie looks, which served as a trial for his week-long camp in February, where he ran daily workshops to teach kids how to use prosthetics and makeup to create characters.  
"The kids really loved it. Once you start with the makeup, it's hard to get them to stop and get them to do something else — they just want to experiment and play," Evans said. "Special effects makeup and puppetry sort of go hand in hand in that a lot of puppets are made with things like silicone or latex, and so you do have to do molds of the faces. [My interest] sort of bled over from wanting to try making latex puppets to making things with latex on my own skin." 
Evans says that the department wanted to show kids that SFX art, makeup and other skills surrounding it can feed into many careers — not just horror effects — and says he tried to do so with the workshops. 
"It's just a skill that I know a lot of people have interest in, and it's hard to know where to get started," Evans said. "We instruct [the kids] and let them know if you like doing this, there are opportunities for makeup artists that you don't necessarily have to go and do horror movies … Obviously the horror is what the most recognizable portion of special effects makeup [is], but even there are simple things like using latex on your skin to make yourself appear older. It's sort of a gateway into other art." 
While Saboowala only uses her SFX skills every Halloween, O'Donnell and Evans continuously practice the art. O'Donnell does not like horror films and doesn't find inspiration from them the way Saboowala does. But they all agree that sharing their work with others is worth it for the reactions. "I enjoy doing it as well as scaring other people —I like the reactions as well but I also just like doing it in general because it makes me feel like [I can do what professional artists can]," O'Donnell said. "In movies, you know it's fake, but it looks so real in the moment, to the point where it scares me, which is the reaction that I get from others."
About the Writer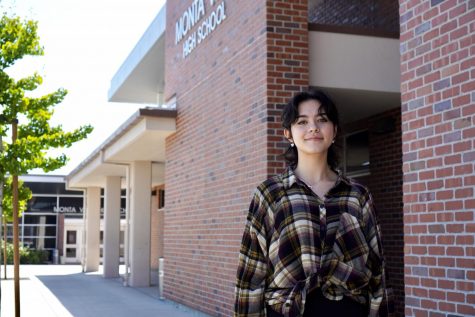 Ayah Ali-Ahmad, Co-Editor-in-Chief
Ayah Ali-Ahmad is the co-Editor-in-Chief of El Estoque. Outside of El Estoque, she is the President for Gender-Sexuality Alliance club and the Senior Director of Communications for MVHS's largest volunteering club, Octagon. In her free time away from her school life, she enjoys listening to music and getting boba with friends.