A Potter's Touch: Exploring junior Anushka Savale's journey with ceramics
Exploring junior Anushka Savale's journey with ceramics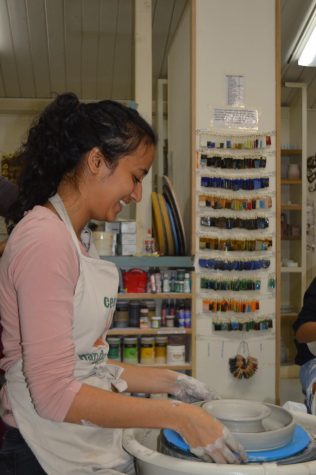 Junior Anushka Savale explains she has always been "a crafty and artsy person," interested in everything from painting and drawing to theater. Ever since she was young, Savale had always wanted to try pottery. Still, she never really imagined that she would be seriously into pottery until her friend convinced her to take a class together. 
In eighth grade, Savale began taking classes every Friday in Wilson Park Ceramics Studio, following her teacher and learning different skills. Savale first started by making cups, many of which she says were poorly made. Four years — and many bad cups — later, Savale has grown to fall in love with pottery. She now works at the studio at least once a week and makes much larger pieces, including bowls, plates and vases. 
Savale explains that pottery comes in two main forms: structural pottery, which tends to be decorative art pieces, and functional pottery, which is pottery one can use, like bowls, plates and utensils. Savale particularly enjoys creating functional pieces, claiming that she is  "drawn" to the pottery wheel (where most functional items are made).
Savale explains that part of the reason why she initially struggled with pottery is because engaging with pottery in general can be difficult. Not only are pottery classes and materials, like clay and glaze, relatively expensive, the artform itself is typically a time-consuming process. Projects like mugs can take up to five weeks, and bowls and plates tend to take three weeks. 
"There are moments where [pottery] can be frustrating," Savale said. "But for me, I don't see it as work. I just see it as a place where I can find happiness in a way and [just put] everything of me into the piece. So it never becomes like, 'Now I have to do this. Now I have to do this.' It's always just, 'Great, I get to do this next thing.'"
As she gained experience, Savale began sharing her passion with her friends, even taking junior Cassey Bogdan to a class with her. Although Bogdan never ended up pursuing pottery, Bogdan explains that learning pottery, especially with someone as passionate as Savale, was "impressive" and "super cool."
"I'm honestly really proud of her," Bogdan said. "I see professional pottery work and that's really impressive, but I see her work, and she's come a long way. I remember when she was just taking the class and now she teaches the class."
After noticing Savale's skill in pottery and also ability to help others, Savale's teacher Lisa Molaro hired Savale as an instructor for a pottery summer class the past two summers. Molaro explains that she is constantly amazed by Savale's "ability to rise to a challenge," whether it be developing lesson plans or maintaining the attention of young kids. 
"She really stepped up when it comes to being the one that attention is supposed to be paid to," Molaro said. "She keeps it interesting. She grabs the kid's attention, she grabs everybody's attention. She's good with that. When she is the assistant in an activity, she doesn't grab the spotlight, she doesn't distract from what's being said elsewhere in the class or being instructed elsewhere in the class."
Over the years, bolstered by both her experience sculpting and teaching, Savale's final products have become increasingly professional. In fact, Savale recently set up a store on Etsy. Although she has not made a sale yet, she is excited to see how she can continue sharing her love for pottery. 
"Currently, I think I'm still finding what my unique style is in the sense," Savale said. "But I'm always taking a lot of things from other artists and kind of manipulating those things. Like my friend, she makes a lot of closed pieces and does a lot of cool stuff with that, but I don't really have a fixed taste or style."
Beyond the products that she is able to make and potentially sell, she appreciates pottery for the community it has brought to her. 
"I'm able to connect with people from different age groups and everything is very relaxed," Savale said. "That's the biggest thing that I love about it. Everything's just so calm and everyone seems happy. Everyone takes their worries and they throw it out the door when they come inside the studio."
Savale says that this community has helped her a lot as a person. Savale has always been a perfectionist, placing a lot of pressure on herself to perform in every aspect of her life, from academics to extracurriculars. Pottery became a creative outlet and an important way to destress for Savale.
"Pottery became this thing that I didn't have to perfect, where I could go to it and I could relieve all my stress, but also I didn't have to fit into a certain ideal. I could do whatever I want," Savale said. "And I'm not saying this pressure was coming from my family or from my peers, it was coming from myself. Pottery became one of those things where it's OK, if I'm failing right now, it's OK, I can do better because everyone was just super supportive in that environment."
While Savale saw her perfectionist attitude as a detriment in some sense, Molaro sees it as a benefit to pottery.
"As a potter, she is patient, attentive to what she's doing. She has a good feel for the clay. When decorating the clay she spends a lot of time on details," Molaro said. "She's got an  artistic flair. She looks for the details and she sees things that other people don't necessarily see. She's mindful when she's creating something. She's mindful of the process and sees it through to completion. She continues with something until she gets the way she wants it."
Because of everything pottery has done for Savale, she says that she will continue engaging with the artform. She's not sure how pottery will exist in her life, but she sees herself possibly opening up a studio. She also encourages other students to try pottery, and if not pottery, some other form of art that could do for them what pottery has done for her. 
"Especially in this environment we live in, it's always about grades, though it's about excelling, and people forget that learning is also a thing," Savale said. "Just being able to learn this new craft, without grades, without the fear of failing, it was amazing at first. Yes, there were moments especially in the beginning where I was frustrated, but I was OK with that frustration, which didn't really happen. And I want people to love learning again."