MVHS seniors reflect on their wins at LA North Regional
MVRT reaches finals and qualifies for the For Inspiration and Recognition of Science and Technology (FIRST) Championship in April
From Feb. 27 to March 1, Monta Vista Robotics Team (MVRT) competed in the 2020 FIRST Robotics Competition in the Los Angeles North (LAN) regional at the Mamba Sports Academy. Team 115 ranked second out of 42 teams in qualification matches, became regional finalists and the winner of the Quality Award and qualified for World Championships. 
At regionals, each match pits two alliances against one another, with each alliance consisting of three teams. After 77 qualification matches, the eight highest seeding teams become alliance captains and are allowed to choose two other teams to form alliances with for the playoff matches. By placing second in the qualification matches, MVRT was able to captain the second seed alliance.
During the regional, MVRT won 10 of 11 qualification matches and five of nine playoff matches, which consisted of quarterfinals, semifinals and three matches of finals. The best of these three matches won the regional, and MVRT won one of the finals matches. According to senior and MVRT president Divya Satrawada, since two of the teams who won the regional overall had already pre-qualified for Championships, MVRT received one of the extra tickets to Houston — a Wild Card — as the next highest seeding team.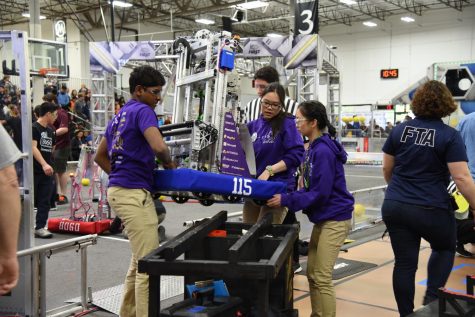 Satrawada was responsible for ensuring the team was ready for matches, with pits, stands and drive team under control. According to Satrawada, the team was still assembling the robot a week and a half before the regional, so MVRT wasn't expecting to do well. Qualifying for Championships was also a surprise for members of MVRT since the alliance MVRT played against in the finals had two powerhouses, or top-tier teams: Team 1678 from Davis Senior High School and Team 973 from Atascadero High School. 
"[Powerhouses] are the best of the best — they're the top in the world and so the fact that we won even a single match against them [as] the underdogs [was] really exciting," Satrawada said. 
According to senior, Vice President of Engineering and drive coach Veronica Hui, MVRT has consistently ranked below the top six teams after qualification matches.
"Our team mindset is high," Hui said. "We really want to make it to Championships, so ranking high is really important for us, and with six teams that are historically known to do really well … at the same competition as you are, you don't have a lot of confidence."
In addition to performing well, MVRT also won the Quality Award at LAN, which celebrates the mechanical integration of the team's robot. MVRT's robot, El Toro XXIII, involved many different moving mechanisms — intaking the ball, shooting the ball and an elevator mechanism — that made successful cohesion with space constraints difficult. According to senior, mechanical lead and strategy lead Hrushikesha Athreya, the organization of the robot's electronic system eased the debugging of the robot and led to the approval of the judges.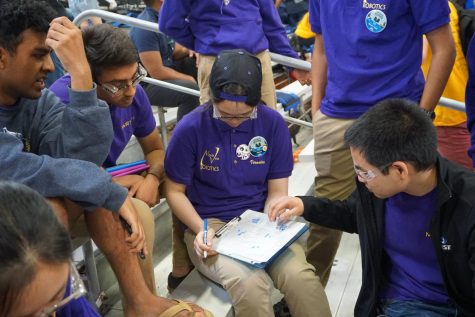 Athreya expected MVRT to rank mid 20s in the regional competition, but, like Satrawada, he was surprised that the drive team exceeded all expectations and led MVRT to rank second going into alliance selections. Athreya works with Hui during matches by developing and carrying out competition strategy — this year, he worked to develop a lane strategy that allowed MVRT's faster robot to score points by accurately shooting balls into targets.
"It's really fun for me to see how my strategy gets in the field and how it works out and how we can improve it for the next competition," Athreya said. "For alliance selections, you send one representative to go up so I've been the representative for a couple years now and it's really fun to go up there and be the representative for your team to choose and dictate how playoffs go,  so I really enjoyed that."
Athreya was also proud that the major parts of the robot, such as the drivetrain, which serves as the robot base, didn't break during matches, which would have pulled them out of a few matches until the parts were fixed. According to Satrawada, issues still inevitably occur at competitions — at LAN, there were complications with the wiring and an elevator mechanism that were quickly fixed. 
"Small things that we faced … happen at every competition, but the fact that we were able to get our team together and fix issues quickly, and our drive team was able to formulate really strong strategies that helped us get as far as we did," Satrawada said. "I think those are things that were exceptional to this regional."
In addition to experiencing excitement while executing strategy during matches, Athreya enjoys competitions because he can watch various robots compete.
"[Regionals are] an otherworldly experience and especially the first time for the freshmen — it's really hard to adjust back to normal life after you go there," Athreya said. "You're with other people who understand robotics and are in this whole other environment. It's like another family — you don't even know these people but you feel connected to them, because you guys go through the same experience every year and it's really fun."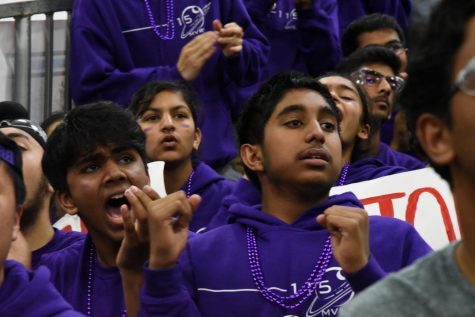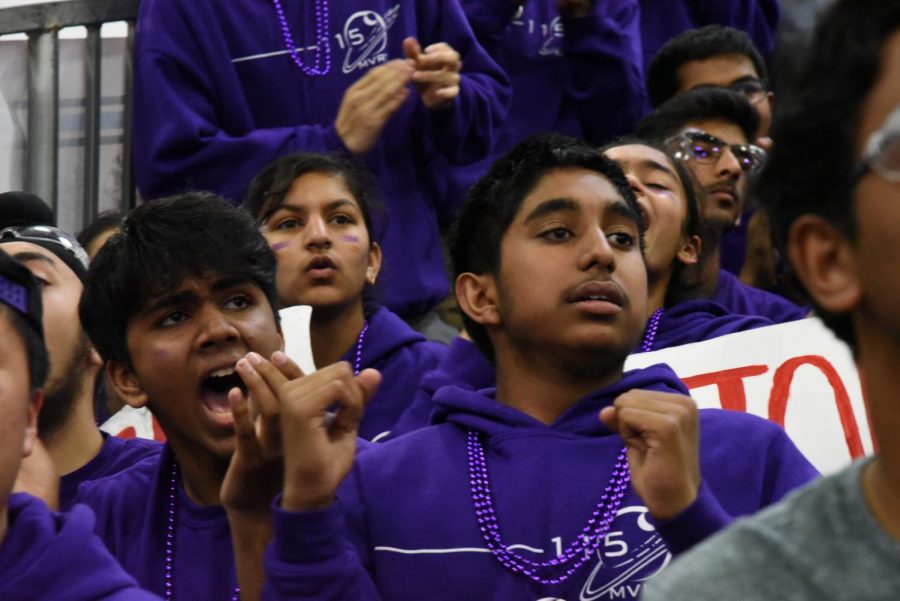 The last time MVRT qualified for Championships was at the 2017 Arizona regional, when the senior members were freshmen and won the entire event. While Athreya is looking forward to attending Championships for the first time, Satrawada is excited to open and close her robotics experience in Houston.
"It's a really wholesome full circle moment," Satrawada said. "I remember thinking [at the time], 'Wow, the seniors are so cool, they love the team, they got us here and they get to end their senior year with a bang' and now I get to do the same thing — it's really exciting." 
Like Satrawada, Hui got a taste of competition at championships as a freshman. The competition season of 2017 was especially memorable for Hui as "the start of a new era." In the past two years, MVRT has ranked in the top 8% of California teams, according to Hui. 
"The way how a lot of people define success on our team is how well you do at regional," Hui said. "Ever since [2017] it became a team desire to make championships, because we know we can, we have the ability to. For the underclassmen [regionals are] kind of a motivation and a way for them to see all the time and effort they have put in, do so on the field and be able to be recognized by other teams and on the national level too."
As a previous rookie, Hui knows that freshmen spend a lot of time watching and learning from experienced upperclassmen and may subsequently feel discouraged. However, Hui adds that besides the mechanical and electrical sides to MVRT, the club also facilitates the development of real-world interpersonal skills through award presentations, business, marketing and outreach programs. Hui encourages rookies to expand their involvement in the club by working together.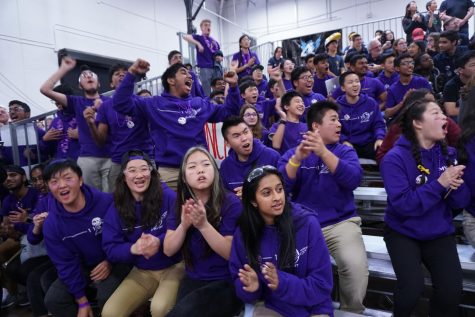 "It's kind of the club where the amount you get out is how much you put into it," Hui said. "So if you find that robotics is something that you really like, you should definitely come a lot, because there's not only the engineering aspect of it. It's like a team sport."
Satrawada echoes Hui's advice and reflects on the possibility of a similar rookie following her path to becoming the president of MVRT.
"Just stay committed and if you're enjoying what you're doing on the team, then just keep going and you get as much as you put into it, that's as much as you'll get out of it so it's a really fun experience," Satrawada said. "It's probably the most meaningful thing I've gotten to do, over the four years that I've been at high school and my high school career would not have been the same without it so I really enjoyed the team and I hope that they all get to experience the same thing I did."
For Satrawada, cohesion of the large club stands out at regionals, which she looks forward to experiencing at the upcoming Sacramento regional and the World Championships.
"I think it's at regionals where you really see the team unite," Satrawada said. "Because we're such a huge team, sometimes we aren't always as cohesive as we'd like to be, but regionals really bring everyone together because we're all sitting there cheering for our one robot on the field. It feels like family. It feels like home."
About the Contributor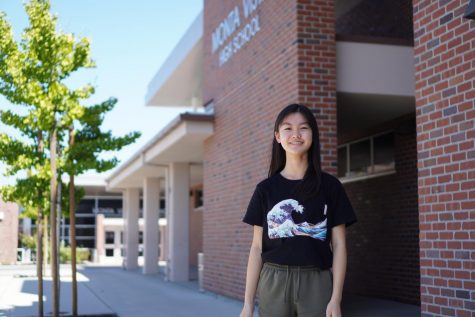 Andie Liu, Managing Editor
Andie is currently a senior and a managing editor for El Estoque. She runs on the track team and plays the erhu, a traditional Chinese instrument. To relax, she listens to violin and cello concertos while reading, drawing and attempting to meditate.