Via Cupertino introduced as new rideshare service by Cupertino City Council
Exploring the micro-transit system's impact on the community
Starting as a micro-transit system, Via Cupertino has gained attention for its on-demand service at an inexpensive price. With prices ranging from one to three dollars and fifty cents, students are able to travel throughout Cupertino in a more affordable fashion. So far, the citywide ride service has offered approximately 7,000 trips since it began in October last year. 
By using the Via Cupertino app, users are able to call any of the six available vans to a designated pick up point. Each van can accommodate six people, providing transport within the Cupertino only, with exceptions of the Kaiser Permanente Hospital in Santa Clara and the Sunnyvale Caltrain station.
Cupertino City Council member Rod Sinks began working on minimizing traffic in Cupertino when he was first elected to the City Council in 2011. According to Sinks, the recent establishment of countless tech companies in the San Francisco Bay Area contributes to traffic congestion throughout Cupertino as their employees drive through the city to reach their destinations. 
"[Development] has exacerbated traffic here and people are legitimately frustrated with their commutes," Sinks said. "Traffic not only localized around the schools, but freeways are congested to the point where drivers are open [to] find alternatives past our schools on surface streets."
In order to solve congestion, the city council originally decided to create Valley Transportation Authority (VTA), a public transit service in forms of buses. However, Sinks believes VTA has been ineffective in combating the traffic issue.
Sinks also mentioned that it was extremely hard for teachers to use VTA since they don't have either the luxury or time to wait for a bus to commute to MVHS. According to him, this caused teachers to eventually move out of Cupertino and to find work where commuting isn't as dangerous and frustrating.
"That [is] really dangerous to the quality of the teaching you have at MVHS to people who work as baristas [in Starbucks] to even people that work in small companies," Sinks said. "We are not creating the conditions for continued sustainability. The net effect is [that] the people that we need to make the economy work here —the people that serve us and serve this economy— can't stand the commute from where they can afford to live."
The dissatisfaction with VTA turned into a new project for Cupertino: find a way to alleviate the traffic issue while creating a safe and efficient method of transport for students and adults. In need of a solution, the city of Cupertino partnered with Via, a company that has partnered with other cities in over 20 countries and works to solve various traffic related issues with a rideshare app and service.
"It's simply to provide a shuttle service to say we think that if we can get enough people doing this, we can eliminate car trips," Sinks said. "Ultimately we can provide these rides as a benefit to people who live and work here."
When designing the transit system, Project Manager Chris Corrao also considered other factors such as common destinations and the service's target model. He needed a model that fits perfectly with individuals' busy schedules.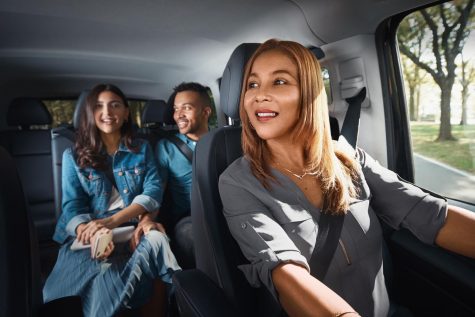 "Since Cupertino [is] so spread out, if we just did like a traditional hop-on hop-off style shuttle, it would be hard for people to get to it and the trips would [be] really slow," Corrao said. "So that's when we started looking at Via as an option. We learned about them and thought that it was a really interesting model that fits in with the city's aspiration to be more like a smart city."
Sophomore Shivani Madhan recently started using Via Cupertino because it was difficult for her parents to send both her and her brother to their after-school classes at the same time. After finding out about the transit service through her mother's coworkers,  Madhan decided to give the service a try because of the inexpensive costs and punctuality. According to her, Via has been a great experience because it's easy to use and saves her parents time from driving her to places. 
Sophomore Parmi Shah previously had doubts about Via because she knew little about the service. However, she and Madhan agree that individuals trust the service more as they continue to use it. 
"I mean, it's a black van, so you think it's kind of sketchy, but the drivers are really friendly," Shah said. "The drivers are really nice and there's only a few [of them]. So, you keep meeting them every single time that you go on a ride. You kind of become known to them."
Corrao confirms that Via keeps the same drivers in order to build a sense of security and trust between riders and drivers.
"People get to know the drivers by name," Corrao said. "It's not like with Uber and Lyft, where you have drivers that could be from anywhere throughout the Bay Area. People feel more comfortable knowing their drivers." 
Since safety has been a large concern for students like Madhan and Shah, Corrao assures that Via-Cupertino employees have enough experience to be drivers, are thoroughly background checked and are trained to use the Via-Cupertino vans.
In the future, Sinks envisions that Via-Cupertino will not only extend to other cities, but also increase its ride shares to prevent congestion and reduce pollution. 
"[With] the Via service right now, you'd find that you might be the only person in the car," Sinks said. "What we're hoping to do is grow ridership over time. [It] is a big deal if we can move people up and down to the Caltrain corridor or other transit; people [will be] saying, 'Okay I'm only gonna leave my car.'"
"
If we want to meet our climate goals realistically, we've got to get cars off. We've got to get more people to take advantage of transit.  We need them done with vehicles that are electric so the via program helps us with these goals and enabl[es] more folks to get to Caltrain, leaving their cars in their driveway."
— Rod Sinks
Another goal for Via Cupertino, according to Sinks, is to improve the Cupertino's environment. As a city council member who deals with transportation and climate advocacy, Sinks plans on using transportation as means to slow the production of carbon emissions. 
"We have major climate goals," Sinks said. "[They] are something that's near and dear to my heart that I worked very hard [on] and transportation is the one stubborn persistent irritation." 
Sinks hopes that Via-Cupertino will reduce pollution by encouraging rideshares that reduce the number of cars being driven individually. In addition to ride-sharing, Sinks envisions Via-Cupertino to be an electric transportation system. 
"If we want to meet our climate goals realistically, we've got to get cars off," Sinks said. "We've got to get more people to take advantage of transit. We need them done with vehicles that are electric so the via program helps us with these goals and enabl[es] more folks to get to Caltrain, leaving their cars in their driveway."
About the Contributors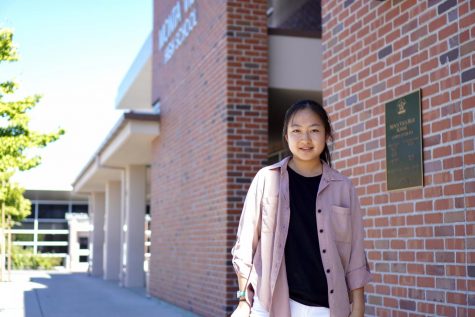 Rachel Jiang, News Editor
Rachel is currently a senior and news editor for El Estoque. She is a varsity member of the MVHS Cross Country team and a VP of LD and varsity member of MVHS Speech and Debate Club. In her free time, she enjoys collecting stamps, studying politics and policy and taking photos.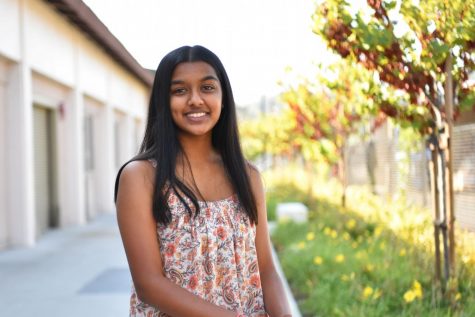 Ishaani Dayal, Managing Editor
Ishaani is currently a senior and a Managing Editor for El Estoque. Outside of journalism, she loves biking around the Bay Area, hanging out with her friends and family, watching movies, and learning how to drive.