Callin' the Shots
Referees share about their experiences outside of the game
Essential to almost every sports competition, referees stand out in their striped black and white attire, a whistle dangling around their necks — it's up to them to call the shots. With eyes on the players, coaches and fans, the referees are responsible for making quick choices to ensure the safety of the players.
"I get to stay involved with basketball," referee Will Mittenthal said. "I get exercise — it's a good workout. Obviously, I'm getting paid to run, which is not a bad thing. The cons are that you have to put up with coaches and the fans who don't like the calls you make. You're only making 50% of the people happy every time you blow your whistle."
Mittenthal's love for the game led him to reffing at the high school level for the last six years. Similarly, wrestling coach Kristian Barbo wrestled throughout his high school career and has continued to coach and ref. While he enjoys reffing and staying involved with wrestling, he frequently experiences backlash from the teams he works with. 
"Many referees like the sports that they ref, but the bad part about it is [that] there are people who yell, scream and bad mouth refs," Barbo said. "We try to do everything as best as possible, but mistakes happen in any athletics and I think it needs to be addressed a little more." 
Both Mittenthal and Barbo consider the criticism from spectators as the only negative aspect of the job. Parents are heard screaming from the bleachers after unfavorable calls, leading to the refs experiencing highly stressful situations. 
"The best tool when reffing is your personality to deal with different situations," soccer referee Eder Del Angel said. "A good referee has to have a lot of situations that happen to him in a game so that he can know how to deal with it in the future games."
Del Angel has been refereeing since he was 12 years old, and was previously a soccer player growing up. What started as a way to make extra money and follow in his father's footsteps, Del Angel says that he considers soccer a family sport, and refereeing is a way for him to continue being involved since his playing days are now over.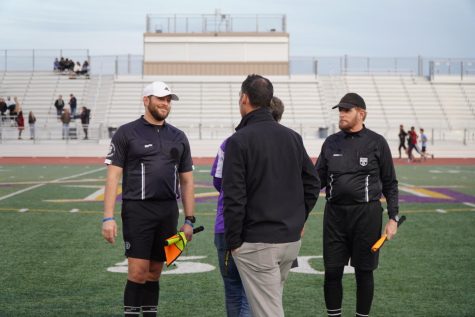 Similarly, Mittenthal started refereeing at the young age of 19, and views reffing as another job opportunity aside from working in finance at Salesforce in San Francisco. However, Barbo referees for a different purpose: his children. 
Previously, Barbo was a wrestling coach, but he noticed it took up the time he wanted to spend with his kids. As a result, he looked to referring as a less time-consuming way to stay involved with wrestling. Barbo also holds a job as an agricultural biologist in Santa Clara County. 
Although reffing high school teams is a way to maintain his involvement in basketball, Mittenthal sees referring as something he wants to pursue even more in the future.
"I have aspirations to go and potentially referee for higher levels and high school so reffing is a big pro for me [in the future]," Mittenthal said.