Photo by Mike Petrucci on Unsplash
Maintaining a local community
The implications of urbanization on both chain and family businesses in Cupertino
CREAM, T4, Cafe LaTTea — with large chain restaurants like these populating recently-constructed retail sites like Main Street, Cupertino has steadily been becoming more urbanized. While having more opportunities to socialize and explore may seem like a plus for MVHS students, family business owners recognize both the positive and negatives of the recent developments. 
Senior Jennifer Huang's father Jiabao Huang used to own an ice cream shop facing away from Main Street called iCool LN2 Ice Cream, which served drinks and ice cream made using liquid nitrogen. However, in May of 2018, the shop closed due to a lack of business. Huang explains that while the store was open, her dad had to use a lot of his own money to keep the shop afloat. 
"I think [Main Street]'s a social area for me," Huang said. "With a lot of other students, it's the same. But I think that the thing about Main Street is that it makes it really hard for smaller businesses like my dad's shop to open up because [Main Street] attracts so many customers to that area, and not necessarily to other places."
Junior Aaron Tsang agrees with this sentiment, as his father has owned Chinese restaurant Sizzling Gourmet for five years. Their restaurant specializes in hot pot, a traditional East Asian dish that involves cooking food in boiling broth over an open flame at the dining table. For Tsang's family, getting publicity was also a challenge.
"I remember in the beginning, it was difficult to find business because where we were located, we were away from the main road so a lot of people didn't really see our restaurant," Tsang said. "We had to keep advertising to our friends and people we knew so that more people would show up and spread the word that there was this new restaurant."
Because their shops initially didn't receive enough attention from customers, both Tsang and Huang had to step in and invest time into helping manage their parents' restaurants. By doing small tasks like serving food or setting tables, they were able to help relieve the stress their parents experienced from managing a restaurant.
"I feel like my dad is a lot more stressed because now, not only does he have the restaurant, he also has a day job all the time," Tsang said. "So he has both stress from where he works and from the restaurant. Now, we are still kind of going down in business, we don't have as much business as before, so there's still that kind of issue."
However, despite the outreach hardships family businesses undergo in comparison to larger chain stores, well-known businesses can also support their local community. Supervisor of large chain grocery store Whole Foods Calvin Sohal acknowledges that though many consumers are unaware of it, many chain stores are maintained by local business owners.
"A lot of chain businesses popping up, it definitely is having a negative effect on a lot of smaller stores," Sohal said. "But at the same time, it also makes you realize that the chain businesses are franchised and they're owned by local businessmen. So even though some percentage of the profit goes to the chain, like the corporate, we also have to realize that they create jobs and local jobs and they're run by local businessmen."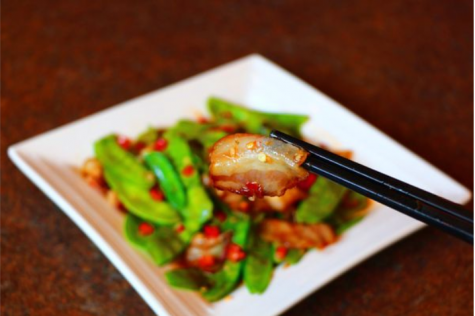 Additionally, Sohal mentions that larger companies can use their influence to give back to their community by advertising smaller stores in the area. Whole Foods often hosts events that allow neighboring businesses to showcase their products, such as their We Love Local event that they hosted on Oct. 12. Whole Foods also has donation drives where local farmers are provided with finance and support.
"We really care about our local farmers and our local businesses," Sohal said. "We try to get as much local as we can. Also depending on the demand, some of the local suppliers are really high in demand so we definitely support that."
While Huang's family business ended up closing, Huang believes that it was beneficial for her family dynamic, as her dad was able to relax more and spend quality time with his family. 
"This is not what people would expect, but for us, [the closing] was kind of a relief," Huang said. "It was a relief because it was a lot of our own out-of-pocket paying for [the business]. There was of course profit, but it was a lot of stress for my dad to keep the business going. For us, since he would come home so late, it was nice [when it closed] because we could all eat dinner together, and he didn't have to go from work to work again."
Currently, Huang's shop remains closed, and she says that her dad doesn't plan on pursuing similar ventures in the future. Although she doesn't regret the closure of her dad's shop, she would like to see other small businesses thrive more in the Cupertino area.
"I think it would be good if there were more family-owned shops, because I feel like it's such a local community," Huang said. "Maybe it's not anymore, but I feel like here, everyone is very community-based and having those sorts of shops would be good. I'm not against chain shops, but it'd be nice to have a few family-owned businesses around here."
In contrast, Tsang believes that Cupertino's atmosphere has not been strongly affected by urbanization, as he still sees many family-owned shops lining the streets, especially in comparison to larger cities nearby such as San Jose and San Francisco.
"I feel like Cupertino has a lot of small businesses," Tsang said. "When you go around, you can see there's a lot of smaller, family-owned restaurants. As people who own restaurants, we have to look around and see who our competitors are and what we're losing customers to so we can come out with new dishes. So I feel like Cupertino is very small-business-oriented compared to the bigger chain restaurants that bigger cities might have."
Like Tsang, Sohal also believes Cupertino fosters a smaller, tight-knit community. Because of this, through any transition in business-types and urbanization, larger companies and stores should make an active effort to maintain the smaller businesses nearby. 
"Everyone should care about local businesses," Sohal said. "If they're not looking out for local suppliers, they're never going to thrive."