Château en Gâteau: A student bakery on the rise
Seniors start a business online and around campus to spread baked goods
Senior Ethan Hu has always loved watching his aunt at work, cooking in her home kitchen while occasionally stepping in to help. As he grew up, his interest in food enhanced, and he started making his own creations and sharing it online with friends. His personal Instagram page became so flooded with pictures of his food that he started a separate Instagram account dedicated solely to sharing what he makes. What arose with the page was Château en Gâteau, which roughly translates from French to 'castle made out of cake,' a business he started at the beginning of the semester with senior Catherine Liu.
Although he is in partnership with Liu, Hu worked alone during the first semester to develop different types of baked goods, like cakes and cookies, that they could potentially start selling in the next semester. At the moment, Hu is distributing macarons to friends and teachers for them to try and critique. As he receives feedback and gains experience, Hu has moved on from just making raspberry macarons to developing his own flavors.
"I started out with a basic raspberry macaron, then I quickly changed it to pumpkin spice, then I found a good swirling method, and now I'm doing all sorts of crazy flavors," Hu said. "When I start out on a recipe, I go online and once I get the basics of it and get how the ingredients work together, I start creating my own recipes."
Although he gifts many of his baked goods, he has also sold a handful of other creations, like a whole cheesecake for $20, in order to save up for a permit that would cost him $200.
"We're still in development phases, but we're going to get a business license soon, and in order to do that we need to gather enough money to get that started," Hu said. "It will set [us] up to be taxed based on what we sell."
Hu is focusing on macarons as he says it is the easiest baked good to transport to school in large quantities but also has a slow baking process that is convenient during busy evenings. Leaving macaron cookies to settle for dehydration takes a few hours and the whole process takes him five days to complete, letting Hu multitask on baking and schoolwork. 
Hu attributes his baking of macarons with a cookbook he read called "Salt, Fat, Acid, Heat: Mastering the Elements of Good Cooking" and says they are his favorite sweet product, but he has also enjoyed making different cakes when he started his Instagram page. 
"A sweet [creation] I really like would be opera cake," Hu said. "Opera cake is a really heavily layered cake. It has a layer of chocolate glaze at the top, a layer of coffee buttercream, a layer of almond cake, a layer of another buttercream, and another layer of almond cake and a layer of chocolate glaze and a layer of chocolate [ganache]." 
Science teacher Kyle Jones has tasted many of Hu's creations, including macarons, opera cake, apple pie and cheesecake, though he says his favorite is the oreo macaron.
Jones says that although he doesn't have a sweet tooth and usually maintains a strict diet, he is always excited to experience the new flavors. When Hu brings too much for Jones to eat, Jones will often distribute some to other teachers or share it with his girlfriend.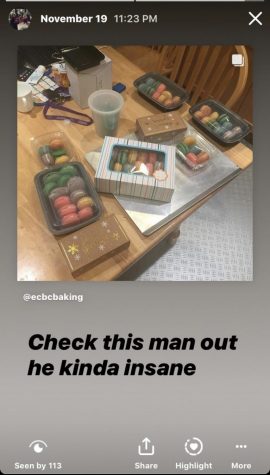 Although he doesn't bake and has never thought of running his own business, Jones says he admires the devotion that Hu has put into his bakery. He says that experimenting with business ventures as a teen gives Hu opportunities to try out potential careers and build his independence. 
"It takes a lot to devote a lot of time and energy to it, and I think for a student that tries to do that, they can get a good sense of what that's like on a small scale," Jones said. "I feel like already, Ethan is getting a reputation for his macarons … It's given him something that he maybe can feel proud of or that people can appreciate from him. So I think that's also beneficial, to feel like you're contributing something or that you do something that people value." 
A longtime friend of Hu's, junior Naomi Yin, has tried many of his new flavors and suggested recipes. She explains that she has helped him with other hardships that have come with running Château en Gâteau. Yin says her favorite suggestion that Hu later made was rose. Yin hopes her friend will expand on what he makes so she can try more variety. 
"He started with pies and then made an opera cake and then moved to macarons, now he's focusing more on macarons," Yin said. "His food is really good, so we're really happy to receive it."
Yin and other receivers have posted online, tagging his Instagram pages when he shares new products. Yin says she actively tries to promote Hu's page to encourage more people to find his bakery online and to provide more potential customers. 
"[Posting] definitely spreads the word because he has a limited friendship circle," Yin said. "And some people that I'm friends with don't follow him or his other accounts, so it definitely spreads the word more."
In addition to social media posts, Yin says Hu's outgoing personality has been another critical factor to success.
"Just seeing him happy, I feel like his personality affects yours, and so when he laughs, you just want to laugh," Yin said. "His personality is very crazy sometimes, and it's able to definitely attract people."
Hu and his friend's plan to spend the second semester working together, and intend to donate a profit of the goods they sell to charity. His next macaron flavor he plans to develop will be s'mores. 
Hu says he hopes he can "spread sweetness" with Château en Gâteau. 
"I find baking is quite relaxing," Hu said. "Anyone can cook, as long as they have enough practice, they're able to. I hear people saying that they can't cook for their life, but honestly, I think that's just an excuse because they can cook, they need more time to practice."