French Honors Society Noël celebration
French Honors Society decorated Ho Ho cakes in light of the holidays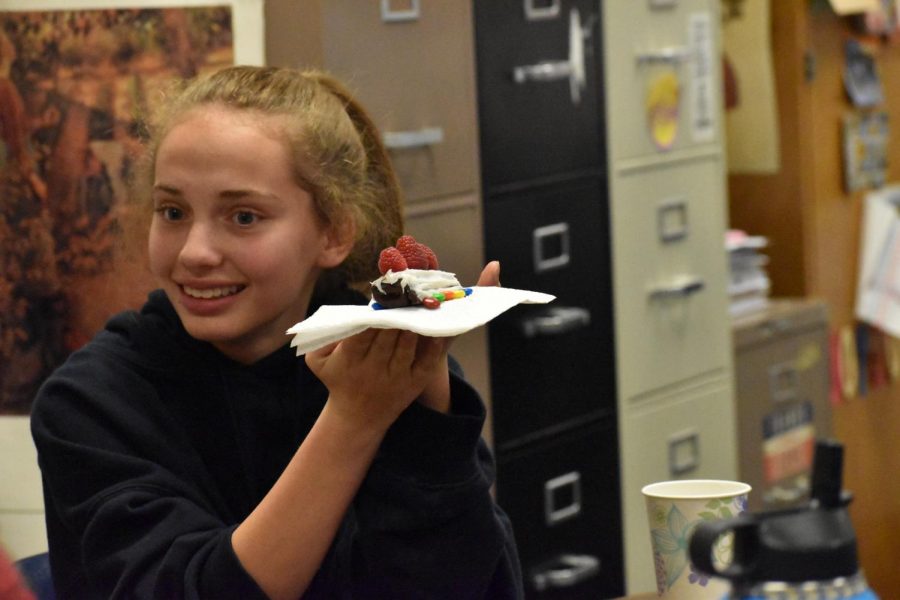 The smell of sugar wafted in room B215 as French Honors Society club members and MVHS students gathered to decorate traditional french desserts — Bûche de Noël — in the Bûche de Noël Decorating Contest. Bûche de noël are traditional French cakes made to celebrate Christmas in France, other French speaking countries and former French colonies. The bûche de noël are usually made in a cylindrical shape to model logs, hence the name "bûche de noël" which translates to yule log cake, a cylindrical cake made to look like a log.
Senior and president Alex Zhang helped organize the event contributed to the online event promotion.  Zhang also hosted the bûche de noël decoration contest with participants either working individually or working in groups.
"As French Honors Society, we would like to bring this part of French culture to our student body to let them experience probably the best part, the food [of] French culture," Zhang said. "So we just invited them to come to our meeting and do their own [do it yourself project] yule log cake."
Zhang's favorite part of the event was the contest itself, in which students were able to use M&Ms, raspberries, whipped cream and any other supplies they brought in to garnish their cake. After decorating, they were instructed to take photos of their work and a winner was selected from a class vote at the end of the event
"
"I could see people were really trying pretty hard to win the competition and they were also experiencing their own artistic talents," said Zhang. "So I think it's pretty important to connect French culture to other things that might not be French, but still useful — for example, art.""
— Senior and French Honors Society president Alex Zhang
Senior Ethan Hu, who is aspiring to open his own confectionary business, brought his own cake decorating tools for the challenge. After hearing about the contest online, Hu wanted to practice as well as display his cake decorating skills.
"It wasn't really what I was expecting since the materials aren't my usual, but I still managed to improvise and work off of it and still make something good out of it," Hu said. "Originally, I was hoping for a larger cake or Ho Ho or whatever they were going to use, but it was a lot smaller, so I had to improvise. I decided to just use a smaller hip to the icing bags and all that —that turned out pretty well."
For his cake, Hu used white whipped cream, a piping bag, star shaped icing tips and golden glitter. Hu won first place in the contest and is improving his piping skills to practice for his future business. In preparation for the future, Hu has looked into different decorating and baking techniques.
"For my past baking experiences, I usually go for white, gold, blacks and purples[in general]," Hu said. "I just really liked the color gold a lot and the cooler colors."
Coming in second place was sophomore Charlotte Dingli, who joined the event because her friend was an officer for the French Honors Society club. Dingli hoped to win the event, especially with one of the members on her team having experience decorating cakes. 
"I loved how they integrated French culture into having fun and eating," Dingli said. "I thought it was a lot of fun and I got to spend time with my friends and just eat cake. The person who came before us brought his own baking supplies. So we didn't know that that was allowed, we would have done that and probably would've won. If they have the same event next year will definitely bring our own baking supplies and go all out."
While Zhang will be graduating this year, he hopes that future and current officers continue the event. Later next year, Zhang plans to collaborate with  Spanish Honors Society to compare and contrast the two languages. Zhang also hopes that more people will come next time to their meetings in order for more people to enjoy French culture.
"I hope to see is that more people will come to our meetings of course, and that we can really have some more ingredients to decorate the cake with," Zhang said. "French Honors Society is amazing, so if you've heard of our meetings you should come and join our club or join our meetings and we can have fun together."
About the Contributor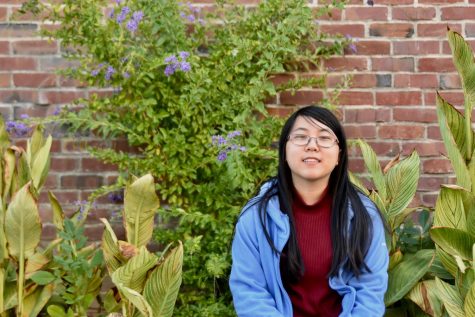 Sarah Young, Graphics Editor
Senior Sarah Young is currently a Graphics editor for El Estoque. In her free time, Sarah likes to draw, read and take walks in the park. She is currently really into pointillism and marshlands.