Remember the Matadors: Sports Movies
How movies about sports impact the MVHS body
"Remember the Titans," "The Blind Side" and "Friday Night Lights" — all popular football movies that convey the message that hard work and team chemistry pays off. The clichéd aspect of these films has been repeated in multiple sports movies all ending with a climactic winning scene set to inspire the audience, something MVHS athletes can relate to. 
Based on real life football coach Herman Boone, "Remember the Titans" is a movie about the transition of subpar team working their way to the top. Senior and football player Nate Reyes explains that he relates to the movie "Remember the Titans" because MVHS football had a similar experience. 
"Every year [the MVHS football team] have been considered the underdogs," Reyes said. "And I mean, the past two years, we've done better than we have in a while. So that's probably the most relatable, is just the whole underdog aspect."
MVHS football offensive coordinator and history teacher Cody Owens shows the movie to his classes every year around homecoming because of its satisfying feeling he gets from the film.
"It's just how hard people had to work together, how they had to come together and overlook small differences as a team and then that transpired into them winning a lot of games … it was mostly through exceptionally hard work," Owens said.
However the awe inspiring moment doesn't just run through football movies. For junior and field hockey player Prisha Khatwani, the movie "Youngblood" encouraged her to be grateful for what she has. According to her, not being disabled is an advantage and she has no excuse not to put in 100% effort. 
"I think it was cool that the main character went back into the game even after missing a goal because I do that," Khatwani said. "Their mood during the day was how the game play was affected, which happens definitely a lot."
She felt appreciative of her abilities because the movie depicts a field hockey player who injured his legs in an accident and although he had a strong swing, his insufficient footwork held him back from playing in a league. However his perseverance to relearn how to use his legs and tenacity to push through bad plays is what inspired Khatwani.
Despite the message that hard work brings the victory, Owens believes the light that movies such as "Remember the Titans" sheds on racism ties into the overarching positive message.
"It kind of relates to [topics that we talk about in the] American Studies [class like] our big government little government unit because it deals with racial segregation," Owens said.  "And how this team in Virginia has to come together to win this state title game by overcoming these barriers."
Reyes recognizes the racial tension in the movie, especially when a character dies and it brings the team together. For Reyes, the lessons of the movie carry into practice.
"We always reference it in practice," Reyes said. "We always joke around and be like, 'Oh, you have to try harder.' Like 'Remember the Titans' or 'Remember the Matadors' or just a bunch of jokes like that." 
About the Writer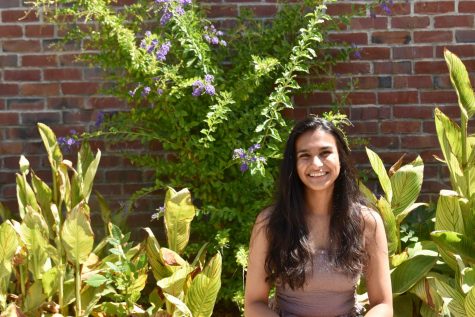 Rucha Soman, Sports Editor
Rucha is currently a senior and a sports editor. In her free time she likes to dance and binge watch TV.