Left in the dark
Examining the effects of the PG&E power outages
The Pacific Gas and Electric Company (PG&E) shut off power on Oct. 9 and Oct. 26 for nearly 1.5 million Californians in an attempt to prevent annual fires that have ravaged the state for more than 18 consecutive years. These planned shutdowns occurred during a period of high wind and low humidity — conditions perfect for wildfires. 
According to Business Insider, faulty PG&E power lines have caused more than 1,500 California wildfires within the past six years, including the most deadly fire in the state's history: the Camp Fire of 2018. This is partly due to PG&E's delayed upgrades of outdated power lines and infrastructure, some of which date back to 1921.  
In spite of these delays, many people were outraged by the company's lack of notice and communication regarding the shutdowns, including senior Adrienne Nevitt.  
Nevitt didn't have power for four days but adapted to the conditions by charging her electronic devices and completing most of her homework at school while using candles and flashlights at home. She and her family also had to resort to eating canned food and at restaurants. PG&E reassured her family through email that their power would return soon on different occasions; however, it never came, creating uncertainty as to when they would regain power and fueling their frustration towards the company.
"We rely so heavily on energy that it's an important necessity," Nevitt said. "It almost kind of just feels like we're being left in the dark while we're waiting for energy to come back on. It's like a waiting game or you're not being told exactly what's going on, [and] it almost feels like you're just being shut down, which you literally are."
On the other hand, English teacher Scott Perry provides a different perspective.
"It's probably not an easy task to go say we're going to replace all our infrastructure in one year or two years," Perry said. "Their 10-year plan was probably the best that they could come up with. There are always two sides to every story. I think the public needs to demand some true accountability and the government needs to get involved because these are public utilities."
Just a couple of days after the deliberate power outages, numerous wildfires began all across California, the most notable being the Kincade Fire in Sonoma County and the Getty Fire near Los Angeles. The Kincade Fire burned nearly 78,000 acres, caused widespread evacuation and took two weeks to be fully contained. Although miles from the action, Cupertino suffered from worsened air quality due to smoke that had drifted from the Kincade Fire. 
The SF Chronicle reported the Kincade fires began when a high voltage PG&E transmission line malfunctioned near Northern Sonoma County, however, this has yet to be confirmed. According to the Washington Post, nearly 200,000 people were forced to evacuate their homes. 
"It's so disheartening," Nevitt said. "It really is hard to see our world practically on fire. People's houses get torched and they have to leave their houses … I think the public should be really angry about this and steps need to be taken to make sure PG&E is safe because these fires cost billions of dollars [in] damage and people's lives."
According to senior and President of the MVHS Environmental Science Club, Iris Xia, California is already very susceptible to wildfires due to its dry, warm climate. Over the summer, Xia interned at the National Aeronautics and Space Administration (NASA), where she worked on a project about wildfires and its impact on vegetation regrowth. According to Xia, the California wildfires and climate change act like a "feedback cycle." 
Due to global warming, the Earth's average global surface temperature has risen significantly which causes vegetation to dry out, even more, making it more likely to burn. Due to California's long dry season and more human inhabitation near forests, the chances of wildfires increase. When the fires eventually do occur, they destroy hundreds of trees and release harmful pollutants, carbon dioxide and greenhouse gasses which will continue to warm the planet well into the future — causing this cycle to begin again. 
"Obviously wildfires, they might happen really far away, but they're still going to have an impact," Xia said. "Definitely for all of us, climate change, in general, might not have an impact on a lot of us personally … but we should still be aware that [something] like this could happen to us. This is only the beginning for sure."
While Xia advocates for people to be more aware of their actions and their impact on the environment, Nevitt also encourages people to take direct action against the rise of global warming, whether it be planting trees or making more eco-friendly choices. 
"When these small fires happen, it feels like we're just being punched in the gut because we're just losing all of these beautiful trees that we need," Nevitt said. "I think that we need to just be really regulating these fires in any possible way … because we can be planting all these trees and we can do as much as we can, but if we're not doing things that are going to stop all the carbon emission, we're going to be screwed in the long run."
About the Writers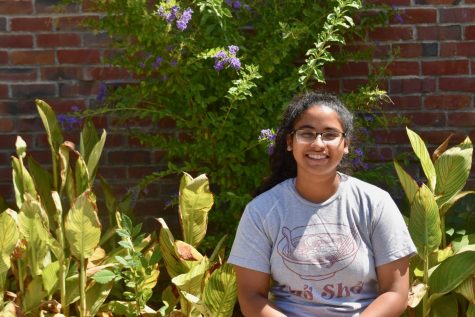 Jai Uparkar, News Editor
Jai Uparkar is a senior and a third-year staff member. She previously served as a print features editor and multimedia news editor, and now serves as a print news editor. She plays tennis and in her free time, she likes to take Buzzfeed quizzes and film videos about local businesses in Cupertino.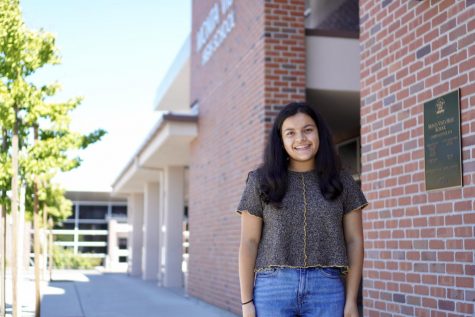 Jayanti Jha, Sports Editor
Jayanti is currently a junior and a sports editor for El Estoque. She plays field hockey on the MVHS Varsity team as a midfielder. In her free time, she loves to hike, rewatch "Dance Moms," try new foods and play the only song she knows by heart on the guitar: the theme song for "The Office."