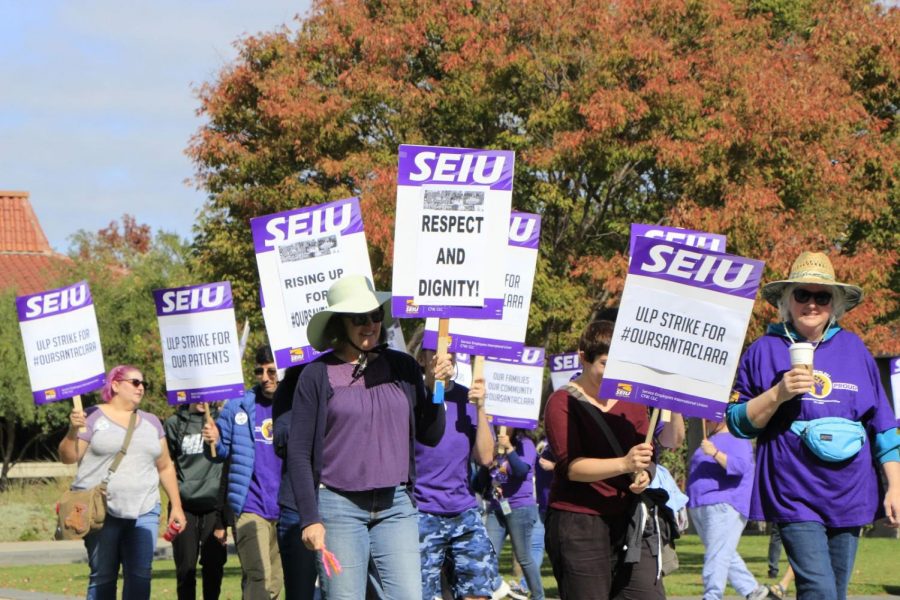 Workers' strikes in our community
Exploring the causes and effects of Amazon and Santa Clara County worker's strikes
Notable Strikes
As the third business quarter of 2019 rolled by, international auto giant General Motors felt the pressure of their discontent employees through a series of strikes and protests, resulting in a 7% profit drop for the quarter. GM was one of many companies experiencing worker strikes, along with tech corporations like Amazon and Facebook. 
Specifically, Amazon workers have participated in organizing strikes, protests and unionization attempts since the company's formation in 1994. Recently, there have been a number of protests regarding working conditions at Amazon's warehouses, also known as fulfillment centers, the most notable being a strike held at a fulfillment center in Minneapolis on July 15 on Prime Day, which is an annual shopping holiday exclusive to Amazon Prime subscribers. 
According to an article on Business Insider describing Amazon working conditions, workers are mandated to work overtime. This means employees work up to 60 hours a week. On a normal day, a sort-center employee puts out 70,000 to 90,000 packages for delivery. 
"You're a slave for the 60-hour workweek," Jazzy Williams, a California Amazon associate told Business Insider in 2018. "I'm tired and annoyed and irritated."
Protestors like Amazon fulfillment center rebinner Meg Brady spoke at the strike to advocate for improved working conditions and increased pay.
"They should make this a better workplace by reducing rates [and] improving worker safety," Brady said. "Management demands the best from its workers, now we want [Amazon's] best."
Local Implications
Worker strikes also took place in early October at all seven libraries in the Santa Clara County District. The strikes were coordinated by the Service Employees International Union (SEIU) in an effort to demand higher wages to compensate for rising living costs, and to negotiate shorter contracts and better health benefits. The strikes started at 8 a.m. on Oct. 19, and resulted in a day-long shutdown of the library.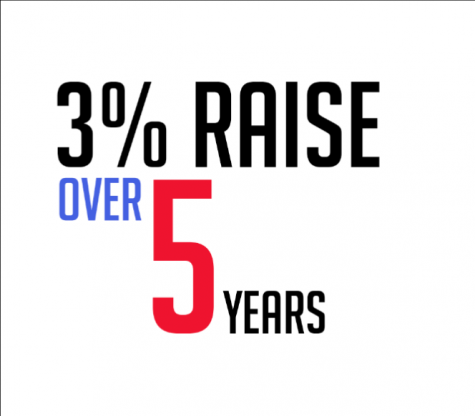 Senior Arvind Jagdish, who was attending a DECA study session at the library when the protest at the Cupertino library began, recalls a circle of library employees chanting, handing out pamphlets and asking cars to honk for them. Jagdish, who works at Cupertino City Hall as an intern to the vice mayor, says he had heard about the protests at his internship, but did not know the specifics demands of the strikers.
"This was the first shutdown, so it was the first time it affected me," Jagdish said. "In the morning anyone from DECA knows [the library's] always completely packed. It's a bullrush the moment the doors open for empty seats, so there were a lot of people who couldn't get a lot of work done."
While Jagdish sees the strike as obstructive to those who need to utilize the resources that the protesters usually provide at their jobs, he acknowledges the protesters' sentiments behind the strike.
"I'm not the biggest fan of work stoppages," Jagdish said. "[I find] any dip in productivity [to be] untoward. But for them, especially when they're in a low paying job in such a high price area, I suppose that's the only way they can get anybody else's attention."
Children's librarian and union steward at Saratoga Library Holly Okamura, who helped organize the strike that took place at the Saratoga Library, understands Jagdish's concerns about productivity. She explains that certain workers — classified as essential workers — are required to work regardless of the strike. As the library strikes are part of larger protests involving many departments employed by the county including county hospital workers and police dispatchers, this would exempt workers like nurses and doctors classified as essential workers.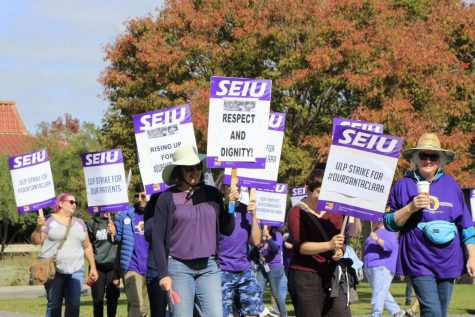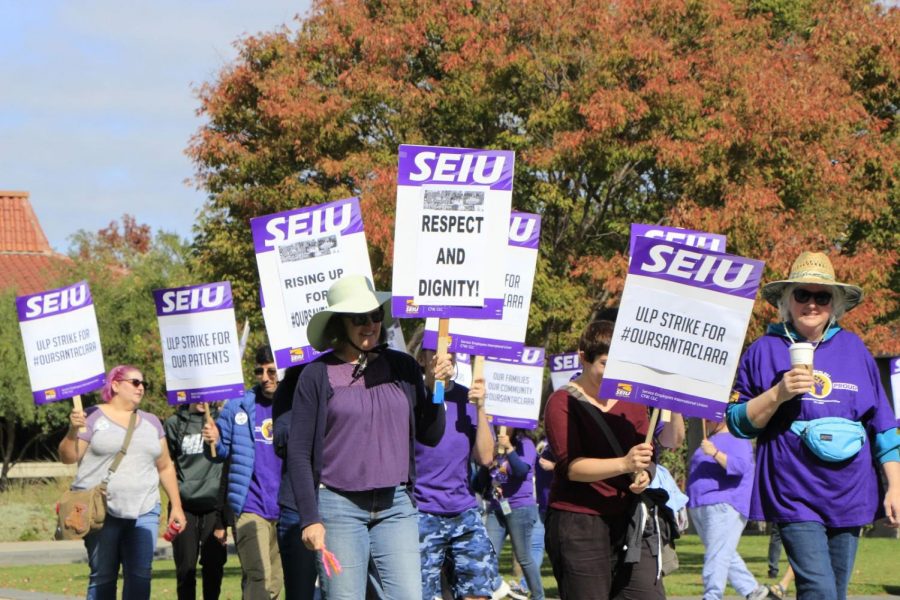 "It affects people but there's also this thing called an essential workers list," Okamura said. "So the county can pick some people that have to show up to work. So [they will] cross the picket line. I'm sure there's doctors and nurses, people who have to go to work because people's lives matter. We let them go through the picket line. We are not heartless monsters."
Okamura also explains how the qualities of a rolling strike as opposed to a traditional strike would help mitigate negative effects on community members who may require the services provided by the workers. 
"The type of striking we're doing is a rolling strike," Okamura said. "That means we all take turns striking, so then the services are effective. Because, one day, the library is all shut down. You can't get books. [Then] one day the nurses strike. I think if we were to shut down everything, it might have been more impactful, but that wasn't my decision to make."
While Okamura may not completely agree with the union's execution of the strikes, she still believes that unions are essential for workers rights. Communication between employer and employee becomes rocky when corporations have their bottom line as their priority while workers are trying to earn a living wage.
Amazon on Unions
However, large corporations like Amazon disagree with workers like Okamura, and strongly resist the formation of unions, according to Amazon spokesperson Rachael Lighty. In an interview regarding the Amazon strikes held at a Minneapolis fulfillment center on Prime Day with CNBC, Lighty argues that the lack of participation in the protest held on Prime day only proves the lack of need for unionization among Amazon employees.
"The people who participated in today's event are mainly outside organizers who are uninformed about what it's really like to work [in] an Amazon fulfillment center," Lighty said. "With only 15 employees who participated from this site, that tells me that our employees truly do believe that they are working in a safe and innovative workplace."
Lighty also maintains that unions and workers who advocate for the formation of unions are asking for solutions to problems that don't exist, which she believes further takes away from the need for unions.
"We're already offering what unions are asking, which is industry leading pay, great benefits and a safe and innovative workplace," Lighty said.
While the debate over the rights of workers continues for both local district employees and multinational corporation workers, Lighty assures employees that their right to protest will not be impeded.
"Amazon respects the rights of our employees and we have a zero tolerance policy on retaliation for employees raising their concerns," Lighty said.
Okamura also believes in a good connection between employers and their employees, but she still supports the formation of unions as a response to what she sees as poor working conditions. 
"When a boss is directly connected with the workers, that's great," Okamura said. "But nowadays we have terms like stakeholders and people that are vested in the money and they don't care about coworkers —I think it's more essential for unions to organize."