RareTea offers high quality teas
Newly-opened Cupertino branch offers high quality teas
Berkeley-based tea store RareTea, established in 2016 and known as TeaOne until 2018, opened its newest branch in Cupertino. Recently gaining a franchise license in 2019, RareTea currently has seven other locations in Northern California, mainly clustered around Berkeley and Davis. Their grand opening weekend, from Oct. 11 to Oct. 13, featured a buy one get one free deal and attracted long lines of customers. El Estoque visited RareTea to sample a variety of drinks: earl grey organic milk tea with pearls, handmade taro fresh milk and grapefruit green tea.
The first sip immediately flooded my mouth with a pungent artificial grapefruit flavor. Though sweetness is usually necessary to cut the acidity of any citrus tea, the tea's cloying syrup combined with the overly sweet taste — I ordered this tea at 80% sweetness — was overwhelming. However, as I continued to drink, the strong tea flavor became more apparent. While the flavor of tea in most fruit teas I've tried usually dissipates into sweet syrup water, RareTea's fragrant green tea still retained its taste. The high quality tea — I would order a green tea from here again, without the grapefruit — raises the rating, but the artificial fruit flavoring (which, to be fair, is characteristic of most tea stores) takes its rating down a notch.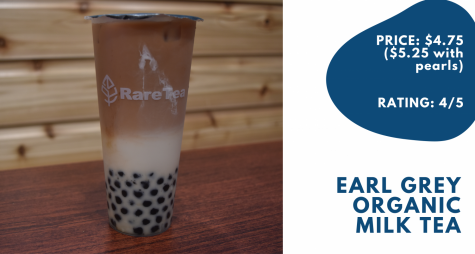 Similar to the grapefruit green tea, the earl grey tea is the drink's outstanding component. The strong roasted tea flavor blended with the smooth milk, and its slight bitterness balanced the sweetness of the drink, making for a refreshing sip. For an additional 50 cents, I chose to add pearls, which were satisfyingly chewy on the inside but strangely soft on the outside. This could be because I visited later in the day — on a Sunday night — and they didn't have a fresh batch of pearls made. This drink is also one of RareTea's organic milk tea options. The taste of the organic milk didn't particularly stand out to me and was slightly more expensive than regular milk teas, but it could provide an option for health-conscious milk tea drinkers.
Unlike many tea stores, RareTea uses real taro (a starchy vegetable somewhat similar to sweet potato) instead of artificial purple flavoring. The taro added a slight grittiness and thickness to the texture, which could be off-putting for some but wasn't an issue for me. Even though this handmade taro fresh milk is one of the more pricey items on the menu, the fresh taro makes the cost well worth it. The finely mashed taro paired with the sweet milk (though maybe a little too sweet for my taste) makes this drink a creamy treat for those who want to try a caffeine-free alternative.
I would pay another visit for RareTea's more traditional style drinks, such as their fresh taro or their strong teas, though I'll stay away from their fruit teas and order my drinks at 50% sweetness instead of 80%. Though I personally found their drinks to be on the sweet side, I do typically order my drinks less sweet, so what may be oversweet to me may be perfect for someone else. Luckily, RareTea provides options to precisely customize drinks to each customer's taste preferences, such as adjusting ice (regular, light or none) and sweetness levels (by percentages of 0, 30, 50, 80 or 100). They also provide nine topping options, ranging from classics like pearls and aiyu to modern twists like oreo and ice cream for 50 cents each. In addition to organic milk, RareTea offers milk alternatives, allowing customers to swap out dairy for almond milk, also for an additional 50 cents.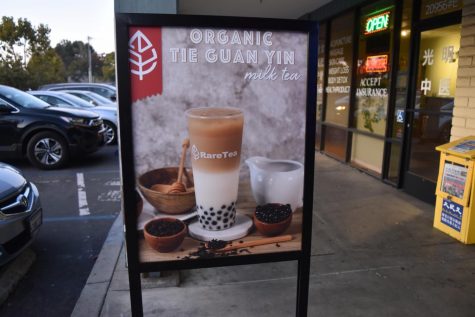 RareTea's store is fairly small, with only a few tables and chairs, but the modern decor — turquoise walls and wood accents, with succulents and Halloween-themed decorations spread throughout the store — makes the space seem larger. The open kitchen also allows customers to see their drink being made: next to the cash register, for example, are small bags of labeled tea leaves. Employees make small amounts of tea for each order and pour it directly into the cup in front of the customer. Though every table was occupied when I visited, the line, with two parties in front of me, moved quickly, and my order was ready after just three minutes of waiting. Located a few feet away from Tea Era, RareTea's fast service and high quality teas may provide some tough competition.