The resurgence of Mario Kart
Nintendo releases a mobile version of Mario Kart
From racing and comparing levels with friends to beating his brother on Rainbow Road, junior Siddhartha Mishra vividly remembers playing Mario Kart on his Wii as a child. With the release of Mario Kart on all mobile devices on Sept. 25, Nintendo has been able to bring the nostalgic game back through its introduction on a more user-friendly platform, taking over the screens of many MVHS students.
Mishra explains that the accessibility provided by the game's recent smartphone release is the main reason for its growth in popularity.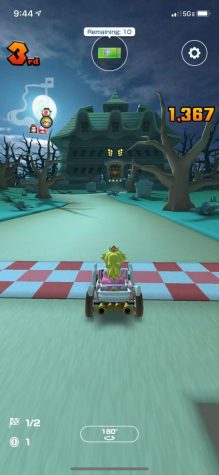 "I can just pull up my phone and play one game in the middle of when I'm standing in the line, when I'm walking between classes, anytime," Mishra said. "It's super accessible and much more engaging compared to if it's on the Wii or on a Switch — you have to actually get out the console and everything — but if it's on mobile, I can play anytime, anywhere."
Senior Sean Kim agrees, explaining that Nintendo recognizes that smartphones are the best forms of interaction with kids now. However, while the game is more accessible to prospective players, Mishra says that the interface does not compare to traditional platforms like the Wii or 3DS.
"The biggest difference is probably since its vertical, you don't have enough visibility and the races are not as fast or not as fun as they would be on the console," Mishra said. "But I mean, [on] mobile, you can buy characters and you can level stuff up which is I think a little bit different than it would be on the console."
Sophomore Seoyeon Yun, an avid player of the game, also remembers playing the game as a kid, recalling that she always liked choosing characters Waluigi or Shy Guy. She agrees that playing on mobile is not the same and believes that the release of the game is simply a stunt by Nintendo in order to try and gain more financial benefits from their games. 
"The one on the mobile is like a cash grab." Yun said. "They're trying to make money. It's pay to win. And the gameplay itself is not the same."
Even though Mishra says the game initially made an immediate impact and stirred up excitement around the school, he believes that this craze has already passed since its release. 
"I think a lot of people stopped playing after the first two weeks because they just got bored of it," Mishra said. "There are some people who still play, but I don't think it's as popular [as it] was before. I don't think they have enough differences and enough change and innovation to keep people in the game, it's a simple game. It was hyped because everyone has history and nostalgia with Mario Kart, but now people are over it, I guess."
Kim explains that this release by Nintendo is similar to the release of Super Mario Run in 2016, which he says did not have much of an impact on the gaming landscape as well since it lost its hype quickly. He believes that because of the concept of Mario Kart, it's hard to make it more entertaining than the original. 
"There's not much you can do in Mario Kart and people can get bored of it really easily since all you can do in the game is race," Kim said. "With games like Minecraft, they keep updating it so there's a lot to do."