MV Esports and Gaming Association host first Super Smash Bros. Ultimate tournament
24 gamers compete in a Super Smash Friday tourney
MV Esports and Gaming Association kicked off their first Super Smash Bros. Ultimate Friday tournament on Oct. 4. Held in the MVHS Student Union from 4 p.m. to 7 p.m., the tournament attracted 24 attendees who battled in singles matches. Some attendees came from Cupertino High School's gaming club on a field trip, meaning they had to get permission slips signed to attend. All matches were scored using a bracket system run on Smash.gg. 
Players were placed in pairs to start the evening. Every match had to follow a set of rules and a match procedure, as well as the same enabled game settings. Matches are set up by double elimination with the best of three plays. If a player loses, then they are sent to a loser bracket; if they win the losers bracket finals, then they face the grand finalists. This lets losing participants have still a chance at winning in the end. 
At the end of each match, players reported back to an officer to record their score online through Smash.gg, where they also kept a running leaderboard and kept track of signups online.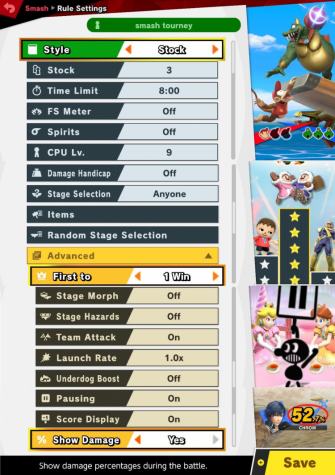 The club encouraged members to bring their own Nintendo Switch console, dock, controllers and adapters in hopes to have at least five setups. To do this, they communicated through their Discord server.
The officer most active with the server is media and marketing manager sophomore Max Hu. Hu is in charge of making the clubs advertisements, graphics and tournaments ranking with Krita or Google Drawings. Under the name Lightfiend, he placed third overall in the tournament. Hu says he was impressed with the event turnout and enjoys both running and participating in tourneys.
"Every tournament we play with a bracket — it can get pretty stressful," Hu said. "But, in the end, just focus[ing], taking breathers and just being very impatient and sort of impulsive … You can get upset sometimes, but at the end of the day, it's just all fun and games."
During last year's Super Smash Bros. Ultimate tournaments, president and senior Ethan Malone says the club did not provide a designated setup for each match, which caused confusion to attendees and also did not accommodate for their growing playerbase. This year, the club used five setups — four for the tournament and one for those not competing — to run the tourney faster and to stay organized as attendance increased. 
According to vice president and senior Lalit Mavuradi, the biggest concern before the tournament was attendance and time constraints. Most tournaments run for three hours, and playing for as many sets as there are players, usually around 30, makes for a time crunch towards the end of the event. With this Smash Friday being the first tournament of the year, the officers saw the tournament as an opportunity to make a good club impression on new members. 
"They're a bunch of problems with the Smash Club last year, because we had a lot of issues dealing with how to enter people into tournaments," Malone said. "Or how to manage setups and stuff, like how many monitors we have, how many switches we have, how many games we'd have too. It's hard to manage when you have a lot of people coming, and you only have so few link devices to deal with."
In addition to the new things in this year's tournament, like it being held in the Student Union for more space, the MVHS Anime Club came to host its own screenings of certain anime shows. The club played two shows throughout the evening as extra entertainment.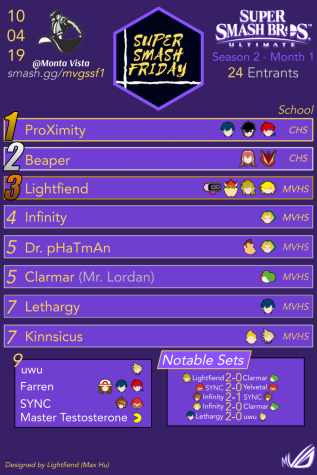 "This time we actually hosted for the MVHS Anime Club," Hu said. "They played an anime and that was a little disappointing because not many people actually watched that … First, we tried to play this basketball anime but no one was really watching it. [Then], they put on K-on, which is like a classic."
MV Esports and Gaming Association plans on resuscitating games that aren't being played with their own tourneys — League of Legends, Rocket League and Smite are some of the few games the officers anticipate to bring back into the club. 
"We know that people aren't only interested in one game specifically," Mavuradi said. "Smash is a pretty popular game, but we can't only cater to that because of course we want more people to enter and we want more members … League of Legends is really popular and [the] play style is five versus five, and we can get a lot more people to play that way."
According to Malone, being the president of the gaming club has been fun, and he hopes for future tourneys to run as smoothly as it has before in order to give new and returning members the same experience he has had the past years in the club as both an officer and gamer.
"It's exciting for me because I remember freshman year when I joined the club, it was really exciting for me," Malone said. "I got to play the game with all my friends and compete against them … It's just all those exciting moments. I want to make sure that other people can have that experience too because I know a lot of people here play Smash, and they take it pretty seriously. So I wanted to give them that that same experience I had."
About the Contributors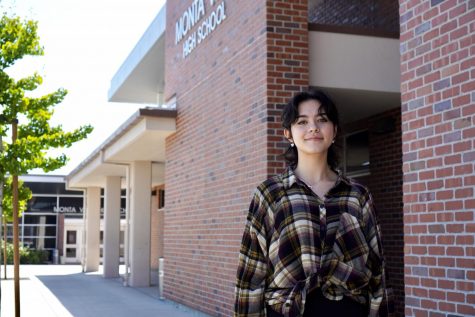 Ayah Ali-Ahmad, Co-Editor-in-Chief
Ayah Ali-Ahmad is the co-Editor-in-Chief of El Estoque. Outside of El Estoque, she is the President for Gender-Sexuality Alliance club and the Senior Director of Communications for MVHS's largest volunteering club, Octagon. In her free time away from her school life, she enjoys listening to music and getting boba with friends.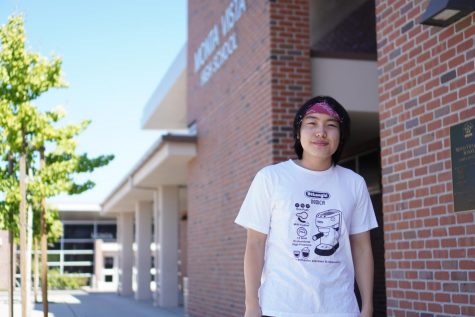 Sean Yagi, Staff Writer
Sean Yagi is a senior and a staff writer for El Estoque. In his free time he enjoys listening to music, trying out new foods and playing table tennis.