Girls Volleyball: The Matadors fail to break losing streak against Los Gatos HS
MVHS loses 3-0 in sixth game of the league season
October 6, 2019
With a handful of losses in the back of their minds, the MVHS girls volleyball team turned their sights to beating Los Gatos HS (LGHS). If they could pull it off, it would be their first win against a league opponent this season.
Entering the first set, MVHS had a lackluster start as they were unable to have long serving runs. On defense, the Matadors had issues passing consistently and allowed long serving runs from LGHS to go against them. Assistant coach Jennifer Wang saw many issues the team needed to work on. 
"We've had a lot of issues with our serve receive— it's been an ongoing issue for [our team]," Wang said. "We don't make good movements to the ball.We had a [few] unforced errors, but another issue is [consistent serving to start a rally]."
Following the previous sets' 25-13 loss, the Matadors seemed to turn things around with good hitting and passing, including a serving run by sophomore and libero Lia Vorthmann forcing a LGHS timeout early in the set.  Wang saw the most success out of the Matadors during this time.
"When we were making our serves we were able to stay in the system," said Wang.  "When running our middles, we were more successful with our middles then our pin hitters.  [Tonight] we were more successful in system when running our middle hitters."
Following an early timeout, the Matadors never regained control of the ball and fell to 22-20.  They couldn't overcome the deficit, making the score 25-22, the closest set of the night. Senior and captain Anusha Potheneni saw a lack of communication as a central issue.
"Our team can do a lot better at communicating on the court," Potheneni said. "We have the skills to succeed, and we are more talented than previous years.Our communication lacks on the court, but balls always land between us and our blocking [can help that] by pressing over and taking over more of the court."
Unable to close the second set, MVHS hoped to be victorious in the third set — a must win set in order to stay in the game.  
The third set produced a strong outing for LGHS.  Despite MVHS' aggressive serving, LGHS was able to receive and produce points and never allowed long serving runs to overpower their game. The Matadors found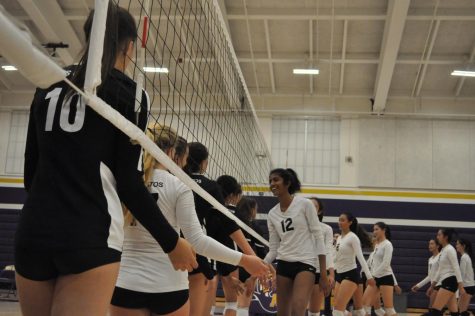 themselves in a tough situation as they were down multiple points. However, following a big block, MVHS regained the momentum and attempted to close the gap. It proved to be too little too late as LGHS took the set 25-16.  Wang saw the issue of closing out as a recurring theme.
"We have to figure out what we have to do to close out sets." Wang said. "Once we get into a rut, we tend to get into a long serve receive rut and [don't know] how to get out of it."
While their efforts may have fallen short, freshman Sydney Su looks at the loss from an optimistic standpoint.
"We have a few starters injured, with them we play really well," said Su. "[Without them], people really stepped up to fill their spot."